Cypress College's Hotel, Restaurant, Culinary Arts Department has a modern teaching facility on the Anaheim campus. It is the perfect venue for students focusing on a career in food and beverage management. Our hands-on learning environment prepares students to become skilled leaders in the restaurant and food service industry. Students learn by doing in our student-run restaurant, Cypress Bistro.
This curriculum is designed to provide an opportunity for the Nutrition and Dietetics major to achieve an Associate in Science Degree in Nutrition and Dietetics for Transfer (AS-T in Nutrition and Dietetics) while completing the first and second year requirements for transfer to a four-year institution. Students successfully completing this degree will acquire a fundamental knowledge to integrate and apply the principles of the food and nutrition sciences, human behavior, and the biomedical sciences. Students will learn to design and manage effective nutrition programs, and utilize food for human growth in a variety of settings including health care organizations, food service operations, business and industry (product development, marketing, consulting), education and research, health promotion, and private-practice counseling. 
The program also offers:
Comprehensive, hands-on and high-quality education
Experienced and passionate faculty
Accredited degrees and certificates
Small classes with faculty and student interaction
Affordable tuition
Career Fair
Job opportunities with local hospitality employers
University transfer partnerships
Cypress Bistro, a student-run restaurant
Frequently Asked Questions
Culinary Fundamentals Certificate
Food and Beverage Management Certificate
Hospitality Management Certificate
Associate in Science in Food and Beverage Management
Associate in Science in Nutrition and Dietetics for Transfer (AS-T)
Associate in Science in Hospitality Management for Transfer (AS-T)
The program is $46 per unit for California residents, not including books, fees, and supplies. Units vary by course, but the average is three units per course. Unit fees for the 15-unit certificate would be $690, the 36-unit advanced certificate would be $1,656, and the 60-unit associate degree would be $2,760. Most students also qualify for some form of financial aid.
Most full-time students taking 15 credits per semester can complete a certificate in one to three semesters and an associate in science degree in two years. Students may elect to attend part time as well.
Hotel, Restaurant, and Culinary Arts students have many career opportunities, particularly with local employers. Some of the many employers of program graduates include the Aramark Gastronome at CSU Fullerton, Sodexo Disney Castmember Cafeteria, Fairview Commons MBK Senior Living, Jay's Catering, House of Blues Live Nation, Young's Market, St. Jude Hospital, Hyatt, Marriott, Pelican Hill, Disneyland Resort, Cellar, Vaca, Pueblo, and Urban Plates.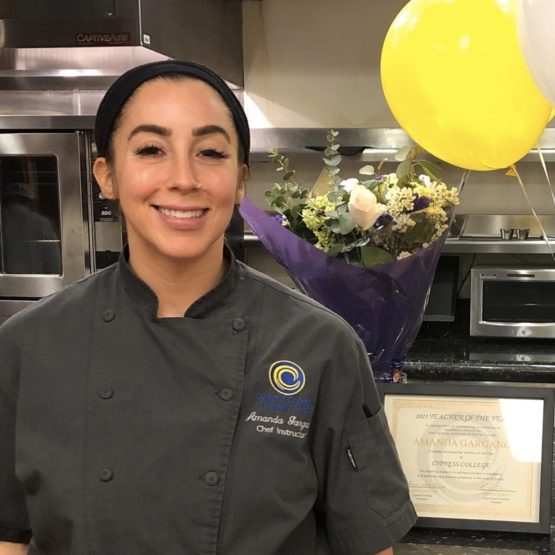 Before Cypress College, I worked as an Executive Chef for several years in New York, as well as a Chef Instructor at a vocational high school. Other career highlights include working for the Breakers Resort in Palm Beach, Florida and Macy's Culinary Council in Chicago.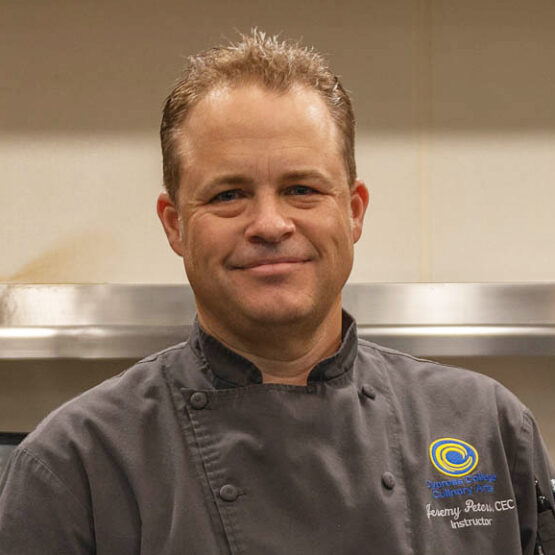 Prior to joining Cypress College in 2008, I was the Executive Chef at Disney's Grand Californian Hotel where I headed up several red carpets events including Disney's 50th Anniversary, the Pirates of the Caribbean and High School Musical movie premiers. I am passionate about teaching and inspiring my students in a way that will set them up for success as they venture out in to the hospitality industry.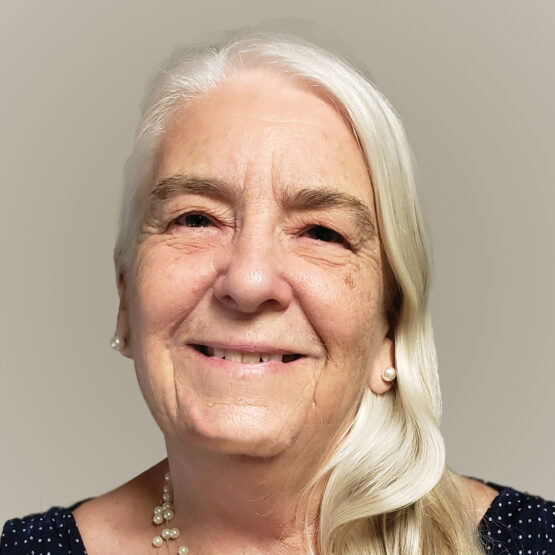 I am Rosanne Heller, a Registered Dietitian who works full-time in the nutrition field at various locations throughout Orange and Los Angeles counties. My experience and background help me teach nutrition at Cypress College. I have taught both in classroom and online settings, and have been teaching this course at Cypress since 2008. I also teach equivalent course material at other community colleges. I believe that my experience in the nutrition field, both from a didactic and classroom, setting allows me to provide solid nutrition information to my students. I love to share my knowledge about nutrition and the changes it has made in my life and health and show you how it can change yours.
Hotel, Restaurant & Culinary Arts News