Build Your Future as a Baking and Pastry Chef
Cypress College's Hotel, Restaurant, Culinary Arts Department has a state-of-the-art culinary learning facility at its Anaheim campus. In the heart of the Anaheim Resort District, the campus is the perfect venue for students focusing on a career in pastry arts. The hands-on learning environment prepares students to become skilled leaders in the pastry industry. Passion transforms into skill as the broad foundation taught by our dedication instructors builds into knowledge.
The program also offers:
Comprehensive, hands-on and high-quality education
Experienced and passionate faculty
Accredited degrees and certificates
Small classes with faculty and student interaction
Affordable tuition
Career Fair
Job opportunities with local hospitality employers
University transfer partnerships
Cypress Bistro, a student-run restaurant
Frequently Asked Questions
The Baking and Pastry Program offers three options:
Baking Fundamentals Certificate, 15 units
Baking and Pastry Certificate, 36 units
Associate in Science in Baking and Pastry Arts, 60–61 units
Most full-time students taking 15 credits per semester can complete a fundamentals certificate in one to two semesters, an advanced certificate in two to three semesters, and an associate in science degree in two years. Students may elect to attend part time as well. Our programs also offer hybrid courses for more flexibility in scheduling to accommodate the busy lives of our students.
The program is $46 per unit for California residents, not including books, fees, and supplies. Units vary by course, but the average is 3 units per course. Unit fees for the 15-unit certificate would be $690; the 36-unit certificate would be $1,656; and the 60-unit associate degree would be approximately $2,760. Most students also qualify for some form of financial aid.
Centrally located in the heart of the Anaheim Resort District and Orange County, our students are employed by many local companies. Faculty members work hard to develop employment partnerships with local hotels, resorts, and restaurants. Many of our students have or are working for companies such as Disneyland Resort, Hyatt Hotels, Great Wolf Lodge, Surf and Sand Resort, Marriott Hotels, Blackmarket Bakery, and Susie Cakes.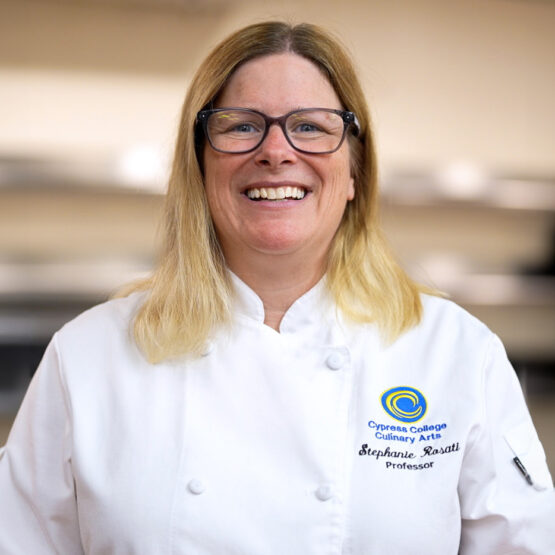 Welcome to the Cypress College School of Culinary Arts and Hospitality Management at the NOCCCD Anaheim Campus. Students may earn Associate of Science degrees, occupational certificates and transfer credit in hotel management, restaurant management, culinary arts, and baking and pastry. I have been a part of the Cypress College family since 2010. Teaching our student population is one of my greatest loves. Baking and pastry has always been a love of mine and I love sharing my knowledge with our students. Our classes are hands-on and interactive; this is why I believe we are so successful in teaching our students. The culinary and hospitality industry has provide me with many wonderful opportunities. I have had the opportunity to work for companies like the Ritz Carlton, Disney, and SMG catering, with experience in both front and back of the house. All of these experiences has brought me to where I am today, Cypress College.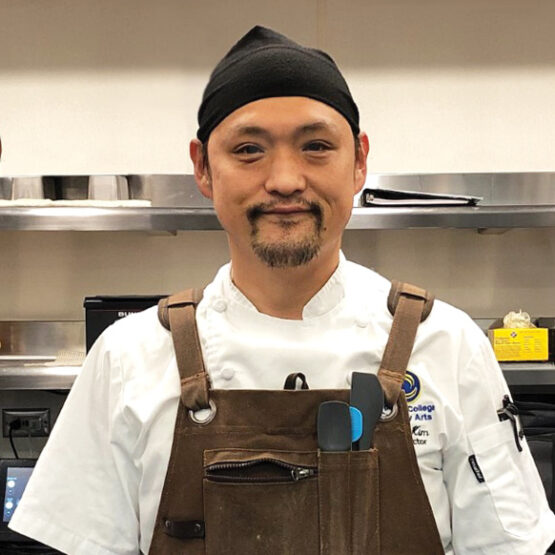 The hospitality industry has provided me with wonderful opportunities and experiences. I have had the pleasure of working for the Walt Disney Company for 20 years. I am a graduate of the Hotel, Restaurant, Culinary program at Cypress College with degrees in Culinary Arts, Baking and Pastry Arts, Hospitality Management, and Food and Beverage Management. It is my passion to communicate stories through food and my desire to work in environments where there is continuous refinement of technique and mastery of skill. I have recently become part of the Cypress College family as an adjunct instructor for the Baking and Pastry Program. The Hospitality industry has always been a part of who I am and getting to share my knowledge with students is amazing. We take this journey together.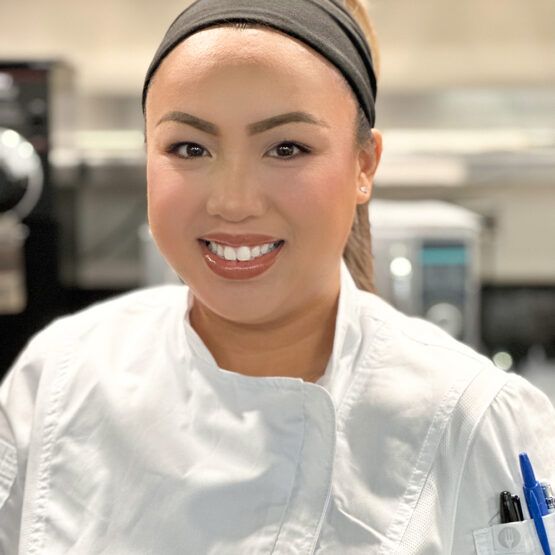 As a graduate of the Hotel, Restaurant, and Culinary Arts program at Cypress College, I have honed my skills and knowledge in Baking and Pastry Arts, Culinary Arts, and Hospitality. I currently work as a high school CTE instructor, where I teach Introduction to Culinary Arts, Advanced Baking and Restaurant Management courses to aspiring young chefs. It is incredibly rewarding to witness my students' growth and development as they discover their own creativity in the kitchen. Recently, I have joined the Cypress College team as a new adjunct chef instructor, and I am excited to share my passion for baking and pastry with eager students. Together, we will explore artistry through hands-on experiences and learn the science behind creating delectable desserts. Get ready for an exciting journey filled with creativity, innovation and the joy of baking!
Hotel, Restaurant & Culinary Arts News