Captain Edilberto Valdez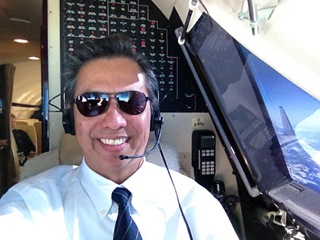 Hi and welcome to my faculty home page.
In 2004, I began teaching at Cypress College as an adjunct professor in the Aviation & Travel Careers department. Now, after working in the aviation/airline industry for more than 34 years, I am here full time to assist you in achieving your goals and dreams.
I am still active flying Gulfstreams all over the world and teaching Corporate Pilots, Military Pilots and NASA Test Pilots. If you are interested come and join me on Cypress' Flying Team and become the best that you can be.
My career began as a Ramp Agent at Los Angeles International Airport at the age of 18, serving international airlines loading bags, connecting ground power units, air start units and yes, even the honey bucket on Boeing 707s, DC-8s and DC-10s. I have been a pilot for United Airlines, Champion Air, Skywest Airlines and a Corporate Chief Pilot.
From being the Captain of a large transport category aircraft in domestic and international operations, to working on the airport ramp, I have held a variety of training and management positions, including Line Check Airman, Corporate Chief Pilot, Boeing 727 Training Director, Chief Flight Instructor, Simulator Instructor and Ground Instructor for both pilots and flight attendants. I received my Bachelor of Science degree from Embry-Riddle Aeronautical University and also have a minor in Business Administration.
Stop by or call and let me know how I may assist you in achieving your goals and dreams in the aviation industry.
Captain Ed Valdez
ATC 132 C Private Pilot
If you have ever wanted to fly or become a pilot then this is the course for you! We will learn all of the interesting subjects that it takes to become a safe and proficient pilot. Whether you are interested in becoming a professional pilot or you just want to fly for fun and recreation this course will get you there.
Course Description
This course prepares students for the private pilot rating and exam. The course covers aeronautical subjects and topics applicable to private pilot flight operations. Topics will include aircraft systems, navigation, flight planning, aerodynamics, weight & balance, aircraft performance calculations, FAA regulations, airspace, air traffic control, aviation weather, aeromedical factors, emergency procedures, aeronautical decision making and crew resource management.
Textbooks and Supplies
Pilots Handbook of Aeronautical Knowledge – FAA-H-8083-25A. FAA: FAA, 2008 Edition
Private Pilot FAA Knowledge Test. Irvin Gleim: Gleim Publications Inc. 2014 Edition
FAR/AIM. FAA: Reprinted by ASA, 2014 Edition
Alternate/Supplementary Textbooks
Airplane Flying Handbook – FAA-H-8083-3A. FAA: FAA, 2004
Rod Machados Private Pilot Handbook. Rod Machado, Aviation Speakers Bureau
Rod Machados Private Pilot Workbook. Rod Machado, Aviation Speakers Bureau
All FAA Handbooks and publications are available as free PDF downloads at:
Federal Aviation Administration Website
Federal Aviation Administration Manuals Library
Hybrid Course:
This is a hybrid course, which means we will be meeting in person 50% of the time and online 50% of the time.
Computer Skills, Requirements & On-Campus Labs
Computer Skills: Students should be able to type 25 WPM with 90% accuracy, and be comfortable with web browsing, word processing, sending and receiving email (with attachments), and saving coursework on a computer. Test your skills: Typing Test
Computer Equipment Requirements: To access your Canvas classroom, you will need to know your username/password, have internet access, and a valid email account. Please check the requirements page on the Distance Education web site for a current list of supported browsers and operating systems.
Availability of On-campus Computers: Computers are available in the Learning Resource Center and at times in the TE1-214 lab.
Computer Equipment and Requirements
In order to make sure your computer equipment is capable of handling Cypress' online requirements go to:
Cypress College Canvas Login Page and check your system as stated under "Get Help" just below the Log-in section.
Distance Education