Cypress to Partner with Mazda for Technician Training Program
Members of Mazda North American Operations today visited the Automotive Technology department to kick off a new partnership. Cypress College will be the latest school to feature Mazda Automotive Student Training (MAST), the first to do so in California.
"Having a partner like Mazda, and helping our students to see the connection between industry and the education they receive at our college, is incredibly empowering," Cypress College President Dr. JoAnna Schilling said to the visiting Mazda representatives. "I can assure you this is exactly the kind of opportunity we need to offer and will be a very in-demand program for our students."
MAST connects schools and students with Mazda dealerships to support career paths for new technicians. The program provides vehicles and tools, certification, and connections for internships and dealer work experience.
"I'm thrilled that Mazda is here," Dr. Kathleen Reiland, Vice President of Instruction, said. "Our Automotive Technology program is top in the Orange County area, recognized by regional leaders, so you are getting a solid program."
Most of the 11 MAST programs already in place operate on the East Coast. The first West Coast school to provide the targeted automotive technology training was established in Washington state. When Mazda sought to expand into Orange County, one of its key markets, it approached Cypress College.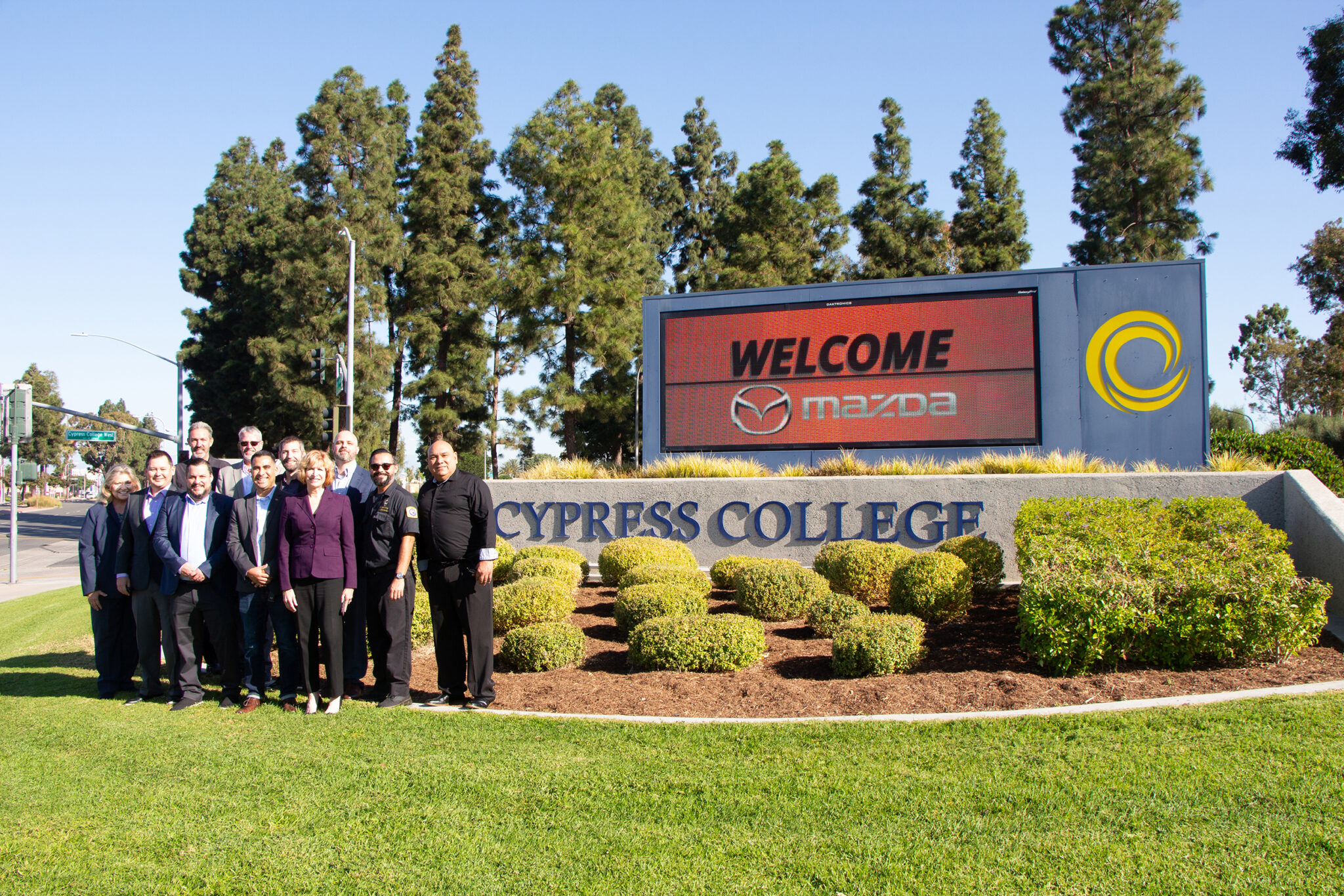 "Orange County is huge for us, a big market, and this will be a good program," Evan Valle, program manager, CEC Strategy, at Mazda North American Operations said. "We want to show the benefits of working in automotive here."
Cypress College currently offers a Toyota Technician Training and Education Network (T-TEN) program. Similar to the prospects for those who complete T-TEN training, Mazda hopes to build a pipeline of MAST graduates ready to work immediately in dealerships, shops, and beyond.
"We are very appreciative of Cypress letting us in to bring this program and excited to have this partnership," Jason Fenton, director of Technical Service Division said. He and others began with the company as technicians, and used that perspective when discussing the possibilities for Cypress College MAST graduates. "This program shows that there is a career in auto beyond fixing cars."
Automotive Technology faculty member Enrique Aispuro says Mazda MAST courses will begin in the spring 2024 semester. Initially, it will be a blended program, meaning the general automotive courses will integrate the Mazda students and training for those who become part of MAST. MAST students will complete current courses and current requirements for certificates and graduation, with additional Mazda certifications and training on factory vehicles, equipment, tools, and software, and will graduate as certified Mazda technicians.