Dental Hygiene Clinic Upgrades
The Cypress College Dental Hygiene Clinic recently underwent a major renovation, to support the needs of the program and improve student success. The $50,000 investment in the award-winning Dental Hygiene program facilitated several significant upgrades.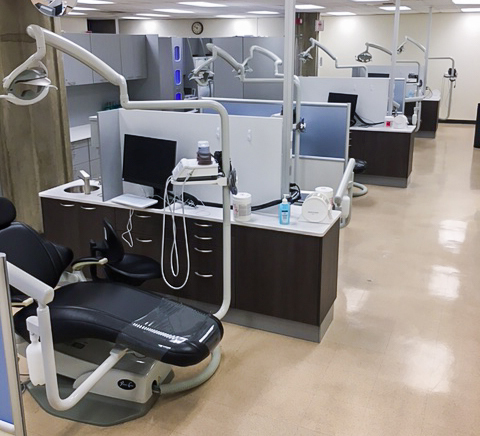 The renovation includes new dental cabinetry, sterilization center, new ADA-compliant reception desk, front office, chairside power and data, portable aerosol collection units, dental grade air purifiers, chairside partitions, and privacy screens. In addition, the dental hygiene classroom has new computer workstations, power/data, and laptop computers.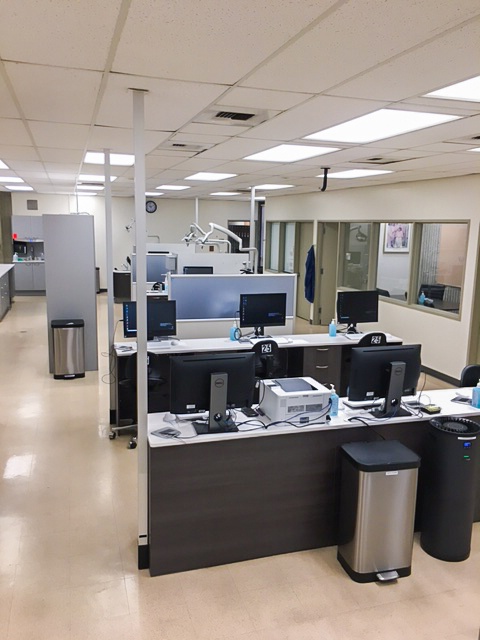 "It looks like a professional dental lab, it looks beautiful," Peter Maharaj, Ph.D., Manager, Technology Services and Academic Computing. He led the electrical and technological upgrade efforts. "Furniture, power, data and all the technology that's associated with it to support the program have been very central."
Funding came primarily from the Strong Workforce program. Cypress College provided additional financial support for equipment and supplies recommenced by the Dental Hygiene Board of California for compliance and COVID-19 regulations.
Dental hygiene procedures such as teeth cleaning and polishing can expose patients, students, faculty and staff to aerosols, so COVID-19 precautions needed to be taken. Six JADE Air Purifiers and 16 chairside Aerosol Collection Units were installed to address this need.