Build Your Future as an Automotive Collision Technician
Earn a great living in the field of automotive collision repair, refinishing, and detailing. The Automotive Collision Repair program prepares students for employment as collision repair technicians, frame and structural alignment technicians, and automotive refinishers. Course curriculum includes damage appraisal, both computerized and handwritten. Automotive refinishing classes provide students with the most up-to-date, environmentally friendly materials they will use in the automotive refinishing trade. Detail training involves both interior and exterior care with an emphasis on the latest technologies and materials. MIG welding in various positions will prepare students to take their ICAR certification test. Training is both theoretical and practical. Directed practical work is provided in all areas of automotive collision repair under simulated on-the-job conditions. The program offers an associate in science degree and several certificate options and is ICAR/NATEF/IDA certified.
Location
Tech Ed 1, Room 202
Frequently Asked Questions
Program options include certificate programs and an associate in science degree.
Depending on the program and the number of units taken each semester, completing a certificate program can take as little as one to two semesters and completing the associate of science degree program can take about two years.
The program cost is $46 per unit for California residents, not including books, fees, and supplies. Units vary by course, but the average is three units per course. Unit fees for the 15-unit certificate would be $690, ranging up to the 60-unit associate degree, which would be $2,760. Most students also qualify for some financial aid.
Chip Foose Designs
Toyota/Lexus Dealerships
BMW Dealerships
Caliber Collision Center
Toyota Design Center
Fix Collision Center
Knott's Berry Farm
Disneyland
Azko Nobel Car Refinishes
Sherwin Williams Automotive Finishes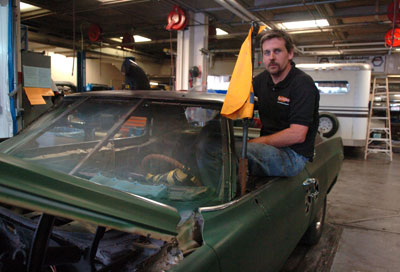 Mr. Snook has been involved in the automotive industry for over 18 years, including eight years experience in the private sector as a collision repair specialist and trainer. Custom car builder featured cars in Popular Hot Rod, Mopar Muscle, Bracket Racing ET as well as Demolition derby cars. He joined the full-time faculty at Cypress College in 1999. A graduate of Cypress College, Mr. Snook teaches Automotive Collision Repair, Advanced Automotive Collision Repair, Auto Paint & Refinishing, Auto Body Structural Alignment, and Special Projects.