Ian Holmes, B.F.A.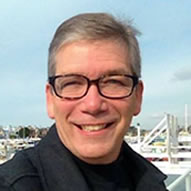 Ian Holmes teaches Digital Cinema, Film & Video Production, and Digital Imaging  in the Media Arts Designdepartmentat Cypress College. Ian holds a B.F.A. in Design & Commercial Photography from the Art Center College of Design in Pasadena, CA. He studied cinema at National University and holds a teaching credential from Cal State Los Angeles.
Professor Holmes' professional experiences include photography, film, animation, web design, and graphic design for textile screen printing.
Professor Holmes states, "I'm  passionate about film, animation, video, digital cinema and new technology in general. I've been an Apple fan boy since 1984. Everyone has a story to tell, so why not tell your's through cinema? If you love movies, art and technology you're my people!"
Passions
My lovely wife and my two adorable daughters
Film/Cinema/Animation/Art/Design
Teaching
Sports
Motorcycling
Mountain Biking
Windsurfing
Ocean Kayaking
Hobbies
Photography
Experimental Short Films
Favorite Film Genres
Motto
Life's an adventure and every day is a new opportunity for excitement.
MAD 194 C, Beginning Motion Picture Production
This course provides an introduction to theory, terminology and process of motion picture production for film and television. Topics include basic cinematography including the operation, function and creative uses of production and post-production equipment, scriptwriting, camera operation, shot composition, lighting, sound recording and mixing and editing.
MAD 185 C, Documentary Digital Cinema
This course introduces contemporary documentary film-making techniques used by digital cinema technicians and artists. Students will learn to create and shoot short format documentary films.Activities will include watching and analyzing films by various filmmakers including Ken Burns as well as planning and shooting films as individuals and crews.
MAD 134 C & MAD 135 C, Digital Imaging
The course focus is on the usage of Macintosh and Windows based software for the manipulation of bit-mapped (raster) images using illustrative, photographic, scanned and video images as the basis for image manipulation. Course topics include image enhancement, editing, composite, retouching, photo montages, prepress, color separations, web-based images. The primary software application used in class will be Adobe Photoshop.
MAD 109 – Video Production
MAD 110 – History of Animation/Technology
MAD 180 & MAD 181 – Video Editing
MAD 182 – Cinematography
MAD 185 – Documentary Digital Cinema
MAD 188 – Beginning Single Camera Operation
MAD 189 – Cinematography II
MAD 191 – Film Noir Genre
MAD 192 – Great Directors of Cinema
MAD 184 – Beginning Motion Picture Production
MAD 195 – Science Fiction Film Genre
MAD 196 – Silent Film Genre
MAD 197 – Western Film Genre