Jolena Grande Talks to NBC about Women in the Funeral Industry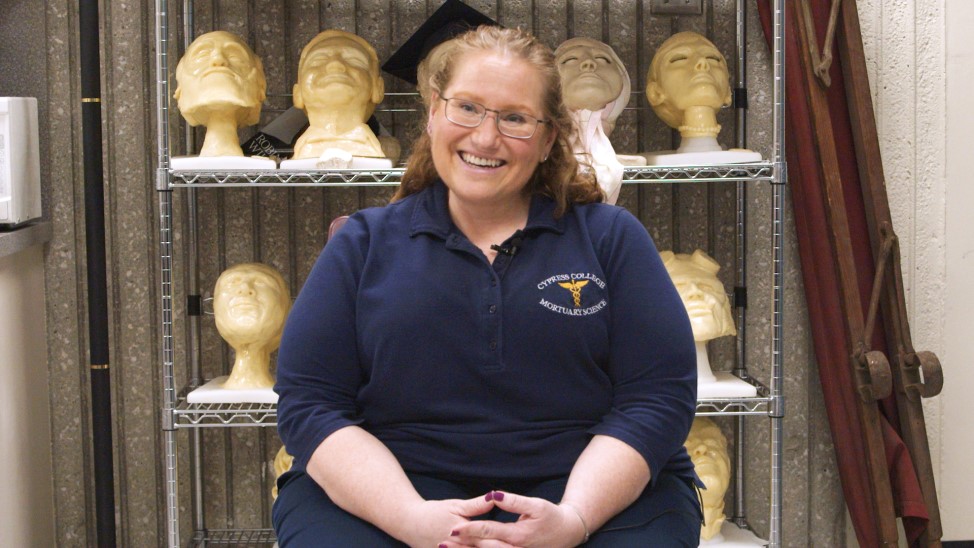 Cypress College Mortuary Science professor Jolena Grande recently spoke to a reporter on a widely broadcast television interview about the state of the funeral industry and how women are changing it. Noreen O'Donnell of NBC Owned Television Stations interviewed Grande to find how the 150-year-old industry might soon be led by women. The interview was carried on multiple NBC affiliates nationwide.
Grande shares stories of her personal experience studying, working in, and teaching Mortuary Science. She recalls her time as a student at Cypress College, and how only three other women took Mort. Sci. classes with her. She says when she started in 1989, 90-95% of students were white, well-to-do men.
"Of course, that has markedly changed," she told O'Donnell. She went on to share that the 2022 graduating class was all women, mostly women of color.
Grande says there are a few things women morticians have to overcome: the image that horror movies have perpetuated, of old white men waiting to get their hands on bodies, and the idea that women don't belong in the business because their either too small or frail. Women, however, have an advantage in the business, Grande says.
"Grieving families relate well to women. And women are very compassionate. They are natural caregivers."
The Bureau of Labor Statistics predicts that jobs in the funeral industry will grow by 8% over the next decade, a rate higher than average for all professions. Women will soon saturate the field, by representing 65% of mortuary science graduates.
For the full video interview of Jolena Grande discussing the future of women in the funeral industry, click here.