Great Picture Continues to Make News, Thanks to Cypress Faculty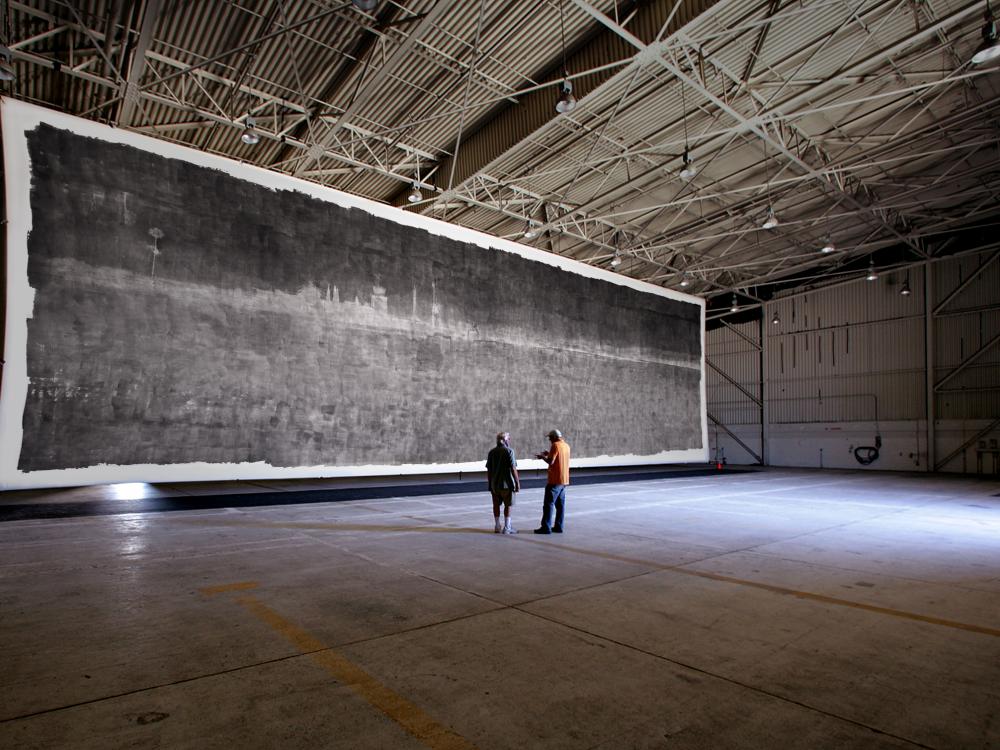 "The Great Picture," a 107-by-31-foot photograph is in the news, and Orange County, again. The image started with inspiration from Cypress faculty, and was created by them at the former El Toro Marine Corps Air Station near Irvine, where it now resides until May 7.
In 2006, six photographers turned an old hangar on the abandoned base into the world's largest pinhole camera, recognized by Guinness World Records. The resulting 3,375-square-foot photograph shows a skyline view of the closed 4,700-acre base, including the control tower, structures, and runways, as well as the surrounding foothills.
The photographers had come together to document the decommissioning of the base and called their collaboration The Legacy Project. Project members include Rob Johnson, Clayton Spada, Mark Chamberlain, Jacques Garnier, Douglas McCulloh, and the late Jerry Burchfield. All but Garnier have been Cypress College Photography faculty members.
"The original impetus for the project started here in our Photography Department," Johnson told Cypress College in 2014. "I and three others who taught here at CC (including Jerry Burchfield) were charter members [of The Legacy Project]."
According to that 2014 piece, the image was created on July 8, 2006 at 11:30 a.m. when the project members began a 35-minute exposure by opening a quarter-inch (6mm) pinhole 15 feet off the ground in the base's Building #115, a former F-18 fighter-plane hangar. The photograph has been displayed in the Smithsonian National Air and Space Museum, in Beijing at the Art Museum of the Central Academy of Fine Arts, and elsewhere.
"The Great Picture: Making the World's Largest Photograph" exhibit documents the photographers' process. It is open to the public from until May 7 at Palm Court Arts Complex in Irvine, and shares images and literature about "The Great Picture," which will be on-site in a crate.