First Lavender Graduation to Take Place at Cypress College
Cypress College will hold its first-ever Lavender Graduation on Monday, May 23 from 5-8 p.m.! All current, former, and future LGBTQ+ graduates are invited to attend!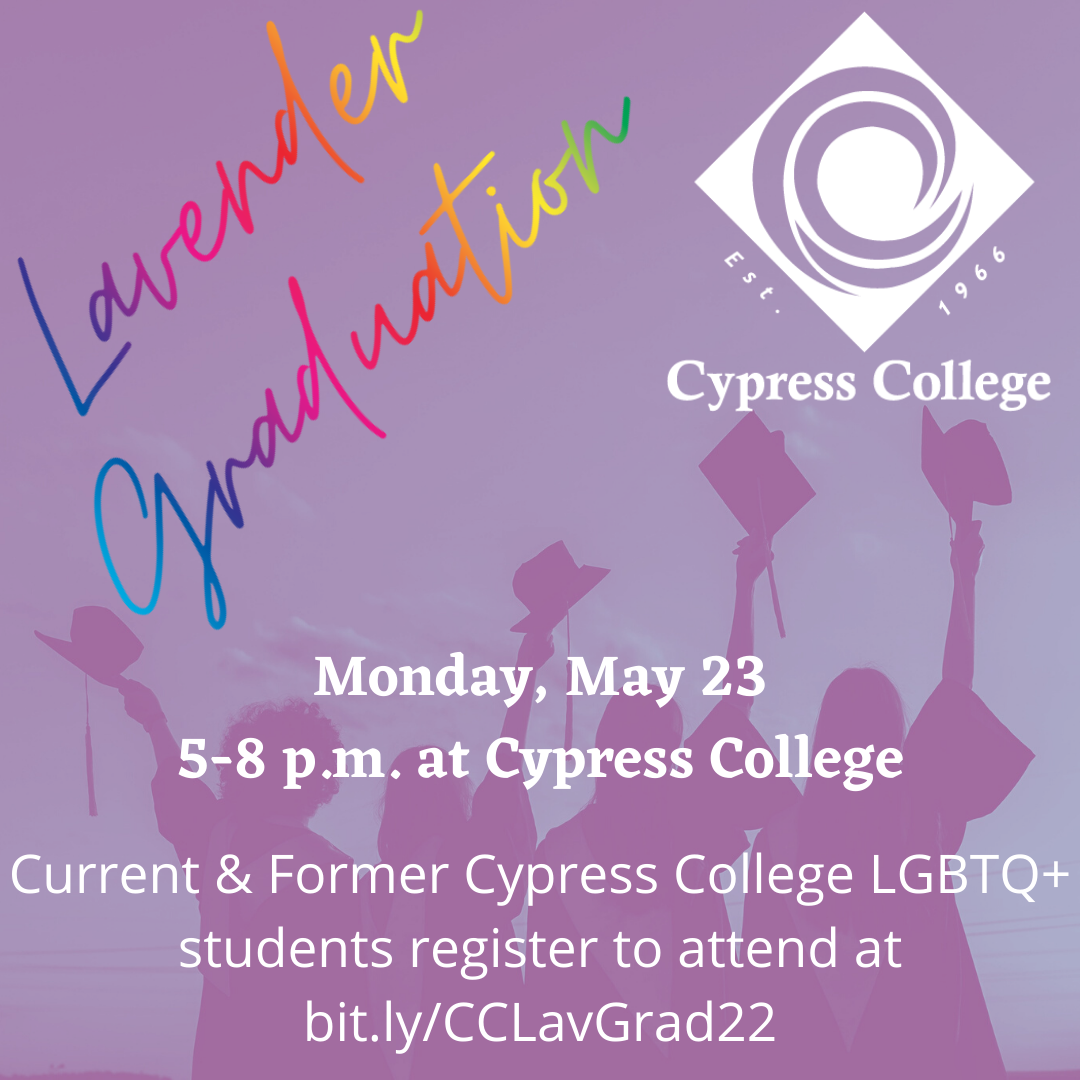 Lavender Graduation is a special graduation ceremony for our LGBTQ+ graduates to honor and acknowledge their achievements, contributions, and unique experiences at Cypress College. It is an opportunity for our LGBTQ+ students to be celebrated as their true selves alongside those with whom they choose to celebrate.
"The celebration provides an opportunity for LGBTQ+ students to celebrate their achievements in a space that is safe for them to be recognized and honored as their authentic, true selves, something they may not be comfortable doing at the official Commencement Ceremony" says Jenelle Herman, Cypress College LGBTQ+ Liaison, Queer-Straight Alliance (QSA) Faculty Advisor, and Gay & Lesbian Association of District Employees (GLADE) President. She organized the event, which she says will acknowledge this student community's "strength in overcoming the many societal and institutional obstacles in order to succeed."
The ceremony will take place on campus and include dinner for graduates and guests, music, heartfelt words, free individual graduate photos, a free raffle for all LGBTQ+ students, and other activities. LGBTQ+ graduates will be awarded a Lavender Graduation certificate and rainbow stole, presented to each individual by a person who has supported them on their educational journey. There will also be a group photo with all of the graduates.
If you identify as LGBTQ+, or you've actively advocated for LGBTQ+ students on our campus, you are welcome to attend. Please register by Friday, May 13.
If you identify as LGBTQ+ and cannot attend, we would love for you to fill out our LGBTQ+ Opt-In Signup Form so that we have permission to send you LGBTQ+-specific updates and invitations in the future.