CYProud: Emily Costello
Student success comes in many different forms, and Cypress College is proud to recognize and celebrate the variety of paths our students take to achieve their dreams. Whether it's transferring to a four-year institution, or receiving an associate degree or certificate and heading into the workforce, we want all of our students to know we are on this educational journey with them and are pleased to feature distinguished #CYProud students for 2021.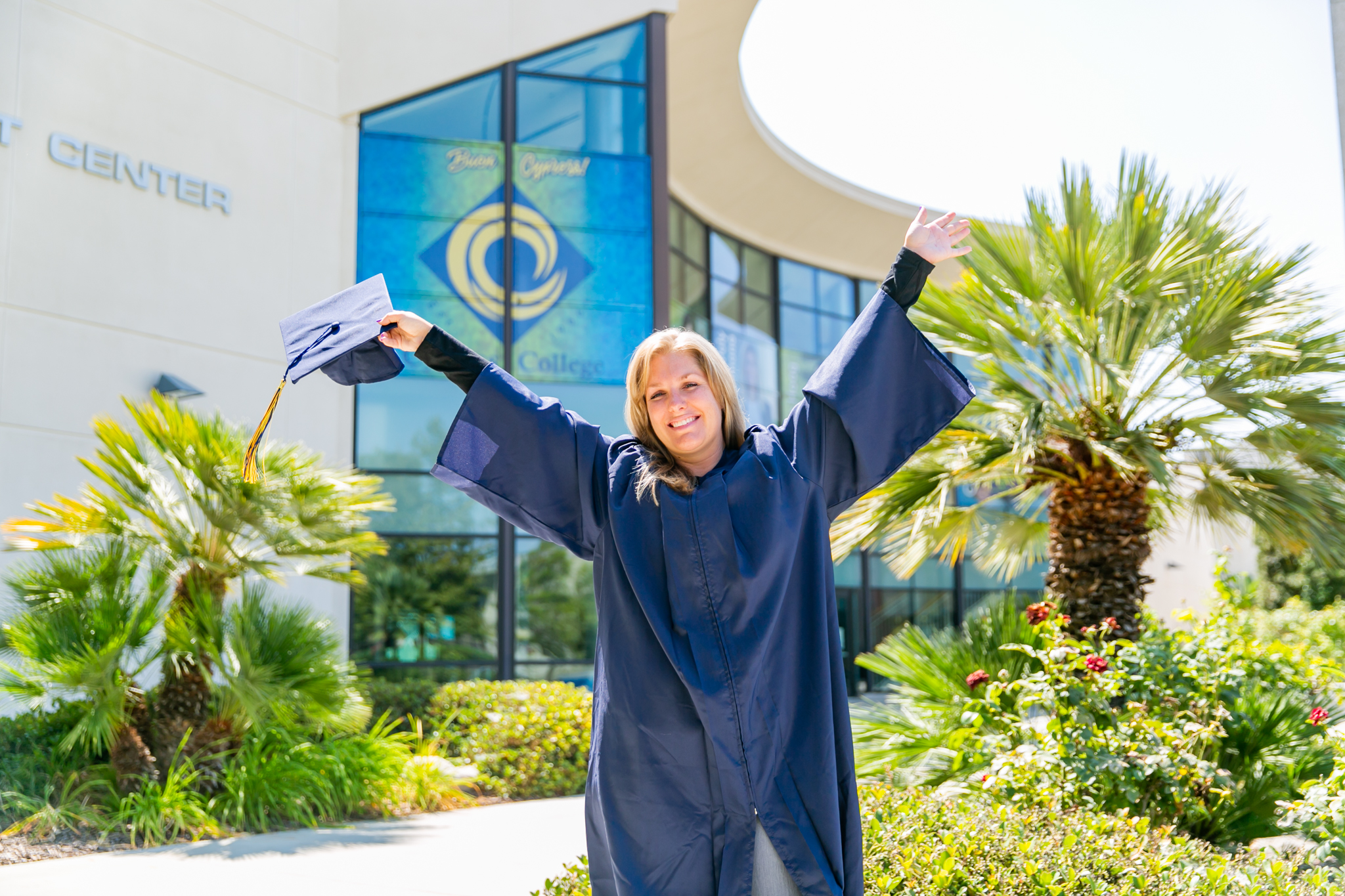 Emily Costello worried that enrolling in college would take time and resources away from her primary focus: being a mom. She chose Cypress College because it was close to her children's school, so she could always feel on-call if anything happened. Cypress also helped her with support services that helped this first-generation college graduate navigate higher education and finish her general education with a clear career path. Emily made it into Cypress College's competitive Dental Hygiene program and will graduate into a world where she can provide health care services to the public and a role model to her children.
Please tell us about yourself. Where did you grow up? What are your interests? What is your story?
I was born and raised here in Orange County with my mom and younger sister. My mom was a struggling single mother and my dad was in and out of our lives battling with alcohol and substance abuse. Growing up I had low self-esteem and abandonment issues that led to many problems and I eventually lost my way through life. We struggled financially, and we didn't always have what we wanted, but we had what we needed. When I became a mom in my early 20s to my two wonderful children, I tried to change my life but it wasn't until I became a single mom in 2015 that I knew I had to do something to raise my children on my own. Today, I am the first generation of my family to graduate college and have a degree. I want my children to know that I did this for us and for our future. I want them to be proud of their mom and to know all those sacrifices we all had to endure will one day be worth it.
What are you most passionate about? Why?
I am most passionate about helping people. With my situation I had no idea how I was going to support myself and two children, so all the resources and learning experiences that I went through these last few years I try to give back to my fellow students.
Why did you choose Cypress College?
I chose Cypress College because it was close to my kids' school and home. It was very important that I stay close just in case anything would happen. Cypress College also has the Dental Hygiene program, which is what I decided to do to further my career in the dental field from being a dental assistant to eventually a hygienist.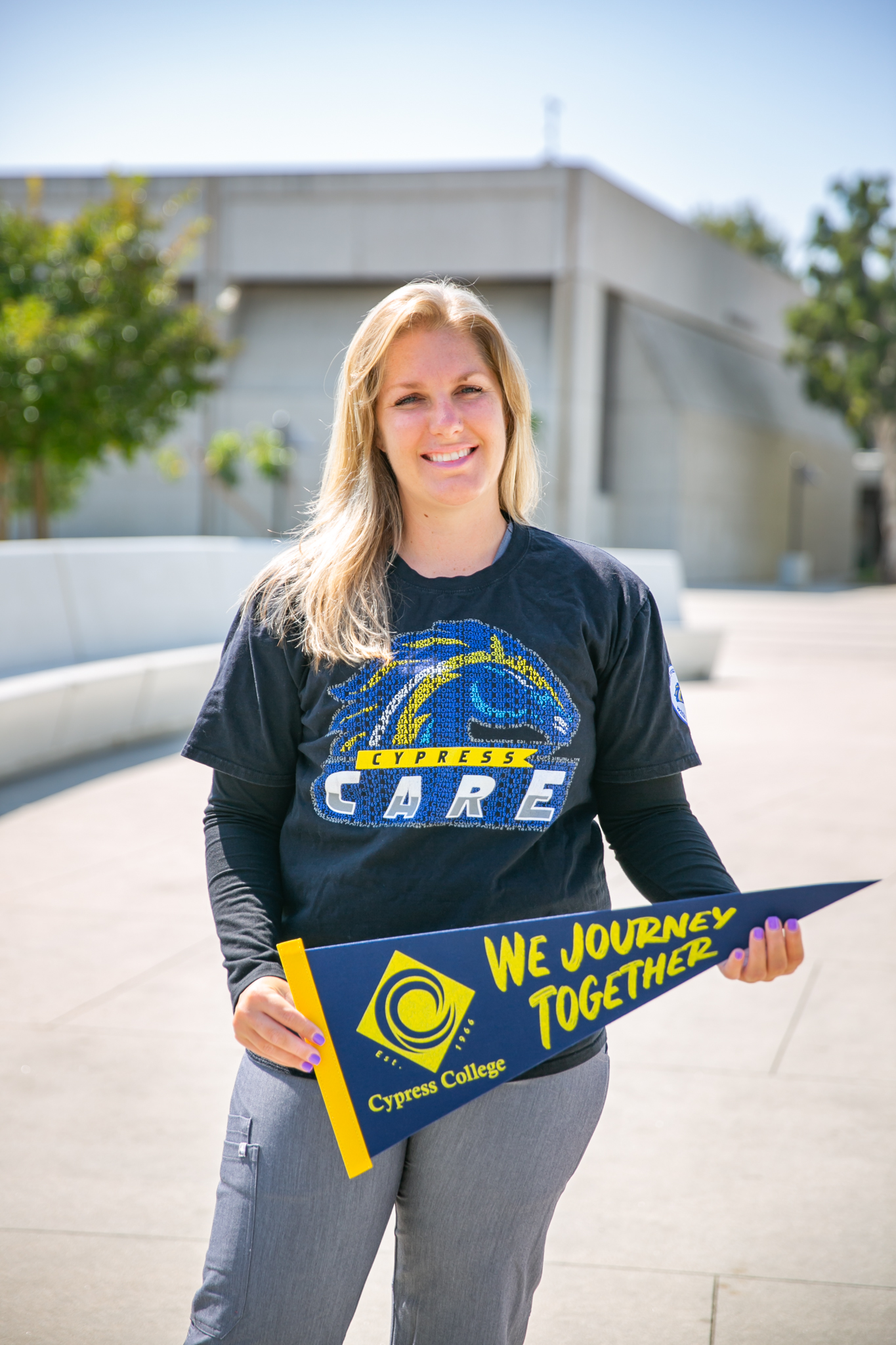 What have you been involved in at Cypress College? How has your path unfolded?
I have been involved in the EOPS/CARE/CALWORKS programs. I started off by researching the school's website to see if there was any help financially. I am so grateful for EOPS because this led me to CARE and CALWORKS, which are all wonderful support programs. After I was established, all of my worries were gone, and I no longer feared being in school while trying to support myself and my children. EOPS offered me a work-study in the office and I was able to help other students succeed in their academic career. My self-esteem and passion for helping others grew with time and I was able to create such wonderful relationships with friends and coworkers.
Share a memorable event or experience while you've been a Cypress College student.
I became homeless and entered a family shelter with my kids. This was such a difficult time for us, but I was so determined to not let this stop me. As the lights would go off at 9 p.m. I would use my flashlight to do my homework, while everyone was sleeping. Another memorable event is when my dad suddenly died in 2019. This was also a rough time for my children and me, but I was able to take care of everything for my dad. During these times I had to learn the lesson of giving myself a break. I dropped a couple of classes to give me some slack, although doing this made me feel like a failure because it pushed me back almost a year. Today, I know this happened for a reason and timing was all part of God's plan for me.
Who are the faculty and staff (in your major, an academic or other support program, etc.) who have helped you get where you are today?
From my experience, the professors who create their curriculum for the success of the students will make all the difference. Of course, students have a major responsibility and must put in work. I want to thank all the professors I had along my journey because they were motivating, helpful, and hopeful for the future success of their students. Everyone at the EOPS/CARE/CALWORKS office who were my coworkers and then became my second family. They helped me get through the hardest days and celebrated all my triumphs. My boss Lili Perez, who taught me the value of self-care while giving me time to grieve my father and let me come back when I was ready. My counselor Eva, who has been with me since the beginning, telling me I could do it even when I thought I couldn't. I would not be here today if it wasn't for the support of everyone, especially during all the times I was ready to quit.
How has Cypress College supported you throughout your time at the college?
Cypress College has supported me with all the resources and programs they provide.
What are your immediate plans after completing your studies at Cypress College (at your transfer institution, in the workforce, etc.)?
I have been accepted into the Cypress College Dental Hygiene program. Therefore, my immediate plans are to prepare and gather everything I will need to start in fall 2021. In the next two years, I will be a graduate of the program in 2023.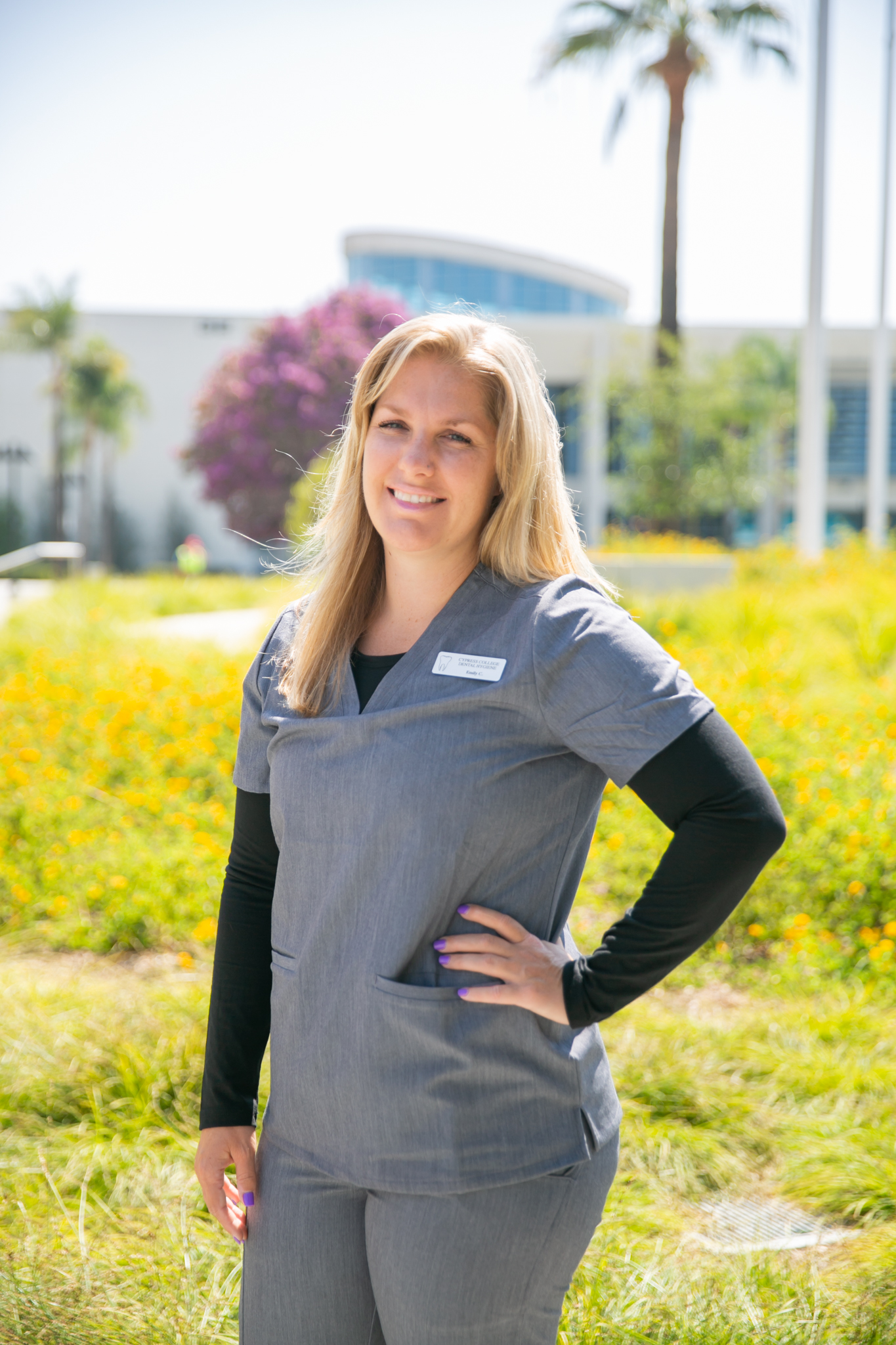 What are your long-term goals? What do you aspire to?
My long-term goals are to be working in a dental office as a practicing hygienist. I aspire to work and give back to my community through health, while making a living to support my two children financially, physically and emotionally. My kids want to have a house with a yard and a trampoline in it and I hope to give them that one day.
What are you most proud of?
I am most proud of my children. Everything that I went through, they went through. It has not been easy, especially having to sacrifice my time with them to study and go to school. I remember going through the shelter and seeing how hard that was on them, but I kept reminding them that as long as we stay together, we will be OK.
What one bit of advice would you give to current and future Cypress College students?
I would like to tell future students to continue to work hard and be the best they can be and to give themselves grace through the hard times. It is not the destination that makes the person, it's the journey along the way.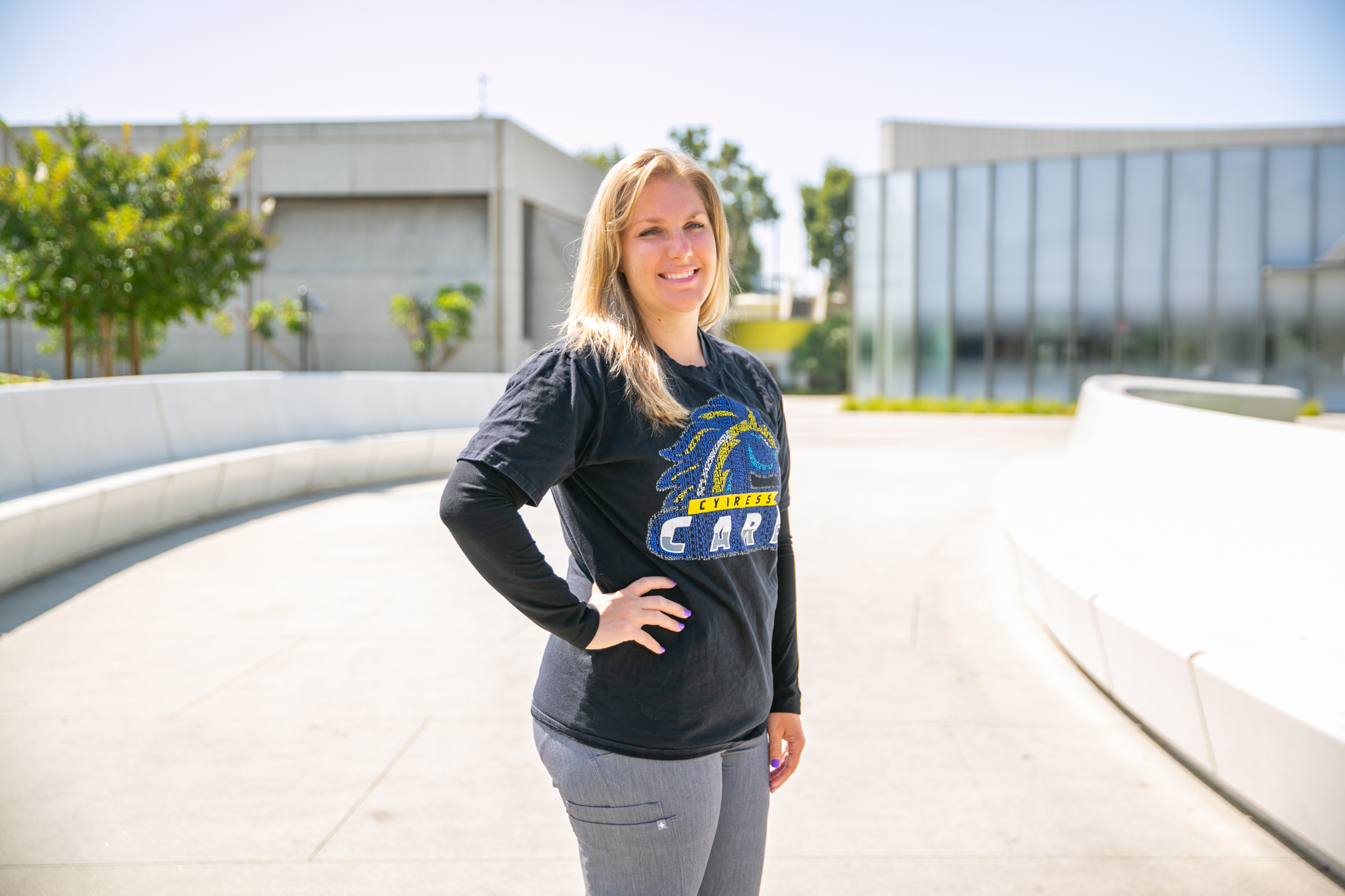 How have you been impacted by the COVID-19 pandemic? What has gotten you through and/or what have you learned from it?
Personally, COVID-19 has impacted my family and it was very scary to see my sister struggle with her family being sick. I am grateful that all of them have recovered but I know that is not the same for some people and their families. The pandemic has also impacted me financially with the school closures because I had a work-study and was not able to work. My income took a hard hit but I learned to save my money and luckily had a safety net. I learned to take the pandemic one day at a time, and I knew that whatever we were going through wouldn't last forever.
Is there anyone in particular you'd like to thank?
I just want to thank everyone who believed in me.