Cypress College's New HACU Fellows Honored
Cypress College's three HACU fellows — Yanet Garcia Padilla, AnnMarie Ruelas, and Gisela Verduzco — were honored by Assemblywoman Sharon Quirk-Silva during an on-campus ceremony on Tuesday, October 12, 2021. Quirk-Silva, who represents Cypress College as part of California's 65th Assembly District, presented the three campus leaders with certificates of recognition in celebration of their achievement.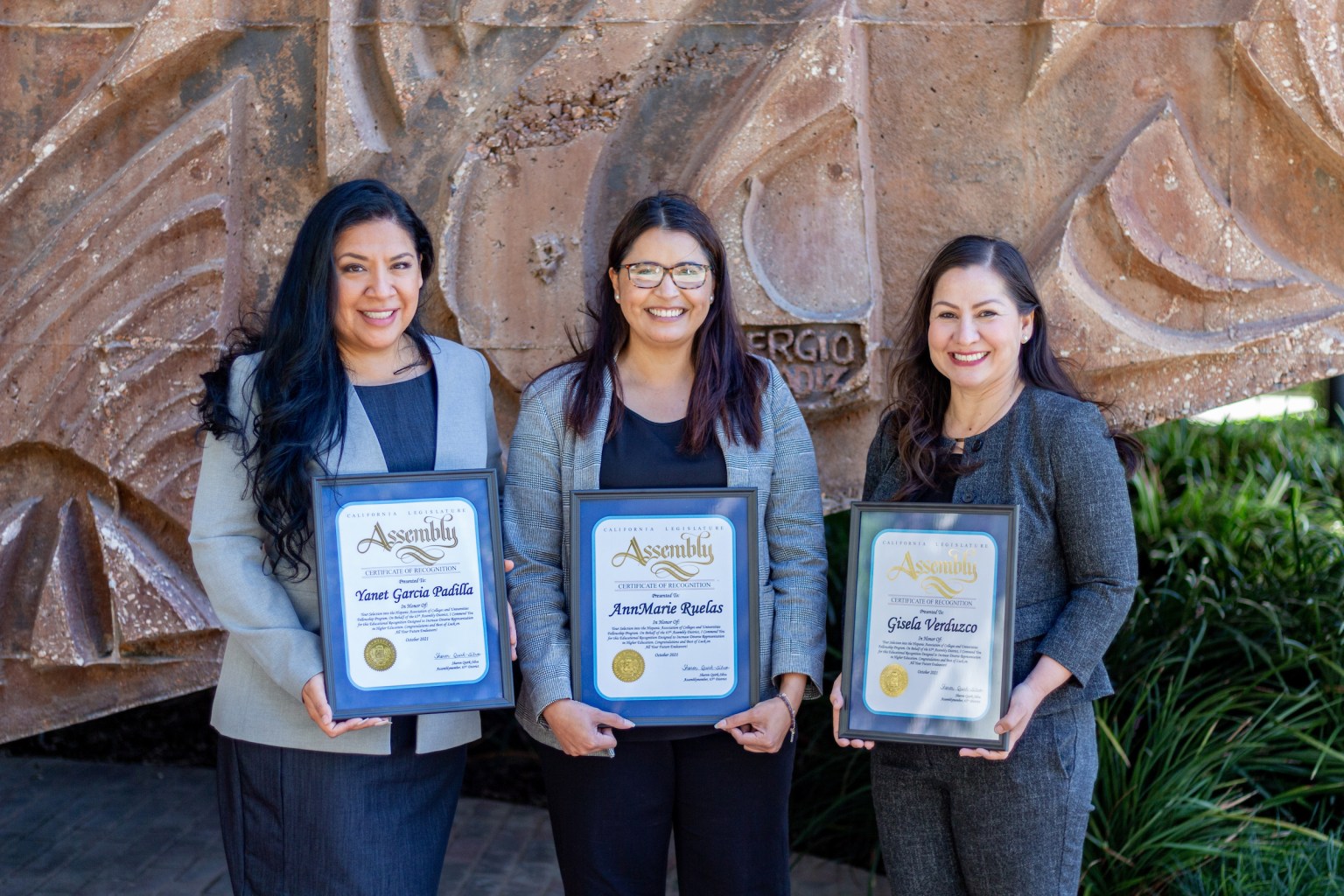 Padilla, Ruelas, and Verduzco were accepted last month by the Hispanic Association of Colleges and Universities as fellows into a program designed to increase diverse representation in executive and senior-level positions in higher education. Just 25 fellows were accepted into the program across the nation.
Quirk-Silva, an educator prior to serving as an elected official, told each of the HACU fellows she was proud of their work and the opportunities they created for others to achieve their dreams. The setting matched this theme as well. Quirk-Silva made the presentations in front of the campus' prominent carved sculpture, created by J. Sergio O'Cadiz Moctezuma in 1967 as a sign of hope and possibility for Latino students. The sculpture was preserved in 2016 as Cypress College prepared for its 50th anniversary celebration and highlighted as part of an exhibition of O'Cadiz Moctezuma's work. The Cypress College sculpture is one of the artist's few surviving public works.
"These three Cypress College leaders … are all talented individuals who aspire to leadership positions and continue to bring innovative and inspiring programs to the students of Cypress College," Quirk-Silva said on her social media account.
Cypress College President JoAnna Schilling, PhD., acknowledged this accomplishment for the three new fellows, the most selected from any single organization in the United States.
"We know the HACU Leadership Academy will further improve their opportunities for professional advancement and for the benefit of the students they serve," Schilling said in a press release earlier this year.
"Cypress College is incredibly proud to have three fellows selected, more than any other institution in the nation. We believe this speaks to the commitment to support our employees and students as a Hispanic-Serving Institution."