Retired Professor, Coach Tom Lubin Remembered
Cypress College is remembering retired professor and coach Tom Lubin. One of the college's pioneering faculty, Lubin was a chemistry professor who is fondly recalled for his memorable lessons — including jumping off a building — and for his devotion to students, including standouts Swen Nater and Mark Eaton.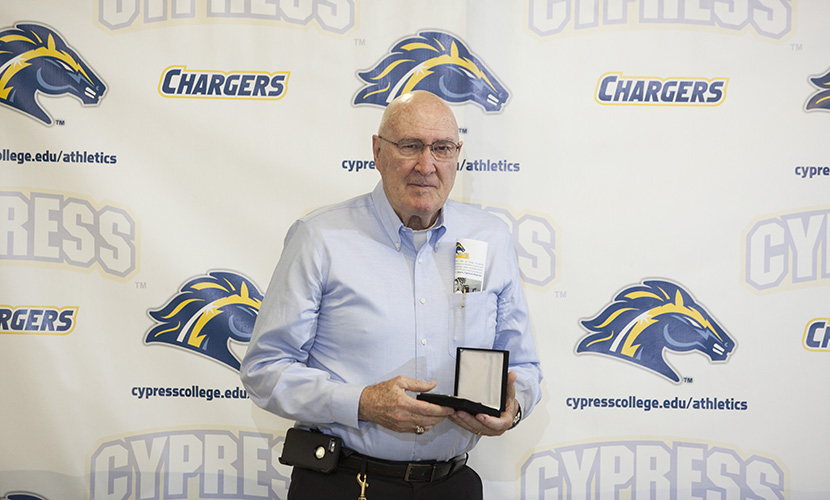 The Lubin Family has established the Tom Lubin Memorial Scholarship Endowment with the Cypress College Foundation. The endowment is intended to provide scholarships to chemistry students and the Men's Basketball program in perpetuity. The goal is to raise $30,000 "in honor of the 30 years he dedicated to Cypress College" and in hopes of naming a chemistry lab in the new SEM building in honor of his contributions to the campus and its students.
Professor Lubin lost his battle with Lewy Body Dementia on July 1, 2020, at the age of 80. Always known for going the extra mile for students, Lubin's last complete sentence was: "can I do anything to help you?"
"That was him. Always teaching. Always helping. Always encouraging," his daughter Kara Lubin wrote in tribute on Facebook.
Helping others certainly was a theme for Lubin, who started at Cypress College in 1967, just one year after the campus began operation. The stories of NBA standouts Nater and Eaton clearly illustrate Lubin's commitment, passion, and devotion to students. Both still hold NBA records, but neither one was playing basketball when Lubin, Cypress College's assistant basketball coach, discovered, recruited, mentored, and trained them outside team practices. After completing their studies at Cypress College, both played at the University of California at Los Angeles before going on to NBA careers.
Both men frequently credit their success to Lubin — a man whose impact was so large that his name appears over and over in newspaper articles featuring Nater or Eaton. This includes a New York Post feature on legendary UCLA coach John Wooden. In 2017, Lubin joined his former students in the Cypress College Athletics Hall of Fame.
You don't have to appreciate or know basketball, though, to appreciate the lengths Lubin went for students.
One legendary story had Lubin jumping off the roof of a campus building to illustrate a lesson to his science students. To be fair, it was one of the many pre-fabricated buildings that dotted "the instant campus" in those early days. Still, even for a man of Lubin's stature, that's a tall order.
"I saw him jump off the roof," said Patricia Ganer, who was both a student of and a colleague to Lubin. "It wasn't the only time he did things like that. He also set up a fulcrum outside and did similar things with that to illustrate concepts. He was very hands on with his teaching. He was also very approachable."
Another popular tale involving Lubin was his intervention in a Vietnam War-era demonstration on campus that he deescalated and kept from getting out of hand.
Lubin was recognized by students, his peers, and administrators in 1998 as the college's nominee for the Orange County Teacher of the Year award. In 2000, a semester after his retirement, he was recognized by the Academic Senate with the Outstanding Faculty Award.
As a coach, he helped Cypress College to California Community College Athletics Association state championships in 1977 and 1980. As an academic and a chemist, he published more than 25 papers related to soil and agronomy and has consulted on golf courses across the globe.
"In his wake he leaves legions of doctors, researchers and scientists who wandered into his Cypress College chemistry classes thinking, 'I hope I can pass this course,'" Eaton wrote in tribute to Lubin. "They left inspired, by a man who would not let them fail. … He was committed to helping everyone he met find their potential."
Nater's life also was changed by Lubin.
"Tom Lubin is the rare kind of person who, if you needed something and he had it, it was yours," Nater said. "Not only did he give me a hookshot, he gave me a bicycle to get to school on, a coat to keep me warm, a Shopsmith when I got interested in woodworking, and much more. When I left home, after my stepfather told me to quit the team, I moved in with the Lubins. I was treated as family and found a love I had not experienced before. More than any other person, Tom Lubin, was 'Buen Cypress,' and I thank God for him."
While Nater and Eaton are two of Lubin's most-recognizable and successful alumni, Lubin didn't exclusively turn out all-star alumni. He once shared that Dr. Mark Feitelson was possibly his most accomplished. Feitelson, a member of the Class of 1972, is now a professor at Temple University and considered one of the world's leading authorities on hepatitis B and C viruses. Feitelson received Cypress College's 2007 Alumnus of the Year. The award, which has been presented 24 times since its 1996 inception also went to Eaton (in 2004) and Nater (in 2017).
That was Tom Lubin — Always teaching. Always helping. Always encouraging.
After completing his master's degree at San Diego State University in 1964, Lubin was hired at Cypress College as a chemistry professor and soon became an assistant basketball coach under Don Johnson, winning several state championships and teaching countless players.
"Tom ate, slept, and breathed Cypress College from its inception," Kara wrote. "His 30 years as a chemistry professor and basketball coach at Cypress were some of his proudest days. We would love nothing more than to honor his life and legacy through the act of supporting the institution and students he loved so dearly."
Lubin is survived by his wife of 56 years, Dorothy, two daughters, Lora and Kara, and four grandchildren, Henry, Lucille, Mildred, and Paris. Due to the current COVID-19 pandemic and state and federal restrictions, the family has chosen to follow the health guidelines and will not have a public memorial service at this time.
In lieu of a service, flowers, and cards, the Lubin Family ask loved ones, former students, players, friends, and associates to make a donation to the Cypress College Foundation, and to consider including a note in memory of Tom to accompany your donation.