Go MAD This Semester
This spring, several courses offer a variety of ways to learn or improve computer illustration, modeling, and projection mapping, among other skills. These Media Arts Design classes can help expand and enhance your professional portfolio or provide enrichment if you are simply interested in digital design.
Learn art that you can apply with the following courses, which still have availability for the upcoming spring semester. Visit myGateway today to enroll.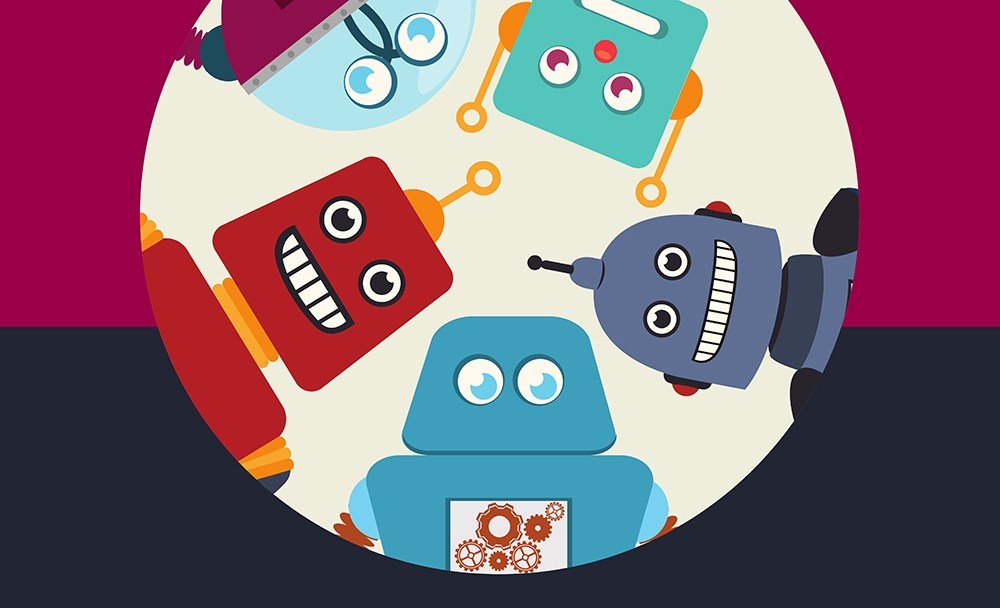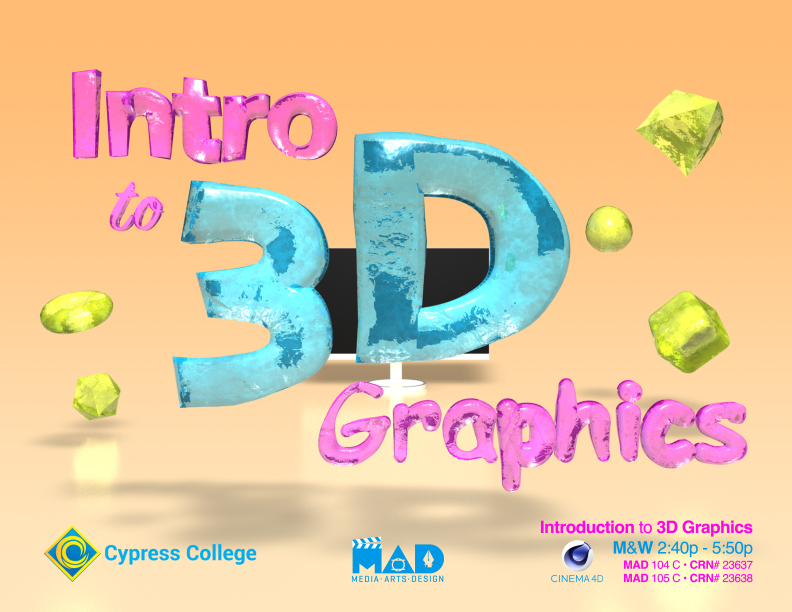 MAD 104 C – Intro to 3D Graphics-Mac (3 units)
MAD 105 C – Intro to 3D Graphics-Win (3 units)
Find out about 3D computer graphics, with an emphasis on 2D paint and 3D modeling and animation software used in animation. You'll create original 3D still and animation imagery for your portfolio. This course is a gateway into the variety of classes for the Art Computer Graphics program, where you can pursue more in-depth study on the topic(s) you were drawn to during this introductory class.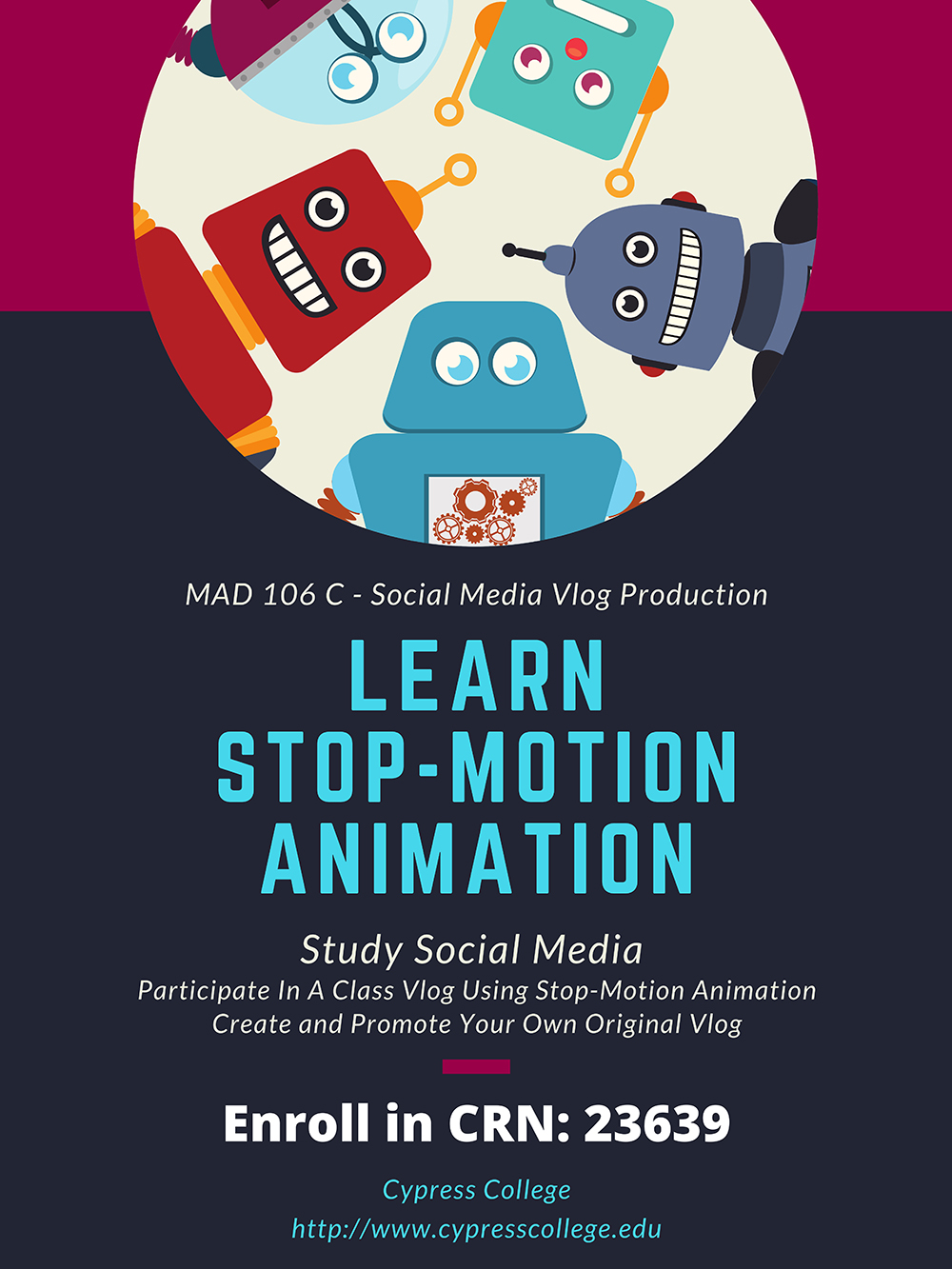 MAD 106 C – Social Media Vlog Production (3 units)
Examine the evolving role social media and video play in cultural and corporate 21st Century life. You will learn to create a Vlog (Video Blog), and shoot and edit video and audio content. You'll create a plan to distribute and market your Vlog brand identity.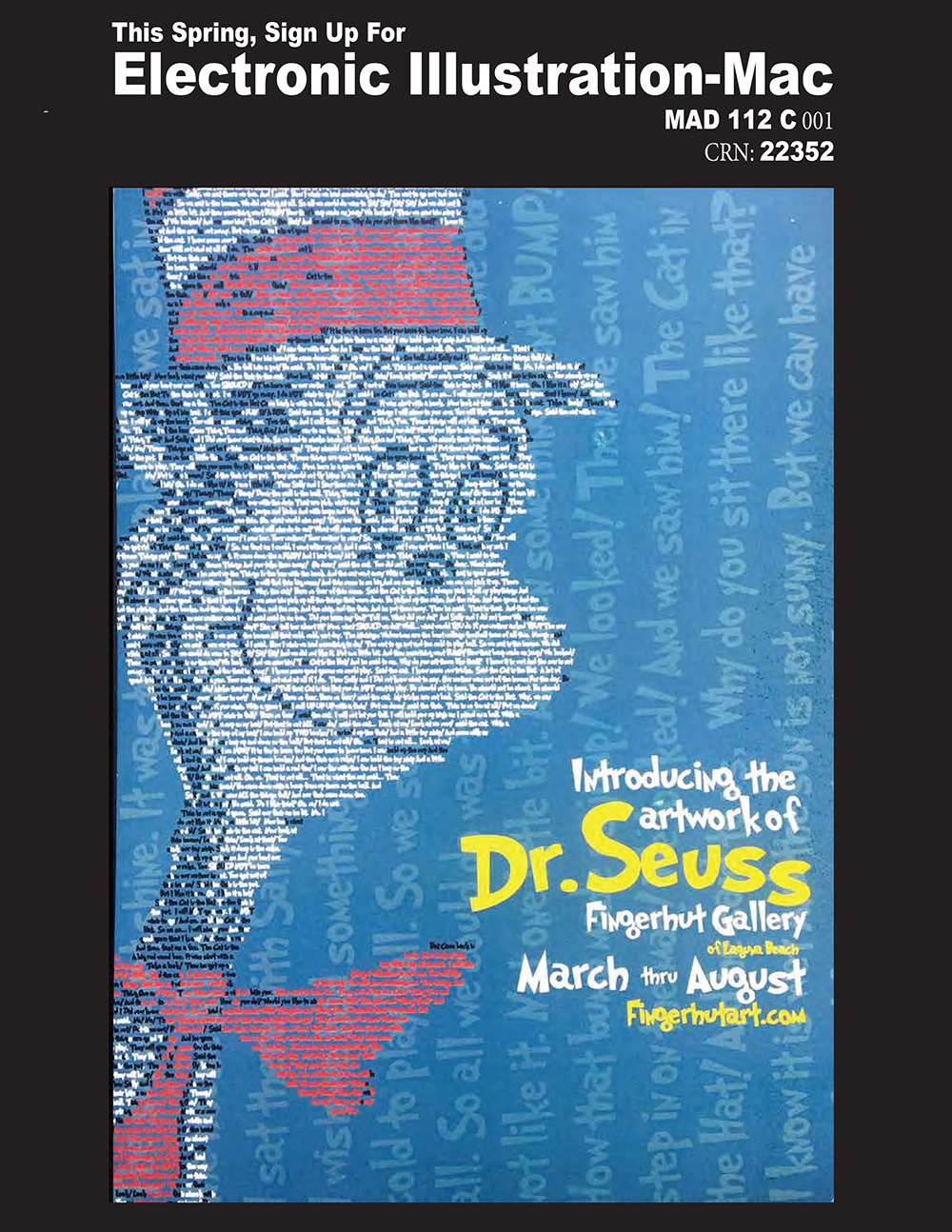 MAD 112 C – Electronic Illustration-Mac (3 units)
MAD 113 C – Electronic Illustration-Window (3 units)
Learn how to generate Mac and Windows Postscript (vector) images for desktop publishing/page layout software and as standalone images with high-resolution output. In these classes, professional artists can build basic Mac and Windows skills needed for employment and/or advancement.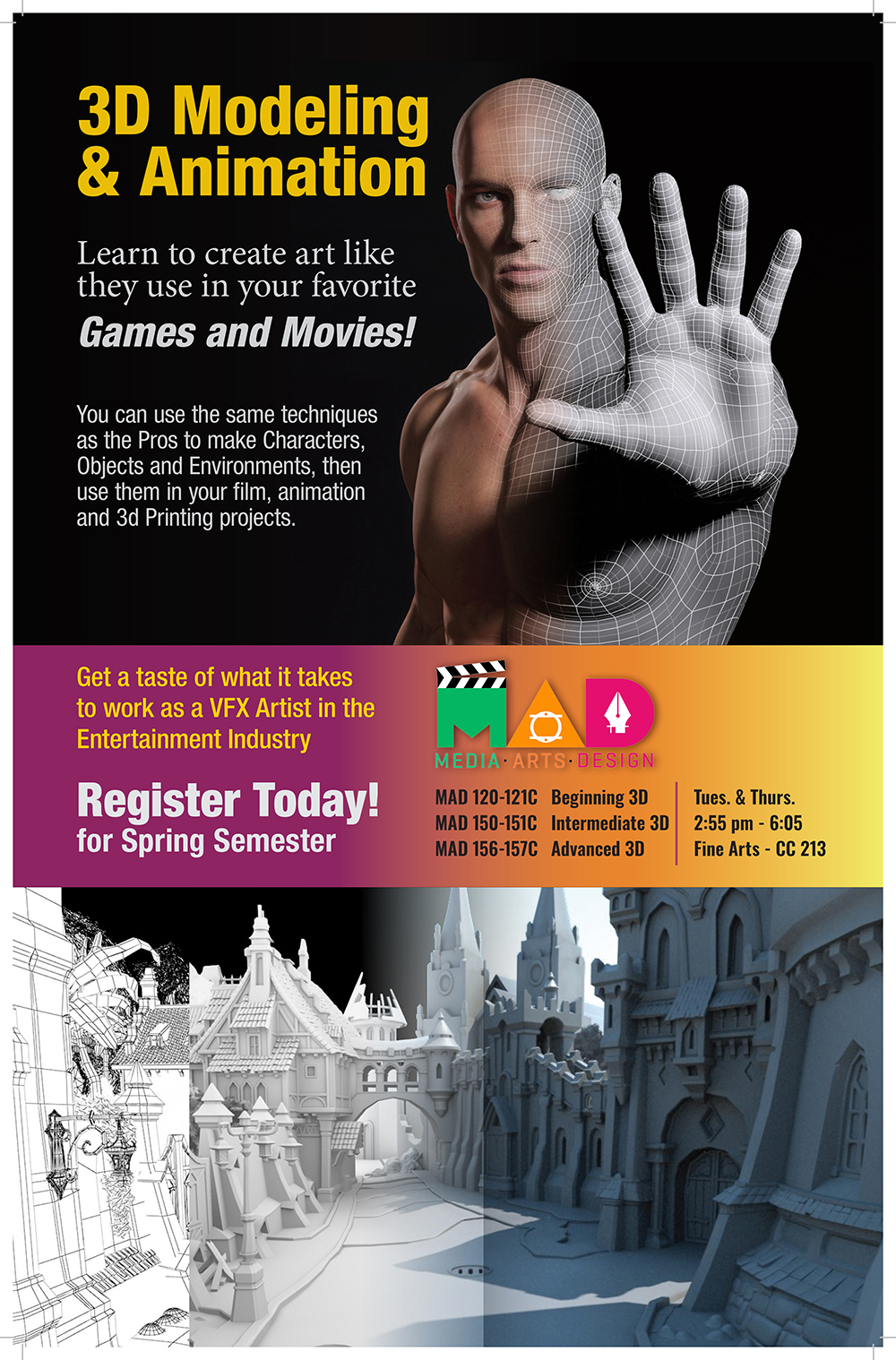 MAD 120 C – 3D Modeling-Mac (3 units)
MAD 121 C – 3D Modeling-Windows (3 units)
These courses focus on the introduction of Mac and Windows creation techniques for making three-dimensional computer graphics content. Classes emphasize 3D modeling and animation tools, menu structures, and model-building applications.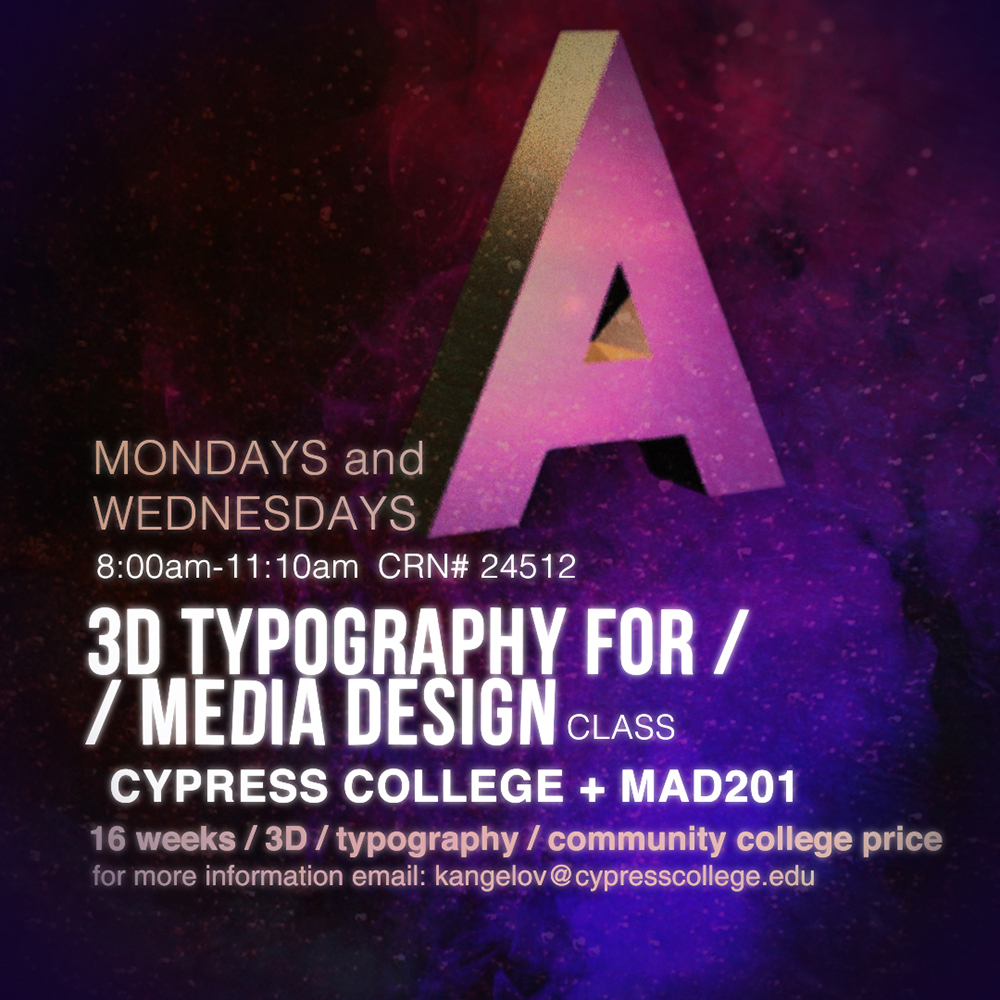 MAD 201 C – 3D Typography for Media Design (3 units)
This intermediate typography course focuses on graphic communication usage. Learn how to develop concepts, layout, and presentations. Projects include lettering design, layout, and 3D typography. You'll learn electronic design techniques in 2 dimensional and 3 dimensional forms.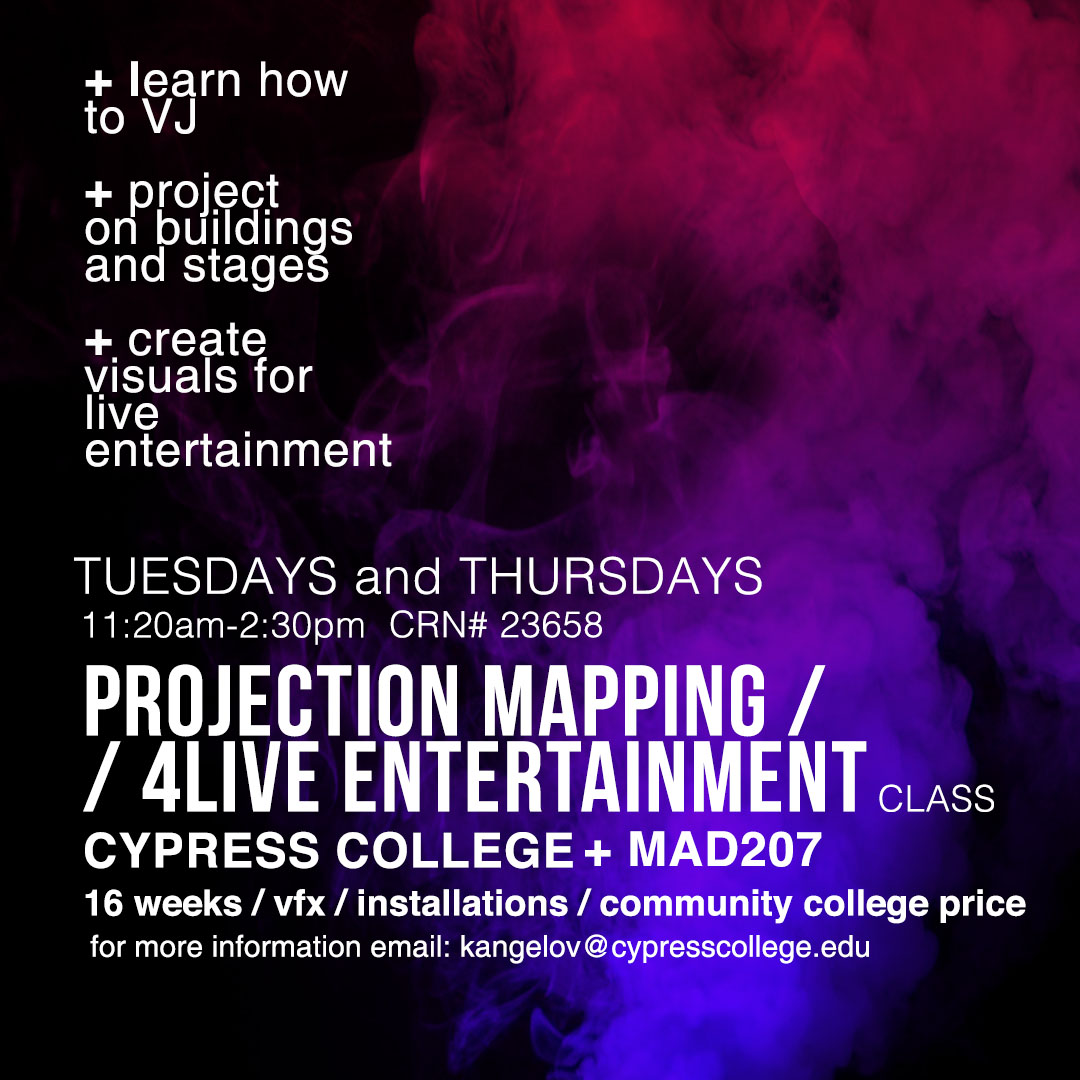 MAD 207 C – Projection Map/Live Entertain (3 units)
Get an overview of the many uses of projection mapping with an emphasis on 2D and 3D design to make digital presentations. You will create projection mapping projects for public display.