#CYProfessional: Robert Grantham, Business and CIS Division Counselor
At Cypress College, we are proud of our employees and realize that recognizing personal and professional achievements, along with establishing a human connection between students, faculty, and staff, promotes a collegial atmosphere imbued with the Charger Spirit! Our employees always strive for excellence and make significant contributions to the campus and surrounding communities every day. We are pleased to feature distinguished #CYProfessionals like Counselor Robert.
What was your path to Cypress?
Born and raised in the UK, I came to the United States right after high school. I attended Fullerton College (FC), where I received my AA degree while working as a student hourly in the Admissions & Records and Bursar's offices. I was hired as a classified member of staff in the Counseling Center at FC, and attended UC Irvine to complete a BA degree in English before working on my MSW at Cal State Long Beach. I became an adjunct counselor at FC, and was fortunate enough to be hired a year later at Cypress College as a full-time Outreach Counselor in the Admissions & Records office.
During the "5% MORE" years, I presented to high school seniors about the benefits and opportunities of attending CC after graduation, as well as planning the annual Senior Days (back when we still had duck pond races!) and Parent Nights. I served a three-year term as the Department Coordinator for the Counseling division early in my tenure here during the construction of the Student Center, and that afforded me the opportunity to participate in the planning and coordination, which I would not otherwise have been a part of.
I also inherited the handful of veteran students that we had on campus when a seasoned counselor retired, and moved over to Business/CIS as the counselor for that division. I was also able to assist Christy Davis (our certifying official) as we established a corner office in A&R as the first Veterans Resource Center on campus before securing space on the second floor of the Complex where it is currently located, and our veterans program then exploded.
As the other full-time Business/CIS counselor retired, I juggled the student loads of both the division and the VRC during the recession years which was certainly quite a challenge at times, to say the least. However, we were able to hire Juan Garcia as the full-time VRC counselor/coordinator two years ago, which has allowed me to concentrate my time in the Business/CIS division, although I still help out in the VRC once a week, and attend several of our veteran events on campus.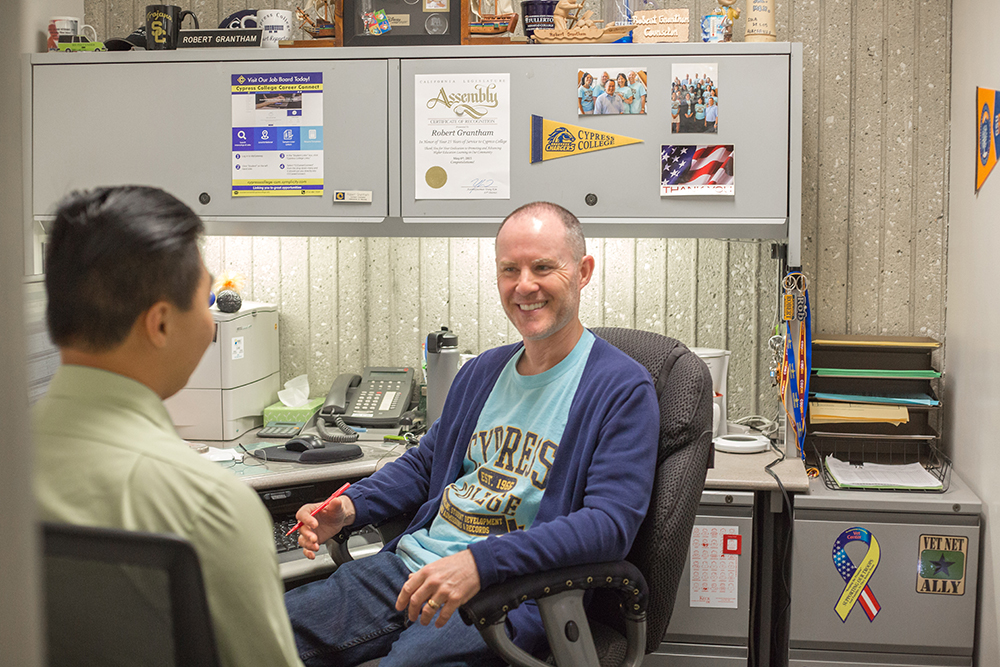 What inspires you as a counselor?
Seeing the professional growth of one of my counseling mentees has been one of my proudest moments here at CC. Juan Garcia was one of my veteran students and student hourly workers as he completed his AA degree at CC prior to transferring to complete both his BA and MSW degrees. He returned to us as an adjunct counselor, and we were able to steal him back from his full-time tenure track position at El Camino to take over the VRC for us. I often joke that I was fortunate to have been able to have "raised" Juan here at CC.
How do you balance your work as a counselor with your other professional/creative work?
I continue to teach COUN 140C each semester to our incoming freshman students, which allows me to balance office time with classroom time. And it is that "a-ha" moment when I see the students in my class understand how important career planning is when making a choice about their major, something I never did at their age, and something I tell them not to do themselves — "do as I say, not as I've done!"
I consider myself to be a true student advocate, and have "gone to bat" for students on many occasions when I feel that they have been caught up in the system and need our assistance navigating their way through the sometimes complicated maze of the higher education system.
If there is any other information you'd like to share, please feel free.
I derive the most satisfaction from my job when disillusioned and confused students come in to my office for an appointment with a less than stellar academic history from a handful of other colleges, and I am able to show them how they can still achieve their transfer goal, getting them back on track, academically. Seeing their faces light up once we have created a clear education plan for them, class by class, is what continues to inspire me as a counselor. I have also practiced what I have been preaching to high school students over the years, as my own two children are now attending FC prior to transfer, and this has helped reaffirm what I do every day here at CC.
Although it doesn't really seem possible, next year I will be celebrating my 30th year with the NOCCCD!