Don Johnson — Charter Faculty Member and State's All-Time Wins Leader — Passes at 88
By Wes McCurtis and Marc S. Posner
Update:  A celebration of life in honor of Don Johnson will be held Sunday, March 10, 2019 at 2 p.m. at Cypress College in GYM II Don Johnson Court. Refreshments will be available at 1 p.m. Parking will be free in Lots 4 and 5 only. In lieu of flowers, donations can be sent at GoFundMe.com/Don-Johnson-Memorial.
Suffice it to say Don Johnson was a legend.
Cypress College named its main basketball court in his honor in 2009 — a fitting tribute for an original faculty member and on-court leader who retired with more victories than any other California Community College basketball coach in state history — and later inducted him into the college's Athletics Hall of Fame. Today, the campus is remembering this inspirational man following his passing at age 88.
As a player, Johnson was a consensus All-American and all-conference honoree as a senior under Coach John Wooden at UCLA in 1952. After graduating from UCLA, Johnson went into coaching and became the long-time head coach of the Chargers.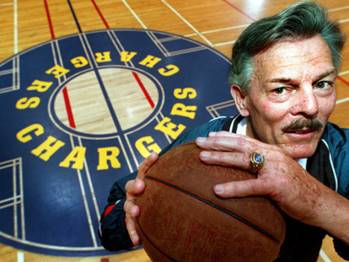 Coach Johnson started at Cypress College in 1966, the year the campus opened, and retired in 1994.
At Cypress, Coach Johnson guided the Chargers to two state titles, seven conference titles, and a record of 588-259. In addition to naming the court "Don Johnson Court" in recognition of his achievements, he is also an inductee in the Orange County Sports Hall of Fame. He retired as the all-time winningest coach in California Community College men's basketball history, with a record of 588-259. He is now fourth on the CCCAA men's basketball all-time wins list.
In retirement, Coach Johnson continued to frequent Cypress College basketball games and would meet with the team before each season to connect new players with the storied history of the Chargers basketball program.
In 2014, Coach Johnson was recognized during the first Legends of Hoops Night. During the event, two of his star pupils, NBA stars Swen Nater and Mark Eaton, had their jersey numbers retired. In addition, Johnson's photograph and motto — "tough, smart, unselfish" — were unveiled that evening on banners still hanging from the court's press box.
Johnson, a Laguna Niguel resident, passed away this morning. He is survived by his wife, Colette, also a Cypress College retiree, and their three children. Information about services is pending.

Interview with legendary Coach Don Johnson, Coach Alhadeff, and Dr. Rick Rams on Don Johnson Court (8/12/15).
—
Wes McCurtis is Cypress College's Sports Information/Marketing Representative.