#CYPossible: Kourosh Shirazi, Automotive Technology
Completing coursework calls for celebration, and we are proud to celebrate with Cypress College's newest degree- and certificate-holders. By achieving these education goals, graduates and certificate-earners are equipped to continue on their college path or find strong footholds in the career fields they've chosen. We've taken the journey with these outstanding students, and know that when they look to the horizon, they see what is #CYPossible.
Kourosh Shirazi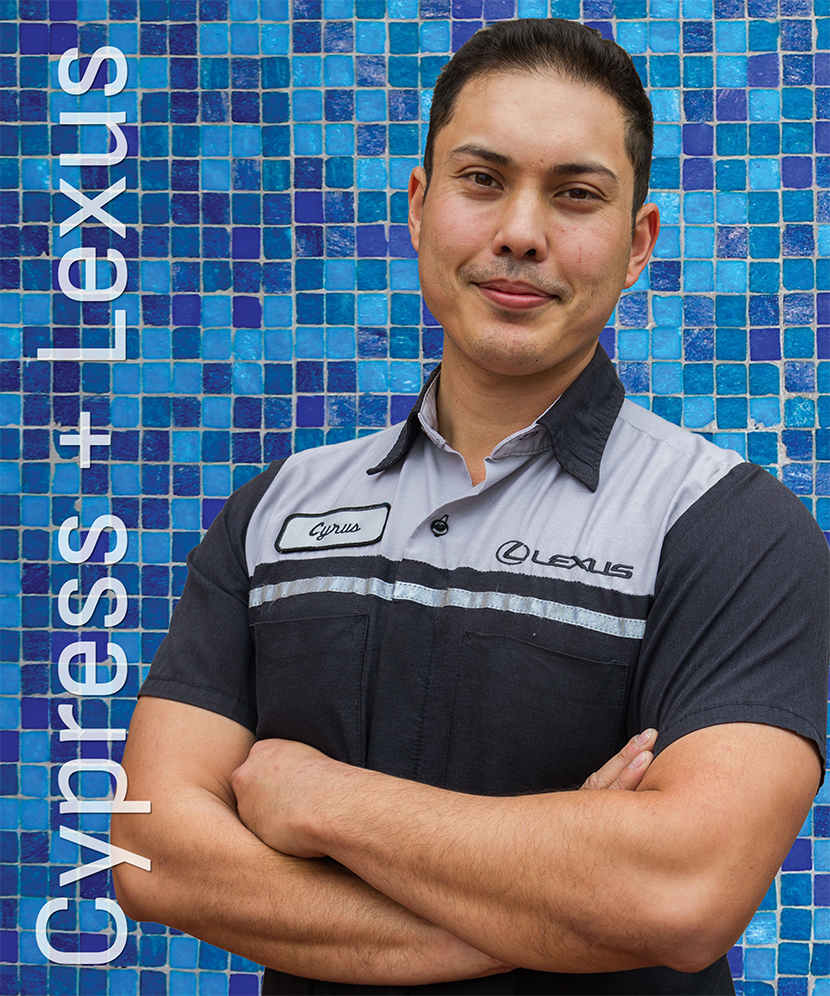 Kourosh (who also goes by Cyrus) made a 180-degree turn in his career path when he decided to pursue his love of working on cars and study automotive technology. Cypress offered a state-of-the-art facility where he could gain hands-on experience; the T-TEN program here enabled him to access a career. Now he's working at Lexus Santa Monica, happy that he changed gears after almost a decade of going off course.
Please tell us a little about yourself. Where did you grow up? What are your interests? What is your story?

I grew up in Orange County; however my family immigrated to the United States. We came from the third world as a family of famers. My father was a large advocate of doing things yourself. He was constantly purchasing DIY books and we would work together doing various projects around the house and work. From a young age, my parents instilled the lesson that to attain any means of success equates to hard work. It has been an arduous journey ever since. I have always held a passion for the automotive industry, but due to personal circumstances, I've had to put my ambitions on hold in means of duty to the family. After 10 years, I have changed gears and started pursuing a career that always held my interests.
Why did you choose to attend Cypress College and how did being a student here help you find your first position after completion?

I came across Cypress College through a referral from a close friend back in 2008. I recall Luis showing me around and being impressed at how well equipped the shop was. When I decided to go back to school, Cypress College was one of the first places in mind. I feel lucky to have returned at a time T-TEN is available. Being a part of this program helped me find employment.
What were you involved in at Cypress College? How did your path unfold and who were the faculty and staff who have helped you along that path?

The biggest influences lie upon Mike Klyde and Paul Kelley. The support and dedication that these two invest into T-TEN and the students is amazing. They helped guide me at every step of the way.
What did you pursue after completing your studies at Cypress College (at your transfer institution, in the workforce, etc.) and where are you now?

My goal was to find a dealership where the environment was best suited to the type of person I am. Going through the T-TEN program, Mike Klyde and Paul Kelley were able to ascertain my skill set and work ethic and match that to a dealership of their recommendation. I placed my faith upon their assessment and now find myself at Lexus Santa Monica, working with one of the best dealerships in the area.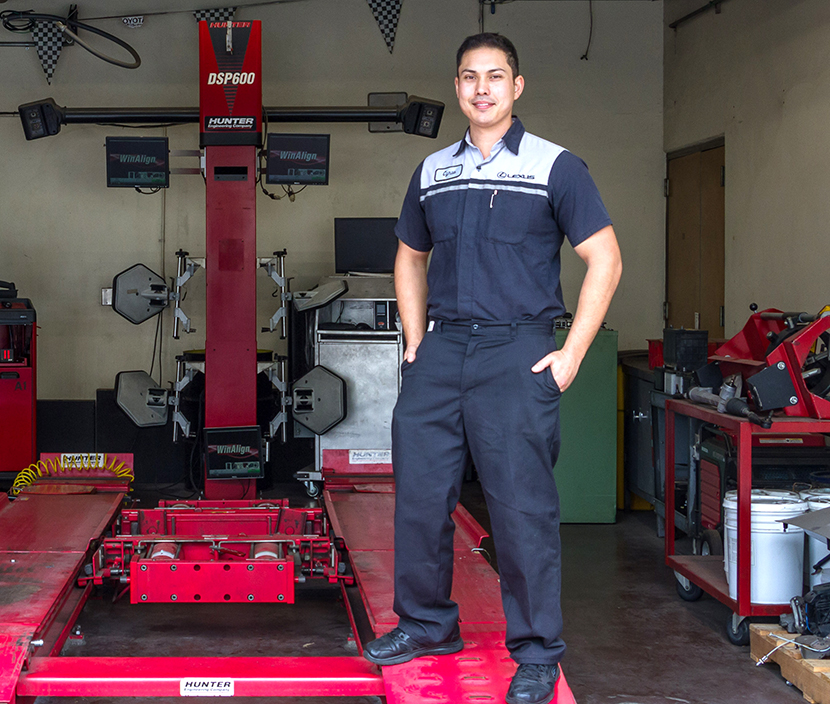 What are your long-term goals? What do you aspire to?

My long-term goal is to establish myself within the industry. It would be nice to one day leave the dealership, but become a part of Lexus corporate.
What are you most passionate about? Why?

I find myself very passionate toward the automotive industry as a whole. Working in this industry has been rewarding and satisfying.
What are you most proud of?

I am proud to be a part of T-TEN. There are others in my cohort that are exceptional technicians and show strengths in areas where I know I am weak. The camaraderie shared as we journeyed through while supporting one another is a memory I hold dear.
If you could do it all over again, what would you do differently?

I would have to say nothing. The program and support provided by Mike Klyde and Paul Kelley is exceptional. They are veterans in preparing individuals with the determination to succeed.
What one bit of advice would you give to current and future Cypress College students?

Work hard and maintain a positive attitude. These past two years have been a constant six days of work with 4-hour nights. If you wish to achieve any means of success in life, you must work hard. There are no easy shortcuts or lucky breaks.