#CYPossible: Mary Eng, Kinesiology & Radiologic Technology
Completing coursework calls for celebration, and we are proud to celebrate with Cypress College's newest degree- and certificate-holders. By achieving these education goals, graduates and certificate-earners are equipped to continue on their college path or find strong footholds in the career fields they've chosen. We've taken the journey with these outstanding students, and know that when they look to the horizon, they see what is #CYPossible.
Mary Eng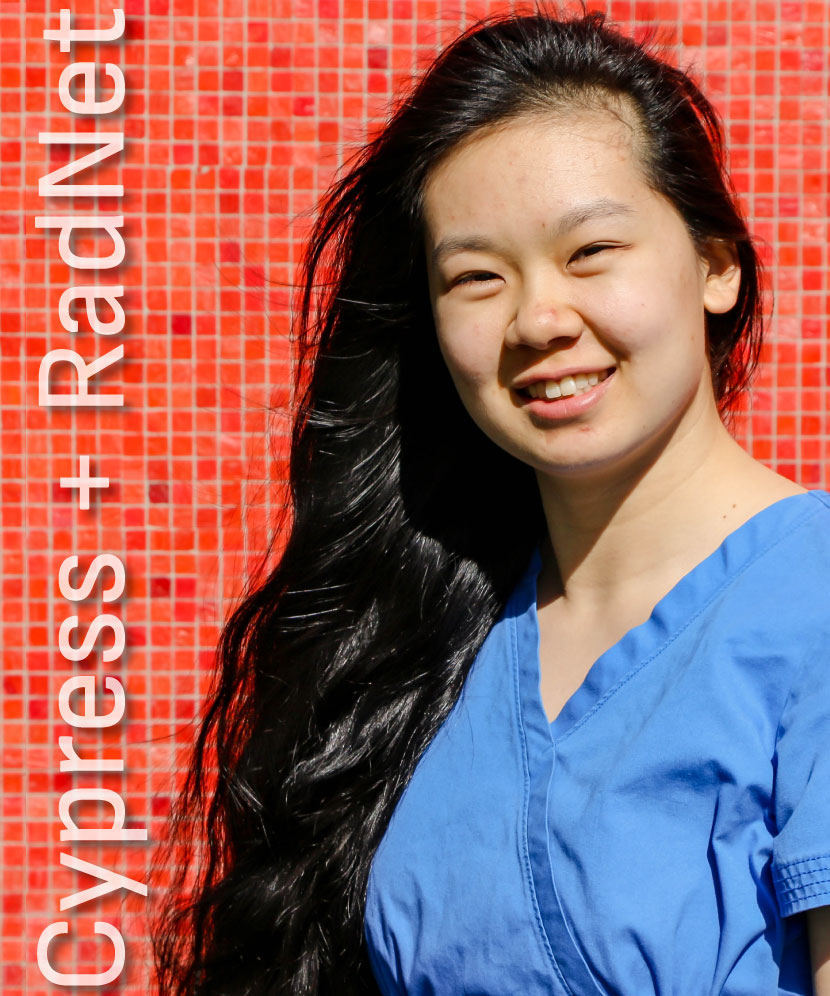 Mary comes from a large family that holds education in high regard. She passed the California High School Proficiency exam at age 14 and was ready to start on her college journey and join her two older sisters who were enrolled at Cypress College. Mary gravitated toward radiologic technology; she'd visited X-ray technicians as a child when she was diagnosed with scoliosis, and wanted to help others. The diagnosis also led her to try out swimming, which opened up a lifelong love of the sport and brought her to a spot on the Cypress College swim team.
Please tell us a little about yourself. Where did you grow up? What are your interests? What is your story?
I am the fourth of 10 children, all born and raised here in Orange County. I was homeschooled until age 14 when I took the California High School Proficiency Exam and enrolled at Cypress College. Studying hard and doing well in school has always been very important in my family. My parents wanted my siblings and me to be able to graduate from the homeschool with enough skills to meet the real world and be successful. The skills I gained from being homeschooled, such as learning on your own and self-motivating, have helped me to be successful at Cypress College.
When I was 11 years old I learned that I had scoliosis. Because of that, I had my first introduction to radiology through regular visits to get X-rays. Having scoliosis also got me into swimming. Soon after learning I had scoliosis, I joined a club swim team. All of these experiences helped lead me to Cypress College.
If I'm not busy working or studying, I enjoy playing the flute, ringing handbells in our family musical group, going thrift-store shopping, or doing one of my many artistic hobbies such as calligraphy, card-making, or painting.
Why did you choose to attend Cypress College and how did being a student here help you find your first position after completion?
I chose to attend Cypress College for several reasons. One reason was that my two older sisters were also attending Cypress College at the time and I enjoy doing things with my sisters. Another motivation for me was the opportunity to join the Cypress College swim team. I had enjoyed swimming on a club team for a few years and when I saw how welcoming the Cypress college swim team was I knew I wanted to be part of the team. In addition, Cypress College was an excellent economical choice for my family and me. I knew that by attending Cypress College I would be getting a good education without a large student debt. Furthermore, the radiologic technology program at Cypress College is one of the highest regarded in the area as well as having the most straightforward admission process into the program. At the time I applied for the program, it was necessary to have A's in the prerequisite courses, but there was no waiting list. I knew that if I wanted to be radiologic technologist I needed to be at Cypress College.
The reputation of Cypress College and the quality of the training I received in the Radiologic Technology program has enabled me to be in my current job. Even though I have less than one year of experience in the field, I now work as the only X-ray tech of a fairly busy out-patient center. Without the strong foundations in positioning and patient care I received at Cypress College, I do not think I would have been qualified for or given this job.
What were you involved in at Cypress College? How did your path unfold and who were the faculty and staff who have helped you along that path?
Having started College so young, I had plenty of time to do other things at Cypress College besides pursuing my goal of becoming a radiologic technologist. I was a part of the Cypress College swim team for three years. This was very good for me in several ways. Although it was a lot of work to attend daily practices and gym sessions while being a full-time student and keeping up my 4.0 GPA, I believe this helped prepare me for the rigors of the radiologic technology program. Also, because the radiologic technology program is so highly regarded, the prerequisite classes were often impacted, making it difficult for students to take them. I avoided this problem because I received priority registration as a student athlete.
The first degree I earned from Cypress College was in Physical Education. Many of the classes I took for the degree overlapped with those I needed for general education and I enjoyed taking the classes. Physical education was not something I considered a career in but I liked learning about it since I had not encountered it in the homeschool. Also, since I was on the swim team, much of the information was very applicable to me. Because of my interest in physical education, I helped start a kinesiology club with a small group of other students, which included one of my younger sisters.
After completing my years of eligibility with the Cypress College swim team and graduating with high honors in Physical Education, I was 17 — old enough to apply for the Radiologic Technology program. I learned so much about life and myself through my classmates, my teachers, and my experiences in the program.
There are so many faculty and staff who have been instrumental in helping me be a successful graduate of Cypress College
• Coaches Larry, Denise, Pavielle, and Rick who motivated me to push myself and made the Cypress College swim team such a great team to be a part of. I had so much fun being part of the team and have so many wonderful memories. I wasn't the best swimmer but they were always encouraging me and I learned a lot from my experiences on the team.
• My instructors in the Radiologic Technology program who prepared me so well to be in the workforce and continue to be there for me to ask questions:
o Laura Grieco, the former clinical coordinator for the Radiologic Technology program. I took my first prerequisite class, medical terminology, with her and learned so much. She encouraged me to study hard because I would need good study skills to survive in the Radiologic Technology program. She got to know my whole family and was very helpful when I was preparing for my journey toward radiologic technology.
o Lynn Mitts, the program director. She is such a sweet person and works so hard to make sure all students of the program have the chance to be the most successful version of themselves. She made an effort to listen to students and to accommodate their needs so they could achieve.
o Dr. Michael Frianeza, who teaches many of the classes. He made the effort to communicate well with his students and was very understanding. He was always willing to say a good word about someone or write letters of recommendation.
o Barry Siegel, the clinical coordinator. He made himself readily available if I needed help or advice. His tireless efforts to make sure I thoroughly understood all the necessary clinical knowledge and radiographic positioning have served me well now that I am working on my own.
• Katherine Fehr, my anatomy professor, encouraged me to reach higher and helped me create my first resume. I truly enjoyed her anatomy class and the excellence she demanded in her class greatly benefited me once I started the Radiologic Technology program.
• Becky Rojas from Associated Students and Coach Margaret Mohr offered wisdom and guidance when I was helping to get the kinesiology club started. Although my time with the club was very short, I learned a lot about how to organize and administrate something.
Last but not least, I am so grateful to everyone who donates to and administrates the Cypress College Scholarship Foundation. I received several scholarships which assisted me to become what I am today. The annual scholarship ceremonies were one of the highlights of my time at Cypress College for both me and my family.
What did you pursue after completing your studies at Cypress College (at your transfer institution, in the workforce, etc.) and where are you now?
Soon after graduating from Cypress College, I started my first job working for RadNet as a per-diem radiologic technologist. I was also given the opportunity to begin working on an additional certification in bone densitometry. Five months later, I began working full-time and training in computed tomography. Now, I am continuing to work full-time and am studying to pass the registries for computed tomography and bone densitometry.
It's been a bit of an adjustment from being a student for so long to having a regular job and money to spend. I've also realized how much more responsibility I have in my work and how much it matters that I am a good radiologic technologist. Nevertheless, I am enjoying this new phase of life and am excited to see what happens next.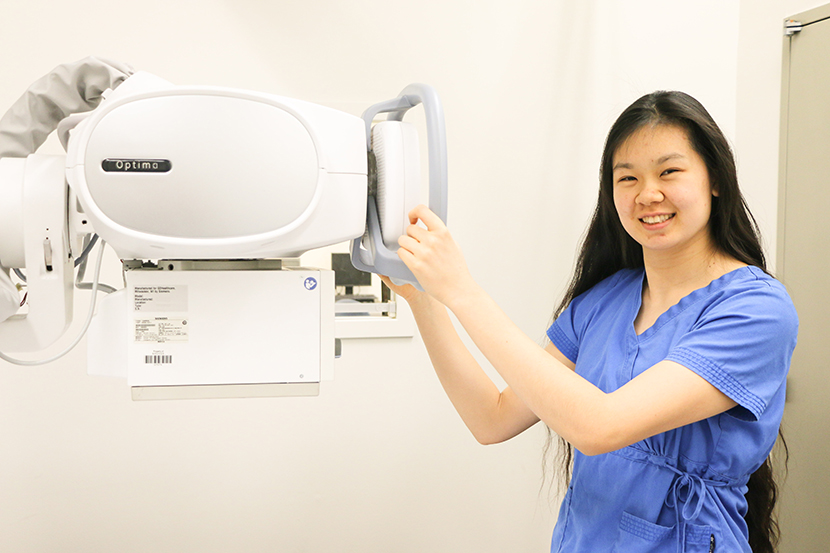 What are your long-term goals? What do you aspire to?
Once I complete my additional certifications in CT and DEXA, I hope to use my skills to help others by going on medical missions. By going on medical missions, I would experience the fun of traveling while using my skills to show love to those less fortunate than I. No matter where I end up working or traveling to, I hope to be the best technologist I can and to constantly be learning.
What are you most passionate about? Why?
I want to use the knowledge, wisdom, and love that I have been given to bless the lives of others. I have been blessed with so much for a reason — to bring the good news of love to those around the world.
What one bit of advice would you give to current and future Cypress College students?
Don't think you have to do everything alone. Ask questions and let people help you. Also, don't let anyone tell you that you are reaching too high. No one is too young or old to achieve great things.
Is there anything else you'd like to share?
My family has been an unwavering source of support and encouragement. I could not have made it to where I am now without them.
I want to thank all my classmates from the Radiologic Technology program class of 2017. I made some great friends, and making it through the program was so much easier with all of them alongside me.