#CYPROUD: Sarah Brazer, Culinary Arts
Student success comes in many different forms, and Cypress College is proud to recognize and celebrate the variety of paths our students take to achieve their dreams. Whether it's transferring to a four-year institution, or receiving an associate degree or certificate and heading into the workforce, we want all of our students to know we are on this educational journey with them and are pleased to feature distinguished #CYProud students for 2018.
Sarah Brazer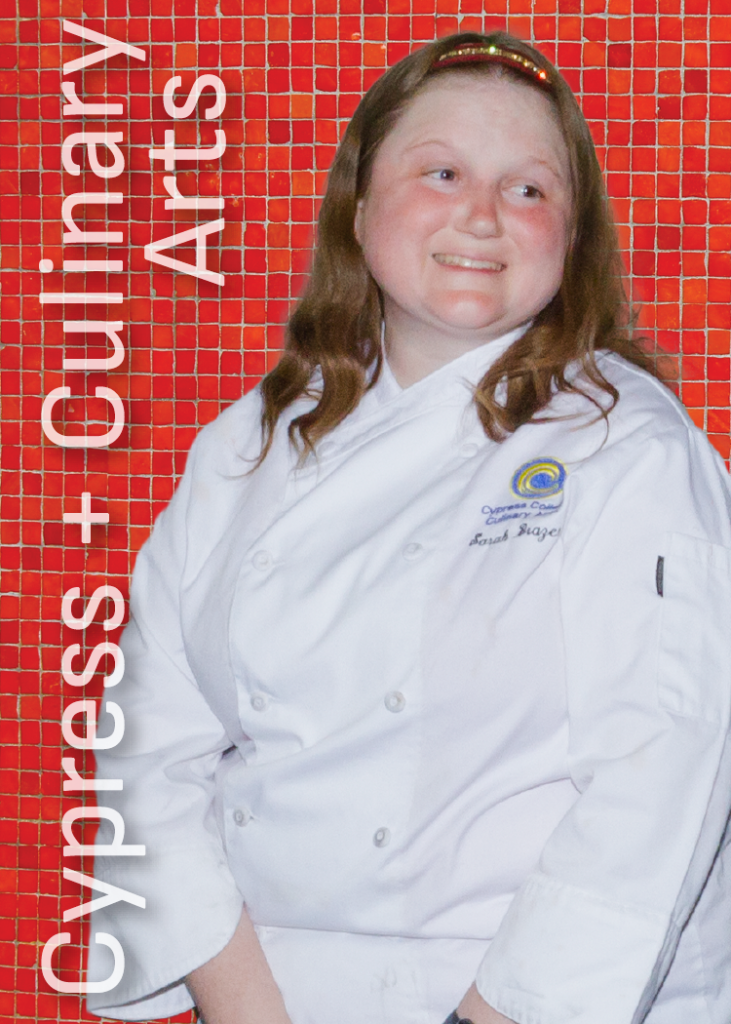 Sarah is a culinary arts major who is looking forward to entering the hospitality industry following her graduation from Cypress College. Interested in the arts from a young age, Sarah initially pursued music education after finishing high school, but later realized that it wasn't the direction she wanted to go. After taking a semester to consider her options, she decided to pursue the culinary arts because "giving someone a meal that is uniquely theirs is extremely rewarding."
Please tell us a little about yourself. Where did you grow up? What are your interests? What is your story?
All throughout my life, I've always been interested in the arts. I grew up singing in choir, performing in theater, reading anything I could find, and cooking whenever my parents weren't home. I began my educational journey at Orange Coast College as a music education major. That seemed to be the natural path for me, as singing had formed so much of the tapestry of my life thus far. Several years into the program, however, I was faced with the realization that this wasn't the direction I wanted my life to take. After much consideration, I decided I wanted to use my creativity to provide a service to other people. I remembered that I'd always loved cooking, but it was kind of a long-buried interest. I took a semester off to do some experimenting, and decided this was really where I needed to be.
Why did you choose Cypress College?
At first, I chose Cypress College for geographical reasons. I'd recently moved, and it was closer to my new home than Orange Coast. I soon discovered that there was so much more to it than that. I immediately noticed the welcoming atmosphere. I quickly found out that the Hotel, Restaurant, Culinary Arts program would give me all of the skills and practical knowledge I needed to pursue a career in the hospitality industry. I was also impressed with how accommodating the Disability Support Services were. They always ensured that I had everything I needed to be successful in all of my studies.
What have you been involved in at Cypress College? How has your path unfolded?
I've mostly gotten involved through opportunities given by the Hotel, Restaurant, Culinary Arts program. Every Thursday, the students operate the Cypress Bistro. First, I had the opportunity to participate in the American Regional Cuisines class. This class cooks for the bistro, and as a final project, the students have the opportunity to make a dish of their own to be served at the bistro. The dish I made was chicken avocado egg rolls. My next opportunity to be involved in Cypress Bistro was the Restaurant Management class. This is the class that serves and manages the restaurant. Here, I was able to gain experience serving as well as filling some management roles, such as special event captain and general manager. I also got the opportunity to work with a team to design tables, menus, and a specialty beverage for a showcase project. Most recently, I've gotten to participate in hosting a career fair as a project for the Special Event Management class. I was also given the opportunity to work as a volunteer in the kitchen alongside one of the chefs.
What are you most passionate about? Why?
I discovered my passion through a volunteer opportunity provided by my church. They have a ministry where volunteers can provide meals for people going through a difficult period. I found it greatly fulfilling to use their list of dietary restrictions and preferences to create a meal specifically for them. Giving someone a meal that is uniquely theirs is extremely rewarding, and I've been grateful for each opportunity I've gotten to participate in this ministry.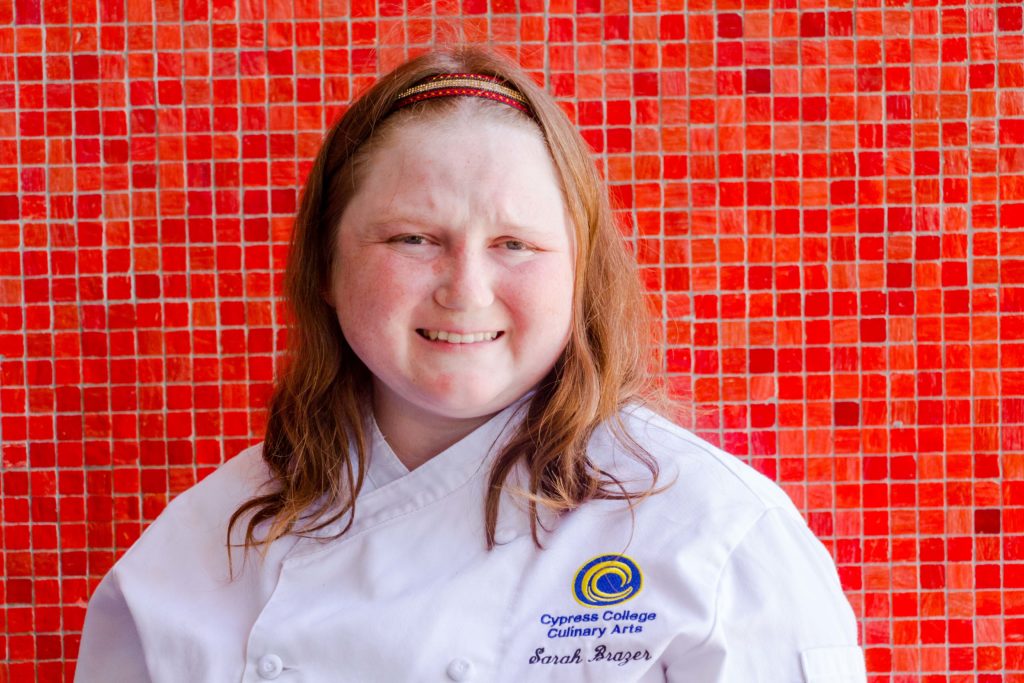 Who are the faculty and staff that have helped you get where you are today?
I've been grateful to be able to work with each member of the Hotel, Restaurant, Culinary Arts staff. Professor Lisa Clark has been particularly influential. She gave me the tools I need to move forward with finding work in the industry. Another influential member of staff has been Chef Tracy Heine. I've gotten the opportunity to work individually with her and have gained so many valuable skills through that experience. Both of these individuals have been instrumental in shaping my education. They've also helped me to build my skills and confidence in myself. I've also been grateful for the help of the staff at Disability Support Services.
What are your immediate plans after completing your studies at Cypress College (at your transfer institution, in the workforce, etc.)?
My immediate plans are to find work in the hospitality industry as well as staying on at Cypress College to complete the requirements for a final certificate in Special Event Management.
What are your long-term goals? What do you aspire to?
My long-term goal is to market myself as a personal chef where I can use the experience I've gained to create meals based on specific needs and desires. I'd also like to further explore catering and special events.
What are you most proud of?
I'm most proud of the growth I've been able to experience at Cypress College. I've been able to grow both personally and professionally through my education here.
What one bit of advice would you give to current and future Cypress College students?
My advice to current and future students is to embrace every opportunity to grow that you get. You want to look back on your experiences and know you did what you could to develop yourself, both personally and in your field.