#CYPROUD: Brandy Manfredonia, Commercial Pilot
Student success comes in many different forms, and Cypress College is proud to recognize and celebrate the variety of paths our students take to achieve their dreams. Whether it's transferring to a four-year institution, or receiving an associate degree or certificate and heading into the workforce, we want all of our students to know we are on this educational journey with them and are pleased to feature distinguished #CYProud students for 2018.
Brandy Manfredonia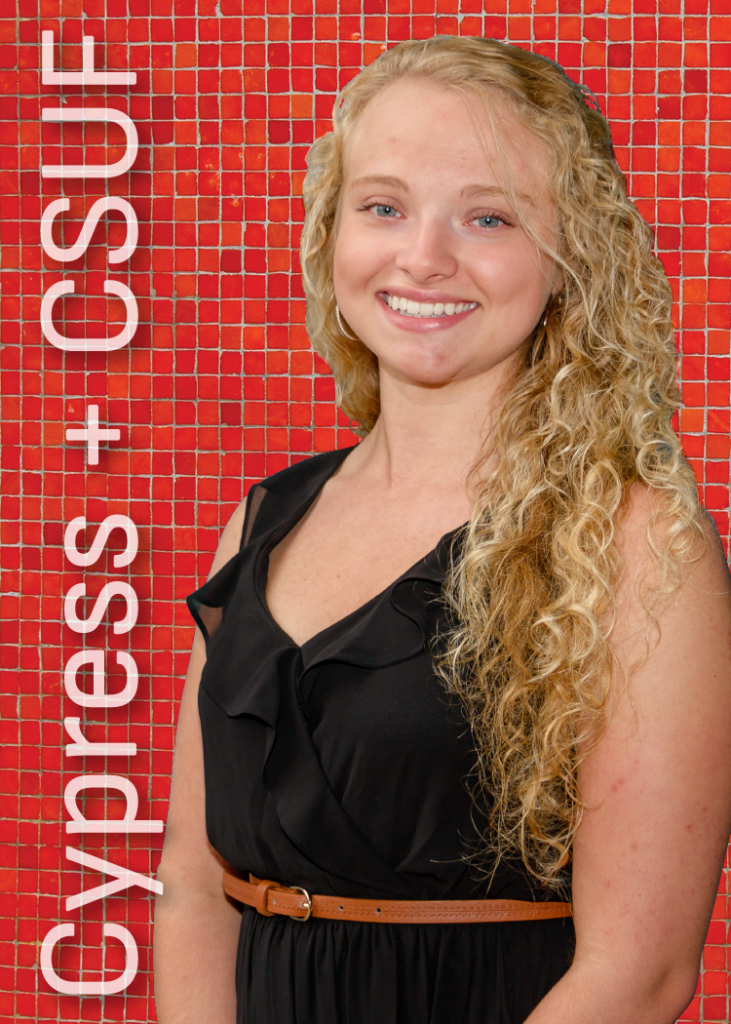 Brandy is a commercial pilot major transferring to Cal State Fullerton to pursue a bachelor's degree in English education following her graduation from Cypress College. From a small, rural town in Ohio where few pursue a higher education after high school, Brandy grew up knowing she would go to college; however, it wasn't until a high school physics class that she found her passion for aviation. After completing her undergraduate studies, Brandy aims to teach high school English and pilot for commercial airlines during the summers.
Please tell us a little about yourself. Where did you grow up? What are your interests? What is your story?
Born and raised in a small town in rural Ohio, I was always destined for something larger than my town could offer. Many people from my rural area go to high school and then enter the workforce immediately, so going to college is far less common and less discussed in Small Town, USA. This, however, was not the case in my household. From elementary school on, I was raised with the idea that I had to aim high, and that going to college was something I was going to do. Neither of my parents attended university, but they wanted something different for me.
Surrounded by a lack of everything, I had much time to focus on school. By my junior year of high school, I had a list of prestigious schools picked out to apply to the next year to pursue a degree in Education. With high ACT scores, AP classes under my belt, and a 4.0 GPA since elementary, I was ready for the big universities. My senior year of high school I took an AP Physics course and learned about airplanes; that is when everything I had planned on changed. I was fascinated by how airplanes worked, and was quick to decide that I was meant to be a pilot. I spent time researching affordable colleges where I could obtain a degree in aviation, and Cypress College was at the top of my list. I flew out to visit and was hooked. I have now been living here for five years and have been a full-time student and full-time worker my entire time here. I graduated with four aviation certificates and an associate of science degree, all with a 3.93 GPA!
Why did you choose Cypress College?
After becoming interested in aviation, I spent a year researching affordable flight schools. I stumbled upon Cypress College's Aviation and Travel Careers program and found it to be a top contender. I read about the program and was so intrigued that I flew out to California in the spring to tour the campus. From the moment I stepped onto the beautiful campus, to meeting the staff, I was sold. I would be attending Cypress College the next year. I uprooted myself the fall after graduating high school, made a solo move across the country, and enrolled in spring classes in the Aviation and Travel Careers program. Finding Cypress College online from my searching in Ohio was unlikely, but it has made all the difference.
What have you been involved in at Cypress College? How has your path unfolded?
Since enrollment, I have been fortunate to find nothing but success. I brought a 4.0 GPA and AP course credit with me and have continued to achieve educational and professional successes. Throughout my nearly four years at Cypress, I have taken 83.5 units and maintained a 3.93 cumulative GPA, earning high As in 32 out of 33 classes I have taken. I have been on the President's or Dean's Honor list throughout my entire time as a full-time student. I was also nominated for the Outstanding Graduate of the Year Award!
I took many challenging courses, satisfying all Cal State gen-ed transfer requirements, and all of my program requirements, plus many electives. I earned four Aviation certificates — Private, Instrument, Commercial, and Advanced Pilot certificates — and an associate degree in commercial pilot. I accomplished this large courseload, all while working as a full-time manager for a retail clothing store. In my last year, I have also worked full time for the National College Resources Foundation as the STEAM (Science, Technology, Engineering, Aviation, Mathematics) communications coordinator. Through NCRF, I work doing college promotion, instruction of STEM to elementary students, and outreach events including LA's Black College Expo. In my time working while being a student I received four promotions and continued to stay on top of my education.
Although extremely busy being a full time employee and student, I did have many extracurricular successes in my time at Cypress College. I have trained in the simulator labs for flight, as well as assisted other students with flight in the simulators. I have also spent many hours tutoring students in my aviation classes, as well as tutoring several students in English. Correspondingly with my program of study, I have also been a flight student under the instruction of Captain Ed Valdez out of the Orange County Airport. Within the last year, I have worked closely with the ATC department chair, volunteering time to design and manage a Facebook page and a website promoting Cypress College and its ATC program.
I have succeeded in getting students to tour campus through outreach I have done. I volunteer at Senior Day, and have been a leader in resurrecting the Aviation and Travel Club, including organizing the startup of the club, scheduling and promoting the first meeting, as well as organizing monthly events, and being in charge of member communication. I helped to organize and set up for, and sat in, on the ATC Advisory Meeting, giving and getting insight on program improvements that can be made. In addition I have represented Cypress College at the OC Pathways event along with several other outreach events. When not working, studying or volunteering for Cypress College, I have also volunteered at my local church.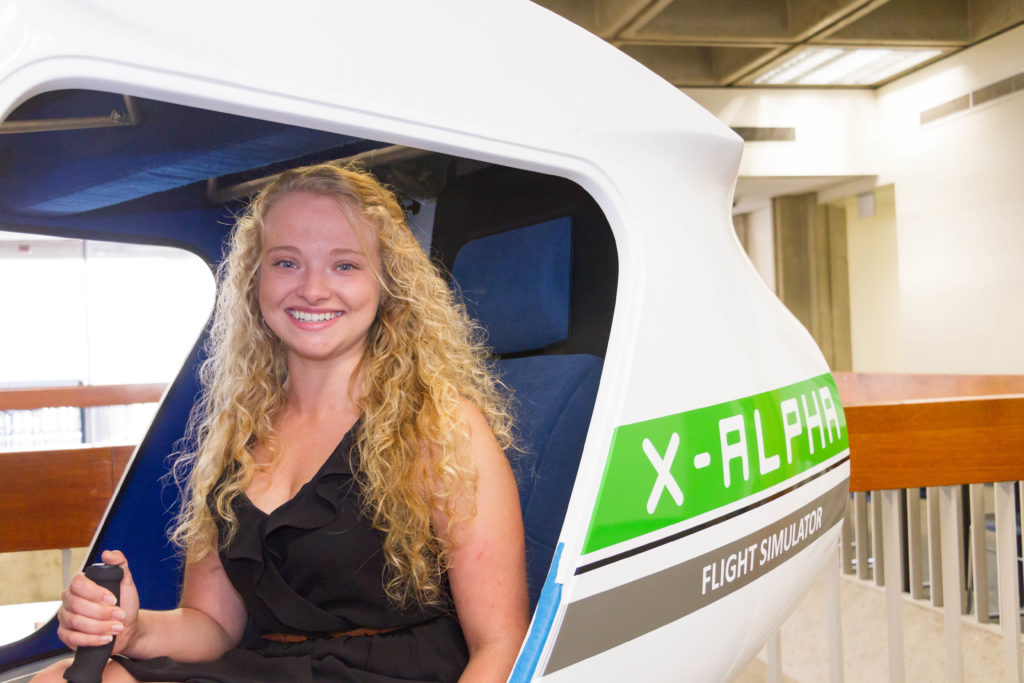 What are you most passionate about? Why?
I am passionate about education, independence, and success. I believe they go hand in hand. I believe that continuously educating yourself is the most important thing you can do for your mind and your life. Learn something every day, even if it seems small and insignificant. If you do that, in five years you will have learned 1,825 new things! That little effort every day grows over time and helps you become a well-rounded intellectual!
Taking control of your education helps you to become independent. Being able to do for and support yourself is so important in today's world. Too often we rely on parents, others, even the government to support us, but it is so much more satisfying and beneficial to be independent and be able to do for yourself! Finally, I feel like if you accomplish those two things, it will bring you great success in life; and everyone should want to feel and be successful. It gives you a good sense of self-worth and pride in yourself. I am passionate about that and feel as though it is the key to happiness. Be passionate about investing in YOU!
Who are the faculty and staff that have helped you get where you are today?
I give ship loads of credit to the incomparable, incredible Ed Valdez (ATC). I have never seen someone do so much and go so above and beyond. Kathleen Reiland has also been an influential faculty member throughout my career.
What are your immediate plans after completing your studies at Cypress College (at your transfer institution, in the workforce, etc.)?
I was accepted to both CSULB and CSUF with a full ride! Woo-hoo! I have chosen to attend CSUF to complete my bachelor's degree in English education, while still working full time.
What are your long-term goals? What do you aspire to?
I aspire to be a pilot and a teacher. My plan is to spend the school year teaching English to high school students and to fly with a major airline, or fly charter, over the summers. I also plan to move back to Ohio in a few years and carry out my plans there. Traveling is also high on my goals list.
What are you most proud of?
I am most proud of two things: being the first in my whole family to graduate college with a degree, and working full time throughout my whole full-time student career and completely supporting myself. That is not something most college students can say they did. Many get great grades, not as many do that all while working full-time hours. Balancing school and work is such a challenge, but I succeeded and did so with high honors all around.
What one bit of advice would you give to current and future Cypress College students?
Take as many classes as you can at Cypress College before transfer. It will save you time, and thousands of dollars when transferring to a university. Also, see how you can help your department succeed. It really is a great feeling to be a part of something important.
Is there anything else you'd like to share?
As my career as a Cypress College student comes to a close, looking back on all of my accomplishments and successes throughout my time here gives me a great deal of joy and pride. Now that I have graduated and all is said and done, being chosen for the CYProud campaign is such an honor and a recompense of all of my effort put in. While at times it seemed as though graduation was so far out of reach, I know all the struggles I faced, in addition to all of the positive times, were just milestones shaping me into the person I am today. My time here is something I will reflect on for a lifetime, and I thank the faculty and my peers for the experience I have had.