#CYPossible: Shamaniece Gray, Culinary Arts
Completing coursework calls for celebration, and we are proud to celebrate with Cypress College's newest degree- and certificate-holders. By achieving these education goals, graduates and certificate-earners are equipped to continue on their college path or find strong footholds in the career fields they've chosen. We've taken the journey with these outstanding students, and know that when they look to the horizon, they see what is #CYPossible.
Shamaniece Gray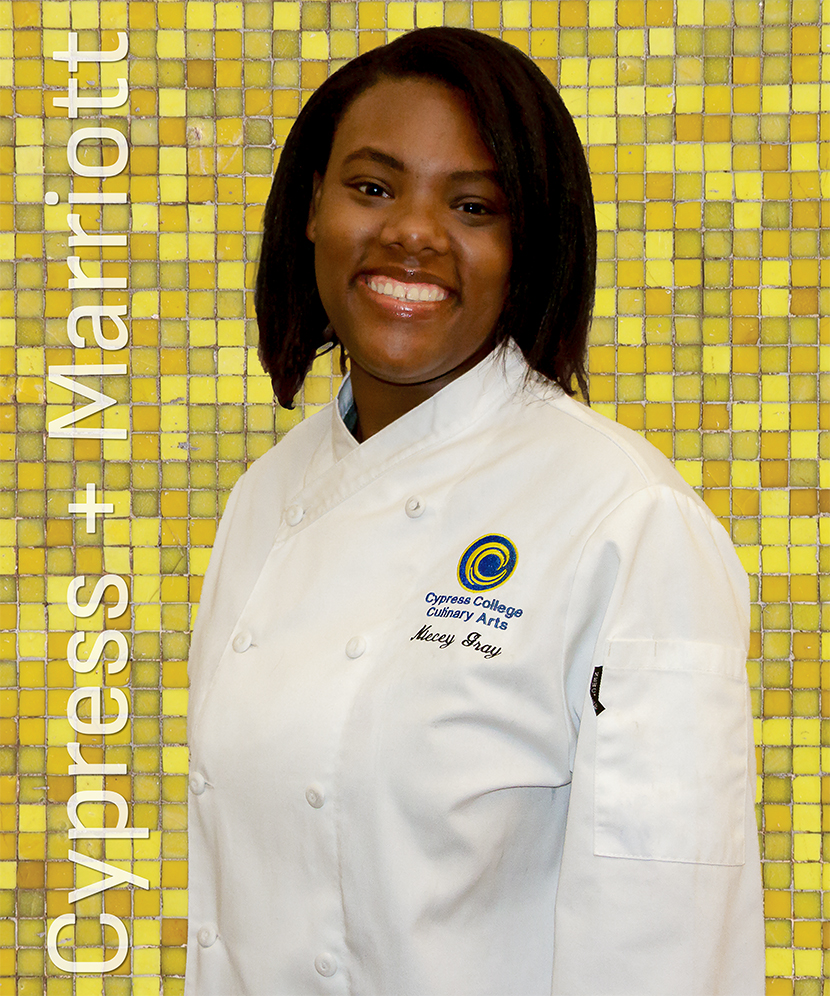 Cypress College was close to Shamaniece's home, which is why she chose it, but then it became close to her heart. The culinary arts major calls the college her second home, and says it changed her life. In addition to taking a full courseload, she got involved with the work-study program; now, she volunteers for the school, helping other Hotel, Restaurant, and Culinary students. She's currently working as an intern at the Ritz Carlton Laguna Beach.
Please tell us a little about yourself. Where did you grow up? What are your interests? What is your story?

My name is Shamaniece but I prefer Niecey. I've lived in California for the majority of my life. I love to eat and cook different types of cuisines. If I could choose, it would be Mexican and Italian fusion.
Why did you choose to attend Cypress College and how did being a student here help you find your first position after completion?

Honestly, I chose Cypress College because it was close to my house but I had no idea how the HRC program would change my life. Starting off in the program, I was very quiet and timid. This program forced me to have a voice and to develop a tough skin. In a kitchen, whispering will not get you anywhere. Your teammates need to be able to hear you over all of the chaos and the craziness in the kitchen. Volunteering and being a kitchen assistant helped me as well. Doing this, I learned how to work with different machines, work catering events, mise en place for different recipes, etc. All of this helped me get my first job right out of culinary school.
What were you involved in at Cypress College? How did your path unfold and who were the faculty and staff who have helped you along that path?

I was involved in the work-study program here at Cypress College. I got the opportunity to be Chef Tracey's Kitchen Assistant. Although I was a Kitchen Assistant, I also got to assist all the Chefs, such as Chef Jeremy, Chef Amanda, and Chef Stephanie. All of these teachers played a significant role in my life. They taught me how to speak up, to have a voice in the kitchen, and to never give up on myself. They were also upfront with me even when I didn't want to hear it. The teachers actually care about where you end up in the future and are willing to help you network and to build connections to get there. Even the counselors like Renee Ssensalo and Iris Zelaya are there no matter what, whether it's for school or just to talk.
What did you pursue after completing your studies at Cypress College (at your transfer institution, in the workforce, etc.) and where are you now?

After finishing the HRC program I still volunteered at the Anaheim Campus. It is a second home for me, filled with people who actually have my best interest in mind. It's great not to be just another student in a classroom. Now I am actually interning at the Ritz Carlton Laguna Niguel for the summer.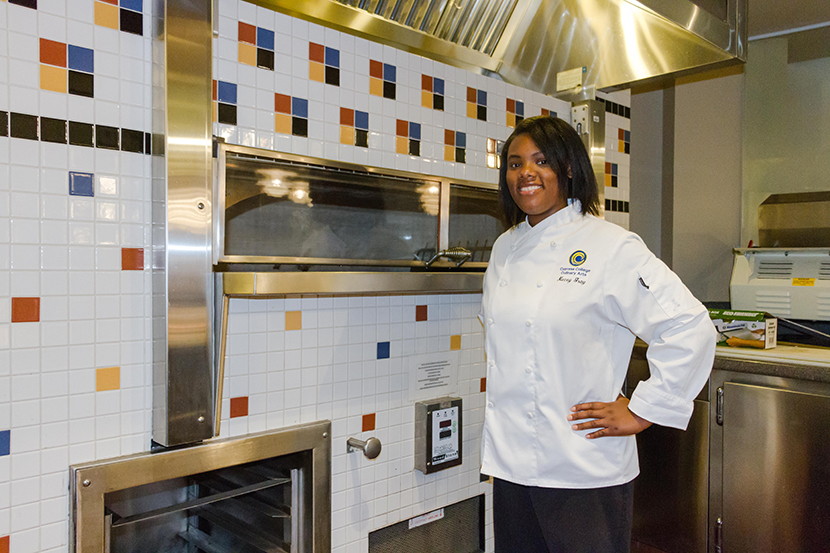 What are your long-term goals? What do you aspire to?

I am going to get my master's in Hospitality Management. I am going to be a Chef and later transition my career into a Personal Chef.
What are you most passionate about? Why?

I am most passionate about cooking and helping people. I love being able to brighten up someone's life even if it is only for a moment. It's an even better opportunity to be able to give guest a great experience through food and customer service.
What are you most proud of?

I am proud of my poster in front of the bookstore at Cypress and the person that God is helping me become.
If you could do it all over again, what would you do differently?

I would be less shy and be willing to ask for more help.
What one bit of advice would you give to current and future Cypress College students?

If you know that a subject is hard for you go to tutoring in the beginning. The last thing I would like to say is major in something that you are passionate about even if it takes time to figure out what it is. Even if there is no one supporting you, you can be your own self motivator.