#CYPROUD: Anthony Pansoy, Psychiatric Technology
Student success comes in many different forms, and Cypress College is proud to recognize and celebrate the variety of paths our students take to achieve their dreams. Whether it's transferring to a four-year institution, or receiving an associate degree or certificate and heading into the workforce, we want all of our students to know we are on this educational journey with them and are pleased to feature distinguished #CYProud students for 2018.
Anthony Pansoy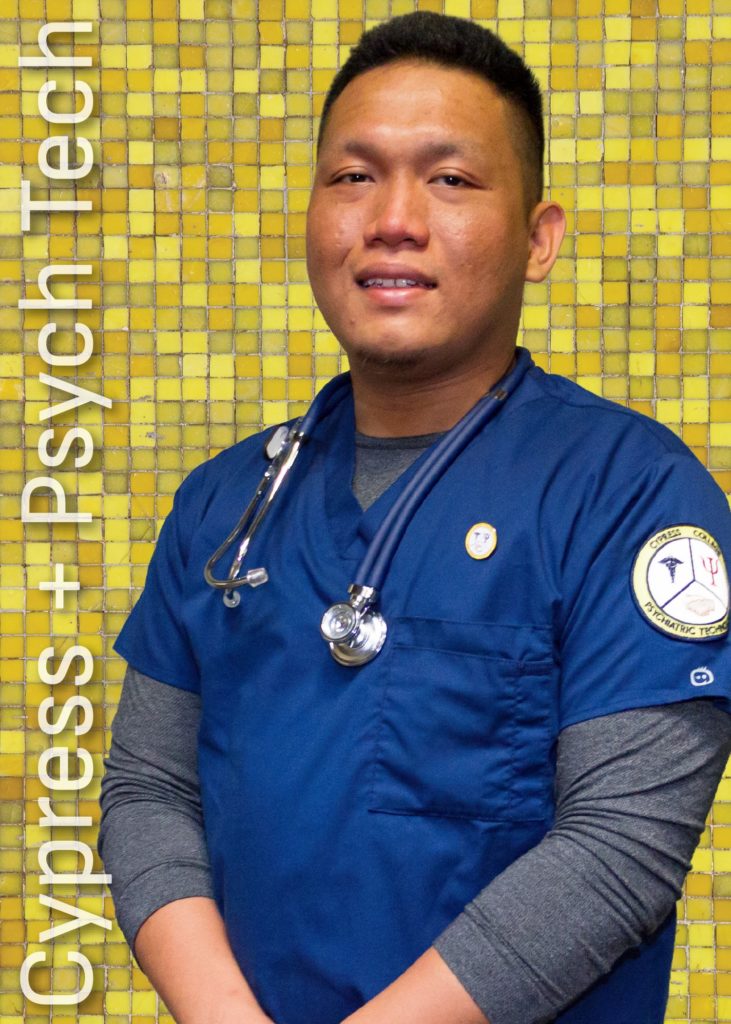 Anthony is a graduate of the Cypress College Psychiatric Technology program and works at a Southern California hospital. He chose to attend Cypress College for its strong psych tech program, which came highly recommended from colleagues, many of whom are also graduates. Anthony wants to continue positively impacting the lives of the mentally ill, and eventually hopes to become a registered nurse.
Please tell us a little about yourself. Where did you grow up? What are your interests? What is your story?
I grew up in the Philippines and immigrated to the U.S. when I was 18 years old on March 29, 2008. I went back to school in spring 2016 to take the prerequisites for the Psychiatric Technology program because I was working in a community psychiatric mental health setting and learned about the program from my coworkers. I had a few interests outside of work or school, but I've always set simple goals in life such as having a house, a stable job, and a happy family, so I believe that finishing the Psych Tech program will enable me to achieve those goals in the future.
Why did you choose Cypress College?
I choose to go to school at Cypress College because I heard they had the best Psych Tech program in L.A. I currently work at a hospital where most of the PT staff are alumni from the program, and I was encouraged by them to go into the program. Cypress College was also the closest program to my home and place of work, and the program's schedule coincided with my work schedule.
What have you been involved in at Cypress College? How has your path unfolded?
Unfortunately, I haven't been involved in any Cypress College activities since I started studying at Cypress College. I was busy juggling both work and school schedules, and most of my time was spent studying for quizzes and exams during the course of the Psych Tech program.
What are you most passionate about? Why?
I am most passionate about helping mentally ill individuals. When I started my job in the psych field, it opened my eyes to the needs of the mentally ill. I used to be less aware of the impact that mental illness has on a person; working at my job made me realize that a lot of individuals go through mental illness without the proper support and end up relapsing or losing themselves, and their potential to have a good future. I want to help these individuals as a licensed staff member, and use the skills that I learned from the program to make a bigger impact on the lives of the mentally ill.
Who are the faculty and staff that have helped you get where you are today?
I believe that all the faculty and staff at the Psychiatric Technology program help me achieve my goals. Without each and every one of the faculty, I would not be able to be successful in the program, and I am greatly thankful for their passion and dedication to the Psych Tech program and its students.
What are your immediate plans after completing your studies at Cypress College (at your transfer institution, in the workforce, etc.)?
I plan to apply at a state facility or work in the community as a licensed psychiatric technician after I pass my state licensure examination.
What are your long-term goals? What do you aspire to?
One of my long-term goals is to proceed to the Registered Nursing program and to have the chance to further my career. I want to help the mentally ill at a higher capacity and a higher license so that I can have a much bigger impact on the lives of the people that I take care of.
What are you most proud of?
I am most proud of recently finishing the PT program while working a full-time job at the same time. I believe that goal-setting and good time management have enabled me to achieve my goals and that I will continue to use these tools to become a good mental health practitioner in the psychiatric field.
What one bit of advice would you give to current and future Cypress College students?
Good advice to future Cypress College students would be to focus on goals and make sure that one's chosen degree can provide a living wage in the future. As a teacher once said to me and my fellow students in the program, "Love what you do and do what you love." I believe that if one follows that principle, then an individual can be successful on the job or in meeting their goals in life.