#CYPROUD: Rogelio Dominguez, Culinary Arts
Student success comes in many different forms, and Cypress College is proud to recognize and celebrate the variety of paths our students take to achieve their dreams. Whether it's transferring to a four-year institution, or receiving an associate degree or certificate and heading into the workforce, we want all of our students to know we are on this educational journey with them and are pleased to feature distinguished #CYProud students for 2018.
Rogelio Dominguez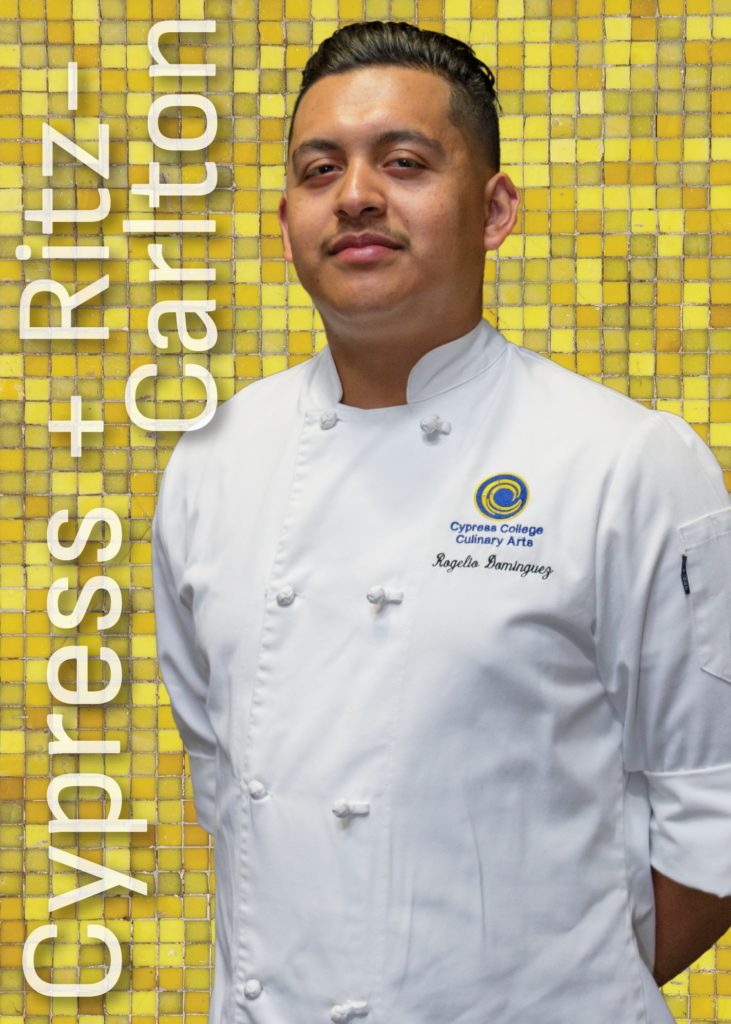 Rogelio is a culinary arts graduate from Cypress College who will continue working and growing at the JW Marriott/Ritz-Carlton L.A. Live. Born and raised by parents who immigrated to California for a better life, Rogelio found his passion in the kitchen while helping his mother cook. Though his family had other dreams for his future, Rogelio was determined to follow his passion and learn as much about the culinary arts as he could. In summer 2017, he was accepted for an internship at the JW Marriott Phoenix Desert Ridge Resort, which led to his current employment in Los Angeles. Ultimately, he hopes to open his own restaurant to share his passion for food with others.
Please tell us a little about yourself. Where did you grow up? What are your interests? What is your story?
I was born and raised in the Lynwood/Compton area in LA County, about 15 miles north of Cypress College. In 1991, my parents, along with my three siblings, immigrated to California from Guerrero, Mexico for a better life. I came along in 1995, becoming the only U.S. citizen in the family.
Growing up, my siblings and I were thankful for having hardworking parents. Both of them have always worked and went above and beyond to provide us with a middle-working-class lifestyle. The hardworking characteristic was always present at home. Chores were present in my life since the day I understood the meaning of cleaning and putting my toys away. I hated chores so much, but I ended up finding my passion through them.
One of those chores involved me stirring soups, meats, and sauces. My chore was to prevent them from burning and making sure that mom's home-cooked meals were just how she wanted them. In high school, that chore became a passion when I began to understand that food was more than just breakfast, lunch, and dinner. That was my main interest and passion, and I wanted to move forward with my goal, but it also became difficult for my family to understand my interest in pursuing a career in culinary arts. They wanted a businessman, engineer, lawyer, doctor, etc. out of me, but I was not going to pursue something I did not enjoy. So here I am, following my passion, working hard, and learning everything there is to know in a kitchen so that I can conclude my story.
Why did you choose Cypress College?
After gathering information from institutions that offered a degree in culinary arts, I thought Cypress College exemplified a campus full of academic focus, diversity, and professionalism.
What have you been involved in at Cypress College? How has your path unfolded?
Through the Cypress College Hospitality, Restaurant, and Culinary Arts Program, I was part of the student-run Cypress Bistro for two semesters. Also, I had the privilege to represent Cypress College in a Marriott Culinary Internship this past summer 2017. I attended a three-month-long internship at the JW Marriott Phoenix Desert Ridge Resort in Phoenix, Arizona. It was a hands-on experience that unfolded many opportunities for me. Once my internship concluded, I was able to network and accept a cook position here at home at the JW Marriott/Ritz Carlton LA LIVE.
Cypress College played a significant role unfolding my path in this industry. Our instructors in this program show commitment and dedication toward our education and careers. They prepare us by sharing their experiences and achievements in this complex, yet amazing, industry.
What are you most passionate about? Why?
For myself, knowledge is a very powerful tool. I am passionate about learning new things, cooking techniques, trends, and anything related to food and beverage. I try to learn something new every day. Whether I'm at work, eating out, or on my days off, I am always excited to observe and learn. At work, I find myself asking questions and observing my peers and leaders so that I can grow professionally as a chef.
Who are the faculty and staff that have helped you get where you are today?
Chef Jeremy, Chef Stephanie, Chef Brian, Chef Amanda, Chef Tracy and Professor Lisa Clark are all instructors who have motivated my peers and me to succeed in our fields. They are all full of passion for this industry. Their excitement and dedication motivate us to go above and beyond in our careers. They all make the Cypress College Hotel, Restaurant, and Culinary Program a familial learning environment.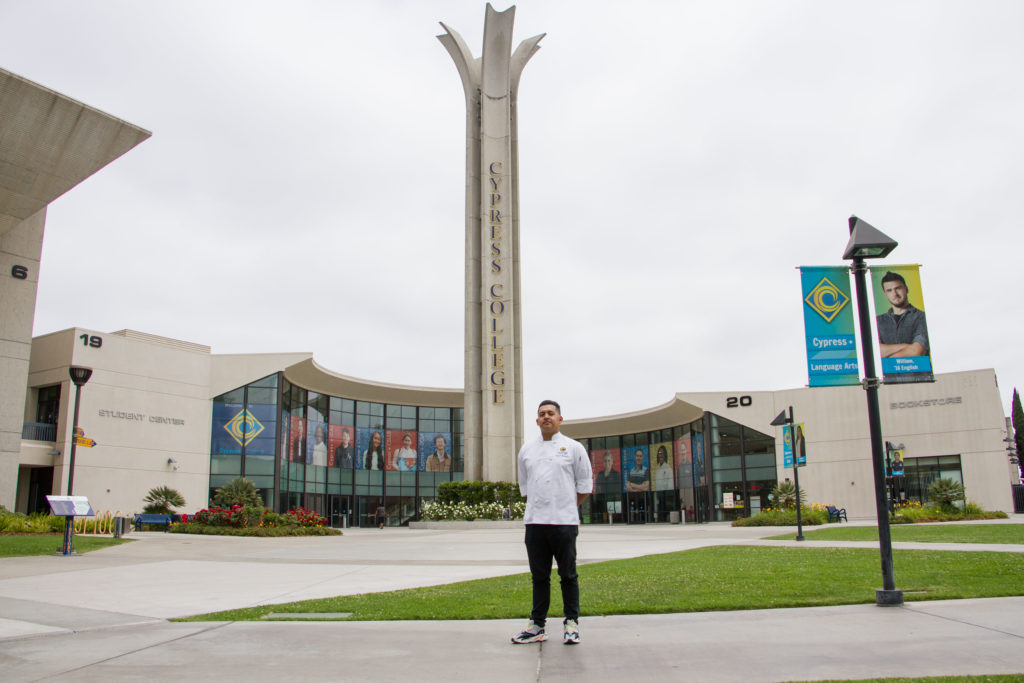 What are your immediate plans after completing your studies at Cypress College (at your transfer institution, in the workforce, etc.)?
I plan on building my culinary background at my current job, The JW Marriott/Ritz Carlton LA LIVE. I am surrounded by incredibly talented chefs at this property. I am committed to growing as much as possible with Marriott International and helping my property meet guest satisfaction through food and beverage in any way possible.
What are your long-term goals? What do you aspire to?
There is nothing more satisfying than creating your dishes and seeing them printed on a menu. I aspire to open my own restaurant. I want to share the flavors that are dearest to me, and I would want for foodies (food lovers), guests, and just anyone to have a memorable experience with my food.
What are you most proud of?
I am proud of the commitment I have to the culinary arts. I have been cooking professionally for about a year and a half. During this short period of time, I have been presented with many challenges that have helped me become a better leader. I am proud of the love I have for cooking and am proud of my commitment to not stopping until I have met my goals.
What one bit of advice would you give to current and future Cypress College students?
Follow your passion and do what you love most. Don't be afraid of what others have to comment or say about your goals. There will be a lot of stressful moments and mistakes will be made, but those mistakes will only help you become a stronger individual.
Is there anything else you'd like to share?
"Pressure makes diamonds." – George S. Patton Jr.
If you find yourself pursuing the things you love, never complain about being under pressure. The pressure in your workforce will bring out the best of you, and it will make you a competitive candidate in your career of interest because pressure makes diamonds.