#CYPROUD: Stephen Crawford, Funeral Service
Student success comes in many different forms, and Cypress College is proud to recognize and celebrate the variety of paths our students take to achieve their dreams. Whether it's transferring to a four-year institution, or receiving an associate degree or certificate and heading into the workforce, we want all of our students to know we are on this educational journey with them and are pleased to feature distinguished #CYProud students for 2018.
Stephen Crawford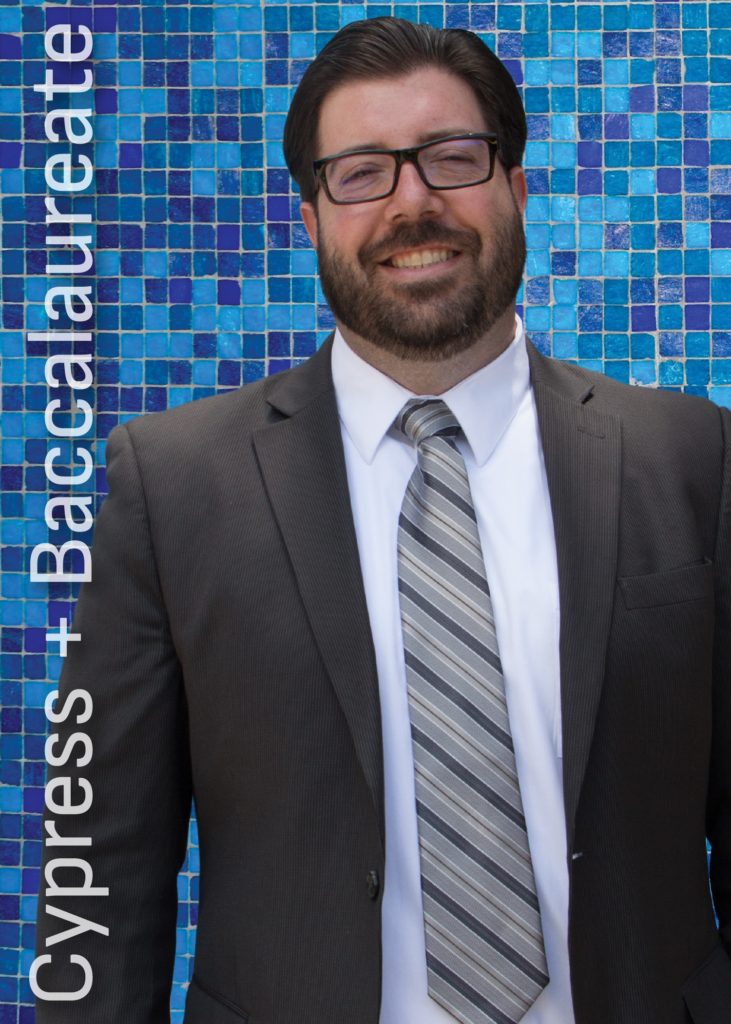 Stephen was one of five students who graduated as part of Cypress College's first cohort of baccalaureate-degree students receiving a Bachelor of Science in Funeral Service. It is thanks in large part to him that the mortuary science program was chosen for inclusion in the statewide pilot; only 14 other California community college programs were chosen. He is a manager at a cemetery and funeral home in Oakland, California, and looks forward to continue growing in the industry.
Please tell us a little about yourself. Where did you grow up? What are your interests? What is your story?
Prior to coming to Cypress, I was working as a manager in retail. It was by no means glamorous, but it paid the bills. One Saturday, I remember being at work and suddenly it was Monday afternoon and I was in the hospital. I was cut off by a car on my motorcycle on the way home. I mangled my leg and destroyed my spleen. It was weeks before I could even get out of bed and months of physical therapy before I could properly walk. The incident did, however, allow me an opportunity to go back to school to pursue something I was truly passionate about: that meant mortuary science and attending Cypress College.
Why did you choose Cypress College?
Mortuary science is only offered at two schools in California, and Cypress was literally right down the street from me. Since the other was in Sacramento, my choice seemed clear. It was also nice that Cypress happens to have a highly rated Mortuary Science program.
What have you been involved in at Cypress College? How has your path unfolded?
The biggest project in which I was involved at Cypress College was the push for a baccalaureate degree program. Once California passed the law allowing for a pilot program of community colleges to offer baccalaureate degrees, I made it my mission to make sure mortuary science at Cypress was one of the programs selected. This included attending multiple meetings to persuade the Academic Senate that Mortuary Science was the program that Cypress should champion moving forward; attending meetings of the NOCCCD Board of Trustees to argue in favor of Cypress College and its Mortuary Science program over Fullerton College's law enforcement program; as well as even attending the meeting in Sacramento that affirmed Cypress College as one of the 15 community colleges selected for the pilot program.
Since then, I have enrolled in said program and have now completed it. It is because of this program that I have been able to further my career within the funeral service industry.
What are you most passionate about? Why?
Currently, I have been a huge advocate for mortuary science education and higher education in general, for obvious reasons. Last year, there was a bill being put forward to expand the pilot program that allowed Cypress to offer a baccalaureate degree. I had the opportunity to testify in front of the California State Senate and share the story of my journey, of how the opportunity to receive a bachelor's degree in funeral service has affected my life for the better.
Who are the faculty and staff that have helped you get where you are today?
The entire faculty in the Mortuary Science Department helped me first through the associate program and then again with the bachelor's program. But, by far, the person who has had the biggest impact on my schooling and career to this point has been Jolena Grande. She was the biggest proponent of the Bachelor of Science in Funeral Service program and it took her initiative to make it a reality. She has pushed me since I started at Cypress to further myself in almost everything I do.
What are your immediate plans after completing your studies at Cypress College (at your transfer institution, in the workforce, etc.)?
I am already in the workforce, but it was because this baccalaureate program was created that I was able to move into a management position overseeing a cemetery and funeral home. I plan on taking the knowledge that I have gained from the program and spread it throughout the industry as much as my influence will allow.
What are your long-term goals? What do you aspire to?
Right now, I couldn't ask to be in a better position. It's already because of Cypress that I have achieved about as much as I can. The only thing left is to try to be a leader and influencer within the industry through years of experience; it's just that I need the years of experience first.
What are you most proud of?
The fact that I am here graduating with a degree that didn't even exist a couple years ago. After not completing my studies at a four-year school, I started over and worked my way through a new program, helped get it extended and completed that too.
What one bit of advice would you give to current and future Cypress College students?
Get your ass to class.
Is there anything else you'd like to share?
It has taken 14 years for me to get a bachelor's degree. I couldn't be happier to have had it take this long because it means being part of the first class to graduate with a bachelor's degree from Cypress.