#CYPROUD: Brianna Adams, Hotel Management
Student success comes in many different forms, and Cypress College is proud to recognize and celebrate the variety of paths our students take to achieve their dreams. Whether it's transferring to a four-year institution, or receiving an associate degree or certificate and heading into the workforce, we want all of our students to know we are on this educational journey with them and are pleased to feature distinguished #CYProud students for 2018.
Brianna Adams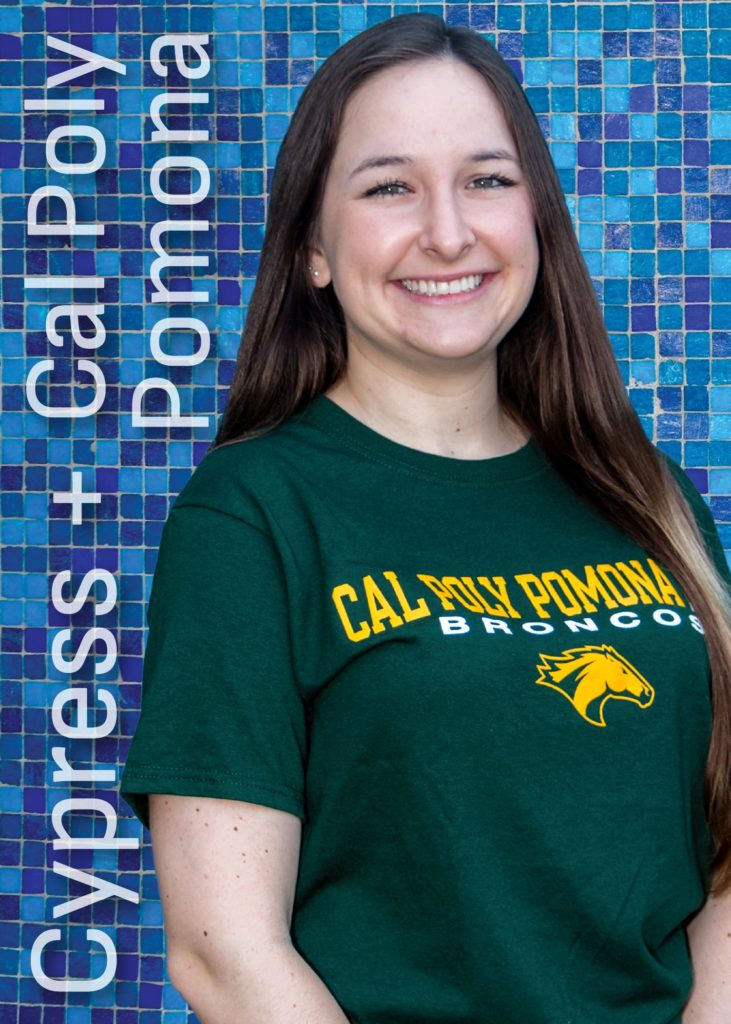 Brianna is a hotel management major transferring to Cal Poly Pomona's Collins College of Hospitality Management following her graduation from Cypress College. She grew up in Southern California and initially pursued Cypress College's Radiologic Technology program, but decided to change her major just before completion. She soon found she had a passion for hospitality and entered the college's Hotel, Restaurant, and Culinary program where she thrived. She aspires to one day be a general manager at a full-service hotel and pursue her love of travel.
Please tell us a little about yourself. Where did you grow up? What are your interests? What is your story?
I grew up in Bellflower, California, and graduated in 2012 from Downey High School. My interests include traveling, trying different types of cuisines, and going to Disneyland. I will be graduating this year from Cypress College with an associate degree in hospitality management. I am also the very first person to graduate from college in my family. While taking classes at Cypress College, I have also maintained a full-time position as a guest experience host at the Hyatt Regency Huntington Beach Resort and Spa.
Why did you choose Cypress College?
I originally chose Cypress College for the Radiologic Technology program. I almost completed the entire program, until I had a change of heart and found my passion for hospitality. Now, I am so grateful that I chose to complete the Hotel, Restaurant, and Culinary program at Cypress College.
What have you been involved in at Cypress College? How has your path unfolded?
At Cypress College, I have mostly been involved on the Anaheim Campus for the Hotel, Restaurant, and Culinary program. I participate in the Cypress Bistro, which includes planning, organizing, managing, seating, serving, and dishwashing. I also attend the annual Career Fair for HRC students to interact with hospitality industry employers.
My path seemed to unfold right after I took the personality assessment at the Cypress College Career Center. After switching majors, I had no idea where I wanted to go or what I wanted to do. The personality assessment informed me of the hospitality career options. As soon as I joined the HRC program, I quickly found a job in the field, with the help of Professor Lisa Clark. Now, I have been at the same workplace for two years and plan to continue to grow with the company.
What are you most passionate about? Why?
I am most passionate about learning new things and saving money. I enjoy learning new things because I feel like it makes me a more knowledgeable and well-rounded person. I am a people person, so by being knowledgeable and familiar about different topics, it helps me relate to people and start conversations. I am also passionate about saving money because it allows me to travel and see the world. I work hard in school and at work, so it is a good mental break for me to travel, and it is something that I always look forward to.
Who are the faculty and staff that have helped you get where you are today?
Lisa Clark has helped me get to where I am today. I owe it to her for educating me about the hospitality industry and assisting me with getting hired at my current workplace. She is one of a kind and a huge asset to the Hotel, Restaurant, and Culinary program. Cypress College is lucky to have her.
What are your immediate plans after completing your studies at Cypress College (at your transfer institution, in the workforce, etc.)?
After graduating from Cypress College, I immediately plan to start my education at Cal Poly Pomona in the fall of 2018. After obtaining a bachelor's degree in hospitality management there, I plan to apply for the Corporate Management Training program for Hyatt Hotels Corporation and develop myself into a management/leadership role.
What are your long-term goals? What do you aspire to?
My long-term goals are to become a general manager at a full-service hotel and travel the world. I aspire to be a leader and mentor that my employees and colleagues look up to. I want to succeed and grow in what I do, as well as help others succeed and grow in what they do.
What are you most proud of?
I am most proud of being the first person to graduate in my family, as well as leading by example for my younger sisters. I am also very proud to have been selected and nominated by Lisa Clark for CYProud. It is an honor and very nice to know that my hard work does not go unnoticed.
What one bit of advice would you give to current and future Cypress College students?
One bit of advice I would give to current and future Cypress College students is to truly never give up. It is completely OK to not know exactly what you want to do in life. I felt so lost after I changed majors, but I used the resources at school and continued to stay positive in order to truly find my passion. Surprisingly, everything just falls into place eventually, as long as you continue to go to school and never give up.
Is there anything else you'd like to share?
I am so fortunate that I had the opportunity to attend Cypress College. I would recommend this school to anyone wanting an education.