#CYProud: Phong Le, Business
Student success comes in many different forms, and Cypress College is proud to recognize and celebrate the variety of paths our students take to achieve their dreams. Whether it's transferring to a four-year institution, or receiving an associate degree or certificate and heading into the workforce, we are pleased to feature distinguished #CYProud students for 2017.
Phong Le
Cypress + UCI
Le is a business administration major transferring to the University of California, Irvine following his graduation from Cypress College. He emigrated to the U.S. from Vietnam four years ago and took ESL classes at the School of Continuing Education before starting his studies at the college. Le aspires to become a CPA and have his own practice.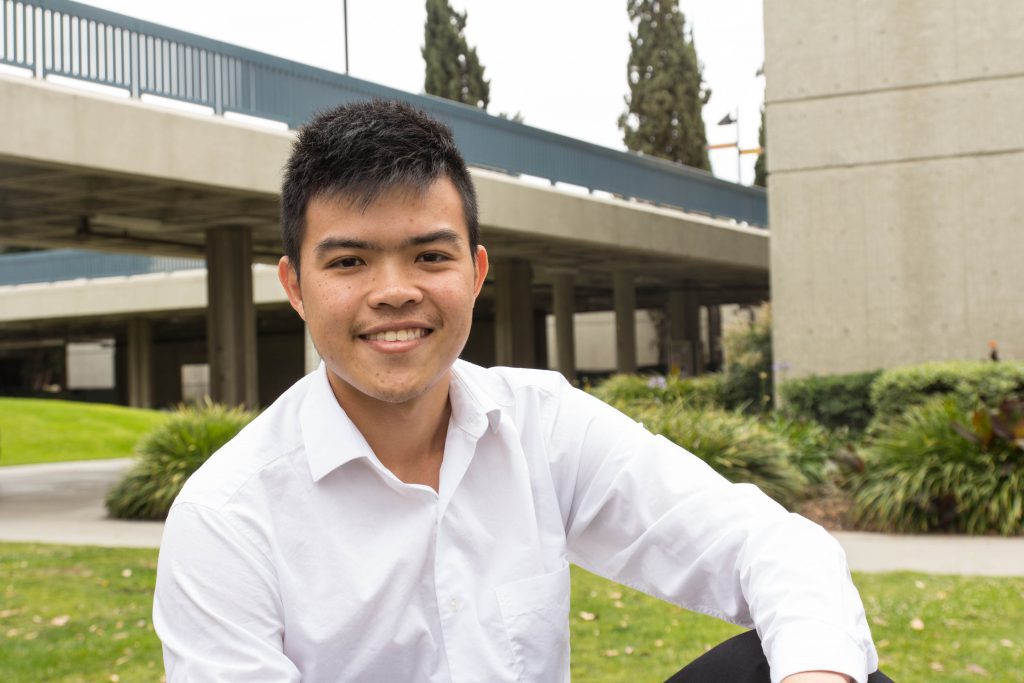 Please tell us a little about yourself. Where did you grow up? What are your interests? What is your story?
I was born in Vietnam, and have been living in the U.S. for four years. In the beginning, I struggled with learning a new language, culture, and customs; but I was lucky and very excited because I knew that the opportunities in this country could allow me to pursue my dream of becoming a successful businessman. Thus, I spent the majority of my time learning to expand my knowledge.
Why did you choose Cypress College?
The School of Continuing Education (SCE) was located at Cypress College, and it had an impact on my English improvement. When I first came to the U.S., I could not speak a word of English. In the beginning, I just wanted to take free-credit ESL classes at SCE to improve my English. Later on, with advice from my brother, friends, and counselors, I decided to attend Cypress College. The SCE and Cypress College together created an amazing ESL program. I truly love Cypress College, its facilities, and the faculty.
What have you been involved in at Cypress College? How has your path unfolded?
I have been involved in EOPS for three years. I really enjoyed participating in activities organized by EOPS such as the UC and CSU meetings, the Lung Force Walk, and college campus trips. Additionally, there are a lot of workshops to assist EOPS students with writing a good resume and personal insight essays, and preparing for transfer. I found a lot of helpful information through EOPS activities and took advantage of good opportunities to improve some of my weaknesses, like communication and networking skills.
Since I started taking business classes, I have been involved in a lot of accounting and finance events organized by the business club and business faculty. Through the Career Day and business events, I reinforced my interest in business, especially accounting and finance.
What are you most passionate about? Why?
I am passionate about helping other people. I am extremely lucky to have great friends and relatives who lent their time to help me during difficult times. Most of my accomplishments so far could be credited to many good friends' support, which has served as my inspiration. Thus, whenever I have a chance to help other people, I truly want to share what I know and lift them up.
Who are the faculty and staff that have helped you get where you are today?
There are many amazing faculty and staff members who have helped me at Cypress College. I have been working with one of the most awesome counselors, Alan Reza from EOPS, who gave me a lot of advice over the course of my education. In addition, I took two ESL classes with Professor Alison Robertson and learned so many reading and writing skills. Professor Alison is extremely professional and organized, and she is also a very kind person.
Lastly, one of my most favorite professors is Professor Ann Solis, who has had an impact on my business interest today. She loves to invite her students to meet her after class for a better understanding of the material. Her explanations and examples are very clear and easy to understand, while her advice is insightful. She is very friendly and kind, too. She also loves to share her students' success stories to inspire other students. Career Day and other accounting events that she and her students organized are very helpful and motivating. I truly love participating in accounting and finance events with her. She has really helped expand my knowledge and networking skills.
What are your immediate plans after completing your studies at Cypress College (at your transfer institution, in the workforce, etc.)?
I just started working as an intern in a CPA office. This summer, I will spend more time on my internship to learn as much as I can before the fall semester starts at the University of California, Irvine. I will work with UCI business counselors to set up my new path at the four-year university, join some business clubs, and discover the school's helpful services during summer. When school starts, I will focus more on the accounting field, and maybe finance as well to become more versatile in the future.
What are your long-term goals? What do you aspire to?
I want to get my bachelor's degree, become a Certified Public Accountant (CPA), and earn a master's degree. I would like to work for big companies to earn experience and eventually have my own practice.
What are you most proud of?
I am proud of all the little accomplishments I have achieved while at Cypress College. I am proud of being an active and good student. I am proud of learning so many things I had not known before. I am proud of assisting students and instructors when I worked at the School of Continuing Education (SCE). I am proud of being accepted to UCLA, UCI, UCR, and other CSUs. I am proud of helping many low-income citizens as a volunteer in the Volunteer Income Tax Assistance program to help them prepare their tax returns.
What one bit of advice would you give to current and future Cypress College students?
There are always motivated and amazing people around you such as your friends, counselors, or professors. Sometimes, I do get tired. I talk to those motivated people to recharge my passion, dream, and energy.
Is there anything else you'd like to share?
If you stay ready, you don't need to get ready. – Will Smith