#CYProud: Crystal Neer, Radiologic Technology
Student success comes in many different forms, and Cypress College is proud to recognize and celebrate the variety of paths our students take to achieve their dreams. Whether it's transferring to a four-year institution, or receiving an associate degree or certificate and heading into the workforce, we are pleased to feature distinguished #CYProud students for 2017.
Crystal Neer
Cypress + RadTech
Neer is a radiologic technology major graduating from Cypress College Spring 2017. She will be receiving her rad tech license in the summer and hopes to spend time doing x-rays and become licensed in administering CAT scans as well. She hopes to attend a four-year institution in the near future to pursue a bachelor's degree.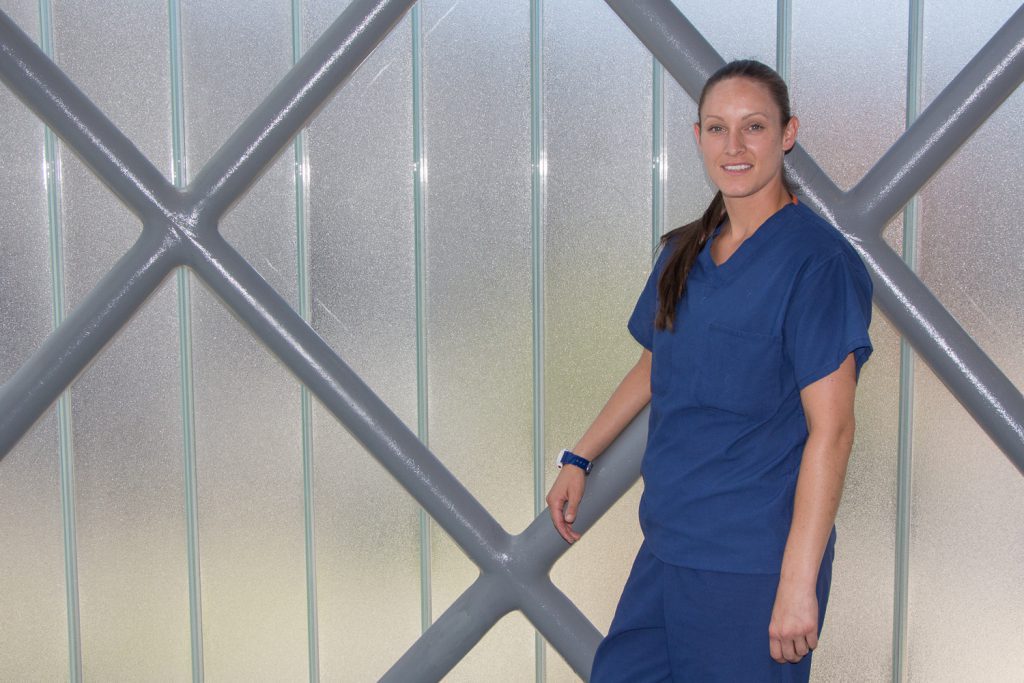 Please tell us a little about yourself. Where did you grow up? What are your interests? What is your story?
My name is Crystal Neer. I grew up in Garden Grove, CA. I graduated from Rancho Alamitos in 2004 and immediately started working. I went to college, but found it was not for me. After having my son in 2011, I knew it was time to go back to school to better myself, not only for me, but my son as well. Being a single mom is not easy, but the hard work is worth every minute and I would not change it for the world. I enjoy volunteering at the OC Food Bank, studying, and spending time with family and friends.
Why did you choose Cypress College?
I chose Cypress College because it is close to me, and I love the campus. The school also provided the Radiologic Technology Program. There aren't any other schools in the area besides OCC that offer the program.
What have you been involved in at Cypress College? How has your path unfolded?
I am part of the CalWORKs program, as well as EOPS and CARE. These programs have provided financial aid, daycare for my son, books, counseling, guidance, transportation, and moral support throughout this journey.
Originally, I was interested in the Ultrasound Program, but after finding out some things about the program, I quickly changed to Radiologic Technology. I worked hard to be on the President's List and was also honored to be a student mentor for Biology 210. I was accepted into the Radiologic Technology Program in 2016 and will be graduating in May of 2017 with high honors.
What are you most passionate about? Why?
I am passionate about helping people. When my mom had breast cancer, the people in the office were so kind. They were always supportive and helped my mom as well as me through a tough time. That was when I grew a real passion for helping people. I want to help guide people through what may be a very difficult time in their lives.
Who are the faculty and staff that have helped you get where you are today?
Where do I start? There have been so many who have truly helped me. When I first came to Cypress, I went to see Connie Boehler in the CalWORKs office. She helped me figure out the classes I needed to take. I visit her at least once a semester, sometimes more when I come across a problem or need advice. She has always been there to provide moral support and guidance.
Ms. Boehler referred me to Doreen Villasenor, the counselor for EOPS. She was very welcoming and warmhearted, just what I needed during this tough time back to college. I visited Ms. Villasenor three times each semester. She helped me stay on track by creating my educational plan. I always enjoyed speaking with her as I would leave feeling motivated and on the right track, which I was.
Lili Perez, the EOPS/CARE program coordinator has helped me tremendously. She always welcomed me to the office and offered her help and advice if I ever asked. Ms. Perez encouraged me throughout my time at Cypress. She played a huge role in my scholarship achievements, persistently asking if I had applied. Finally, I did, and I won. Not only did I get one, but I received five scholarships. They include the Soroptimist Scholarship for women, Kaiser Permanente Scholarship, Gay Hannah Scholarship for single parents, Bruce Family Scholarship for Health Science, and the Cypress Foundation Scholarship. The EOPS/CARE program also provided grants for attending workshops, as well as school supplies.
Eva Palomares is another one of my amazing counselors. After Ms. Villasenor left EOPS, Ms. Palomares took her place. Ms. Palomares is another person I owe many thanks to; she has always been there for me during any issues. She always worked me into her schedule when needed, especially with my busy schedule during my internship. Ms. Palomares encouraged me, along with Lili Perez, to apply for scholarships. I always thought little old me, why would I get awarded anything like that? I was wrong, and Ms. Palomares taught me to be proud of myself and celebrate every accomplishment.
Dee Ann Sato, my Biology 160 and 210 professor, taught me what it really means to love anatomy and physiology. Not only does she love her students, but she will do anything she can to help them. Anytime I did not understand, she would stay after class and explain things to me. She gave me ideas of how to understand and remember concepts that I found difficult. Ms. Sato also gave me an opportunity to help other students. She helped me get out of my comfort zone and most importantly, helped me grow.
Anne-Marie Beck, a career counselor, has helped me create my resume starting from scratch. Ms. Beck encouraged me to find my strengths and learn how to use them. She also taught me about one of my biggest weaknesses, interviewing. I now feel confident for any future interviews.
Kelly Carter, the counselor for Health Sciences. I remember the first time I went to speak with her, I was so nervous. She was very direct and to the point. I really like that about her, which is when I realized she was there to help. She helped me overcome my fears and put the past behind me. I entrusted my future in her, and she never let me down. She has been here to guide me throughout my college career.
Last but not least, Lynn Mitts. She is the program director of Radiologic Technology as well as Ultrasound. After taking a class with her, she has been there every step of the way. She goes above and beyond to help me. Ms. Mitts has always made time for me out of her busy schedule and has helped me through a time I found to be very difficult. For that, I am forever grateful.
What are your immediate plans after completing your studies at Cypress College (at your transfer institution, in the workforce, etc.)?
I will wait for my license to come in the mail. It usually takes about two months. During this time, I will be off and enjoying the time with my mom and my son. Family is so important to me, and I would not be where I am today without them
What are your long-term goals? What do you aspire to?
Long-term goals, I am not sure what is next. I want to spend some time doing x-rays and hope to get my license in CAT scans. I would like to get some time in these areas and possibly return to school in the near future to pursue my bachelor's degree.
What are you most proud of?
I am most proud of myself. I have not always been focused on school. There was a time when I was very unsure of what I wanted to do. After having my son, my life drastically changed; everything I have done is for him. I have been focused, motivated, strong, responsible, positive, and committed. It has been very hard, but with my family, friends, teachers, and counselors, it has all been made possible.
What one bit of advice would you give to current and future Cypress College students?
Do not give up. Sometimes it feels like it will never end, but all it takes is a little hope. See a counselor and get an education plan. Apply for financial aid and scholarships. You never know, you might actually qualify! I did!
Most importantly, if you don't understand, seek help. You will find it.
Is there anything else you'd like to share?
Thank you for giving me this opportunity to showcase some of the biggest hearts we have at Cypress College. The people I have mentioned above have played a critical role during my time at school. If not for these people, I may not be where I am today. They all hold a special place in my heart and I am so thankful to have had the opportunity to learn from them. I will miss you all as I continue on, but you will always be considered as my family.