#CYProud: Chidi Ewenike, Engineering
Student success comes in many different forms, and Cypress College is proud to recognize and celebrate the variety of paths our students take to achieve their dreams. Whether it's transferring to a four-year institution, or receiving an associate degree or certificate and heading into the workforce, we are pleased to feature distinguished #CYProud students for 2017.
Chidi Ewenike
Cypress + Cal Poly Pomona
Chidi Ewenike is a physics and mathematics major transferring to Cal Poly Pomona following his graduation from Cypress College. He plans to pursue a bachelor's degree in electrical engineering and is looking forward to a career in robotics and automated systems.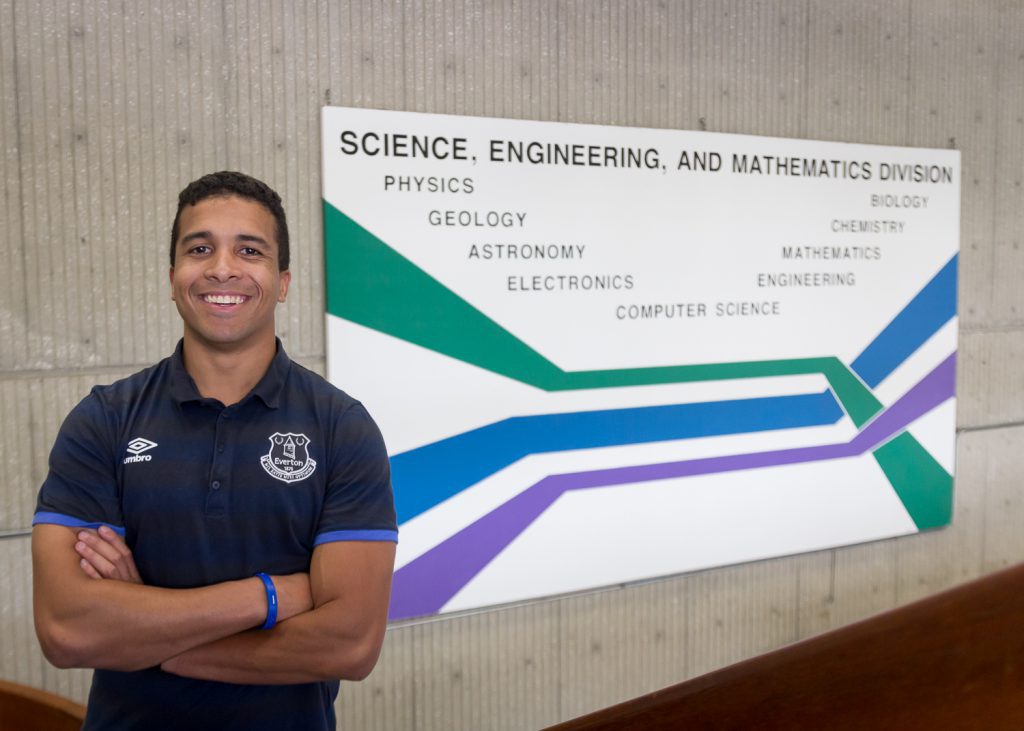 Please tell us a little about yourself. Where did you grow up? What are your interests? What is your story?
What many do not know is that I am a half-Nigerian Finnish immigrant. I moved to Brea, California from a little town, Karkkila, Finland, at a young age where I have lived ever since. My interests in life include soccer, science, reading, travelling, gaming, and working on little automation projects at home.
Why did you choose Cypress College?
I chose Cypress College because I was given the opportunity to play soccer for the Chargers. Ed Kephart, the men's soccer coach at the time, was one of the coaches at my club and he reached out to me to play for the team, which I enthusiastically agreed to. Since my return to school in pursuit of an engineering degree, I chose to remain at Cypress due to the strength of the (STEM)2 program and the friends I have made at this school.
What have you been involved in at Cypress College? How has your path unfolded?
My initial involvement was participating in the men's soccer team. At the time, I was pursuing a degree in English, but after sustaining another head injury while playing, I realized that I had no interest in English and I wanted to pursue a different career. I decided to join the Finnish military and it was there that I acknowledged my fascination with the development of technology. I constantly saw different innovations being made in robotics, automated systems, and electronics, which sparked my interest in becoming an engineer.
Since returning from Finland, I became fully committed to becoming an engineer and joined clubs and organizations to further this goal. I am the Calculus I Supplemental Instruction Leader at Cypress College because I truly enjoy the subject, as well as assisting upcoming scientists and engineers with this study. I am also a heavily active member in the (STEM)2 program, as well as the Leaders of Tomorrow Club and Society of Women Engineers. I was also involved in the STEM Club, and the Engineering and Physics Club.
During the summer of 2016, I conducted research at Cal State Fullerton in "Brain Computer Interface Technology: Home Automation for Assistive Technology." Our team designed a headset that controlled household devices using blinks to assist patients suffering from debilitating disabilities with performing normal functions. The feeling when a design comes together with such resounding benefit for others is indescribably rewarding.
What are you most passionate about? Why?
I am most passionate about pursuing a career in robotics and automated systems. We live in an age of exponentially rising technological advancements commonly referred to as the "Third Industrial Revolution." Technology is growing so rapidly that today's innovations are yesterday's news. The shame is that these innovations occur so frequently that society embraces these technological revolutions as expectations rather than the miracles that they are. Not for me though. These innovations are and have been absolutely enthralling to witness: the dawn of an automated era. Such advancements have truly captivated my interest and imagination.
Every day, I visit my favorite engineering and technology forums and am awestruck by the newest geniuses of the human mind, the realization that all of the complexities that we, as a society, utilize are merely human creations. It was this aspect that drew me to engineering and so much so that I am pursuing a degree in electrical engineering with a minor in computer science. It is my sincerest hope that I can one day contribute to this "revolutionary" period, particularly in the field of automation and robotics.
Who are the faculty and staff that have helped you get where you are today?
There are many individuals who have selflessly done so much for me over the past few years in order for me to succeed. I would like to thank:
Yanet Garcia and Rosa Mejia for tirelessly providing us STEM students with countless opportunities to thrive as scientists and engineers. I joined the (STEM)2 program as a student with a dream and thanks to their efforts, it is now a reality.
Professors Hoa Tran and Christina Plett for providing me with a true love and appreciation for my studies, notably in mathematics. Their guidance and passion for their preferred field has always inspired me. Also, the magnitude with which the two of them care for their students has made school enjoyable and inspired me to one day become a professor myself.
Dr. Brinda Subramaniam for always pushing me beyond my limits so I can one day reach my potential. Dr. Brinda holds her students to a standard that every student should hold themselves to truly be successful, especially in science and engineering. The lifelong lessons Dr. Brinda provided me will not only make me a superlative engineer, but a quality person as well.
I do not know where I would be in my life were it not for these individuals and everything they sacrifice for students like myself. I feel truly blessed to have had the honor and privilege to learn from these professionals.
What are your immediate plans after completing your studies at Cypress College (at your transfer institution, in the workforce, etc.)?
I was selected to participate in a summer research program this summer in robotics at the University of California, San Diego to further my development in the field of robotics and automated systems. Upon transferring, my plans are to join the Institute of Electrical and Electronics Engineers and a robotics team to gain more hands-on experience in my desired field. I am also looking to obtain an internship to, again, gain more hands-on experience and bolster my resume for when I complete my schooling overall.
With my associate degrees in physics and mathematics, I am hoping to continue gaining experience as a private tutor to refine core engineering material and develop my teaching skills to pursue a career in teaching later down the road.
What are your long-term goals? What do you aspire to?
My long-term goals are to make serious contributions toward society in robotics and automated systems. There is so much potential to expand human convenience through innovations like autonomous vehicles, bionic prosthetics, and home automation that I would like to contribute to. These are mere examples of the endless possibilities in this field of which I am aspiring to.
I ultimately want to gain as much experience as possible — both professionally and academically — to one day obtain my Ph.D. and become a consultant. I feel that once I accomplish a fulfilling career, it is my duty to pass down my knowledge and experience to the next generation by also becoming a professor.
What are you most proud of?
I would have to say that I am very proud of how far I have come. When I came to this school in 2010, I had no intentions of pursuing a meaningful education and my grades reflected this. There was a point when I did not think I would ever transfer to a four-year institution. When I left for the Finnish military, it was with the intention of finding my passion and gaining the discipline needed to succeed in academia. I returned to Cypress with one goal in mind and I can proudly say that, with the support of my mother, sister, friends, and faculty, I have accomplished that goal.
I am also very proud to represent the black community in the STEM field. This community is exceedingly underrepresented, and I feel it is a responsibility to inspire future generations of African-Americans to pursue a career in STEM, particularly in engineering. I am fortunate to have had countless individuals who fought relentlessly for me to have the equal opportunities I have today and it is not a sacrifice I take in vain.
What one bit of advice would you give to current and future Cypress College students?
Work hard and leave with no regrets. Make the most of your time at Cypress College by performing the best you possibly can in all classes, as well as seeking opportunities where they are seemingly unobtainable. Do not wake up tomorrow thinking, "Well, what if I studied a little harder for that exam?" or "Why did I not participate in this invaluable program with so much to offer?" This school was built for students to succeed. Join organizations like (STEM)2 and get involved in clubs. Take advantage of this invaluable opportunity in every way possible. Never limit yourself; you deserve what you work for.
Is there anything else you'd like to share?
I would like to thank my family, friends, and faculty for everything they've done for me because I would be lost were it not for them. I am eternally grateful to have attended Cypress College and to have been involved with this fine institution. Thank you again.