Baccalaureate Program Approved by Accrediting Agency
Cypress College is one giant step closer to offering a baccalaureate degree.
Selected in January as one of 15 campuses to pilot test the California Community College Baccalaureate Degree Program, a significant hurdle was cleared late last week when Cypress College's proposal was approved by the accrediting agency. The action officially allows Cypress College to offer the new program: Bachelor of Science in Funeral Service/Mortuary Science. Instruction is set to begin in fall 2017.
The action taken by the Accrediting Commission for Community and Junior Colleges is officially known as a "Substantive Change" and it means that students who seek their bachelor's degree will do so at an institution qualified to present such a degree. Without approval of this request, Cypress College would not have been able to offer instruction.
Earlier this year, the California Community Colleges selected Cypress College as one of the 15 campuses to participate in the program.
"There are many who deserve our thanks and appreciation for this significant achievement at the College, District and state levels," Cypress College President Dr. Simpson said in an email to the campus community. "At the top of the list are our Mortuary Science faculty and staff who 'Dreamed Big Dreams.'"
Cypress College also received congratulations from Dr. Brice Harris, Chancellor of the California Community Colleges.
"What an exciting opportunity for your college to be selected as one of the 15 Baccalaureate Degree Pilot Programs," he said. "I realize the extra work is significant as we collectively develop new programs, but the opportunities for our student are extraordinary and you have my sincere appreciation for taking on this exciting endeavor." Dr. Harris' full letter is posted below.
Cypress College's Mortuary Science Program was selected in November 2014 by North Orange County Community College District Trustees to apply for the California pilot program. Districts were permitted to submit only one program each. Programs also were required not to be in conflict with bachelor's-degree programs already offered in the Cal States or UCs. In September 2014, Gov. Jerry Brown signed legislation that allows California community colleges to award bachelor's degrees in a pilot program. The legislation, known as SB 850, was sponsored by Sen. Marty Block (D-San Diego).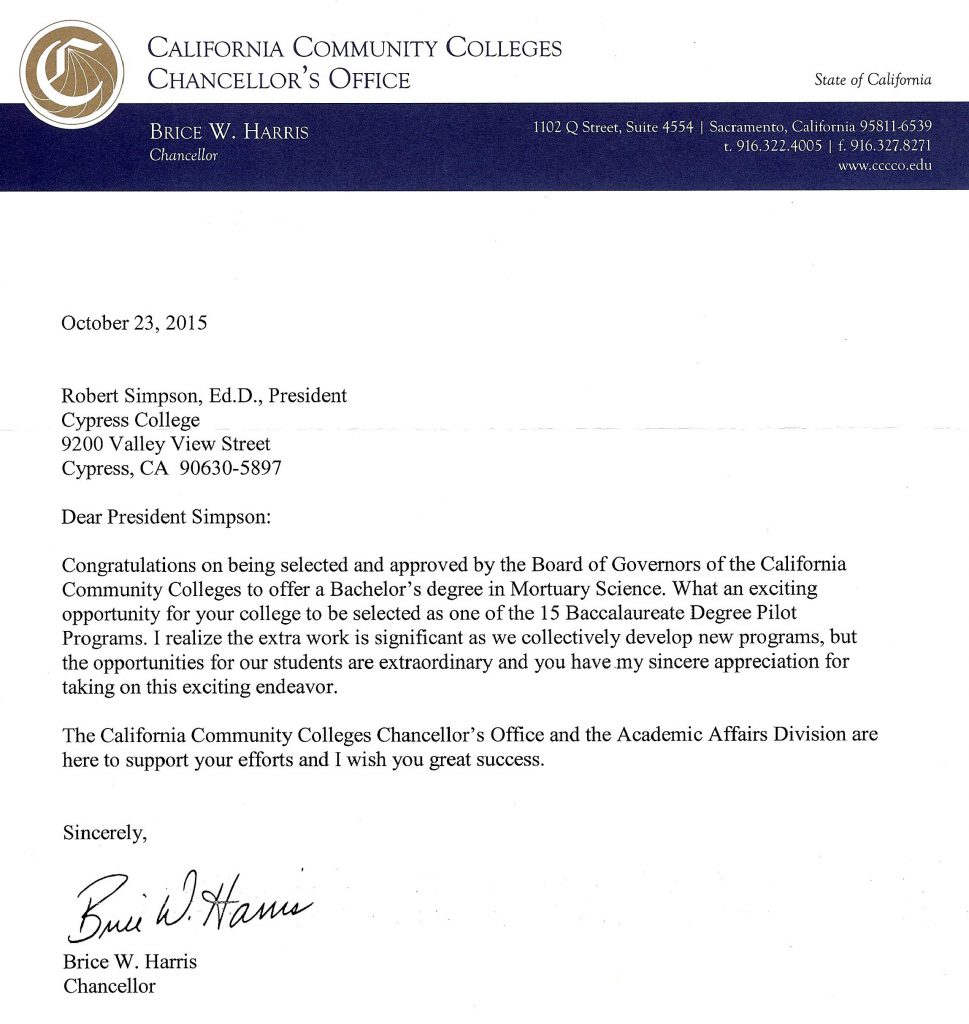 Cypress College and the NOCCCD will provide financial oversight for the entire Baccalaureate Degree Pilot Program in California.