#CY: Meet Jason Ingels
See Why We're Proud….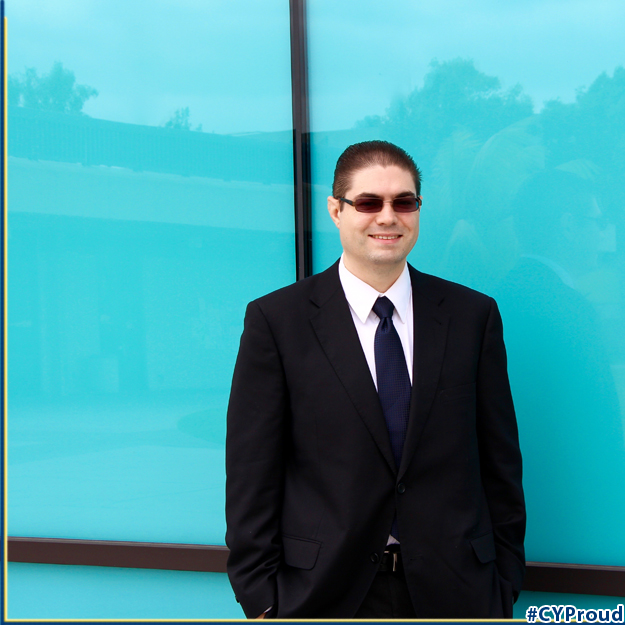 Meet Jason Ingels – Jason was an auto-insurance underwriter before enrolling in the Cypress Hotel, Restaurant & Culinary Arts program in the fall of 2013. He joined to make a career shift – to transition to a more dynamic and creative field that would allow him to be with people and think on his feet. He found his niche under the wide umbrella of hospitality services. "In this line of work we get to do fun, artistic tasks while refining our skills and building expertise. It's also very satisfying to do so for and with different types of people. The culinary side in particular is instant gratification; being part of a quality product and seeing people happy as a result is meaningful."
@Cypress – At Cypress, Jason has specialized in Hotel Operations and Restaurant Service Management. He is the first Cypress College graduate to be accepted for transfer into the prestigious L. Robert Payne School of Hospitality & Tourism Management at San Diego State, one of the nation's finest in that particular area of applied studies.
Why Cypress – "Cypress has the best Hotel, Restaurant & Culinary Arts program in the area hands-down. There really are none that are comparable. Others may have the hotel or restaurant-side well established, but we have the most comprehensive program and the best gateway to the finest schools. We also have the very best educators. Lisa Clark, for one, has been amazing. She has tremendous industry experience, personality, warmth and genuinely cares for her students."
Best Memory – "In my second semester, I volunteered to work the end-of-year faculty buffet. I was new to the program so I was the potato-peeler (the thinking was 'you can't mess up potatoes, right?' 😉 It was my first catering experience and I loved it. We worked hard at prep for two days for an hour of show time – great adrenalin-rush. I had so much fun that I returned again the following year."
Advice to Future Students – "Find a mentor in your department; someone that you can connect with and pick their brain. Cypress is a tool. You're missing a big part of being here if you don't utilize it. Get involved!"
Long-Term Vision – "I currently work at the Hyatt and plan to build a career with the company. I'm happy there. My focus at San Diego State will be Hotel Management. Post graduation, I hope to enter the Hyatt Corporate Management Program. It's a six-month intensive training course where you rotate departments for a month before focusing on an area of interest for the remainder of the program. It's known for top-notch management development and networking opportunities."
Congratulations, Jason!! And best of luck at the L. Robert Payne School of Hospitality & Tourism Management at San Diego State.