Bacarella, Lawrence Set for Board Recognition for Attaining Tenure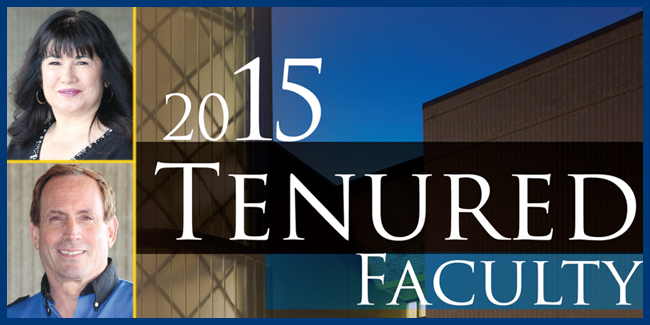 Two Cypress College faculty — Russ Bacarella, of Automotive Technology, and Roberta Lawrence, from the Dental Hygiene Program — will be recognized by the NOCCCD Board of Trustees on Tuesday night for their milestone of attaining tenure. The Board meets at 5:30 p.m. on April 28 at the Anaheim Campus.
Roberta Lawrence, Dental Hygiene
Roberta Lawrence is Co-Director of the Cypress College Registered Dental Hygiene Program. She joined the campus in an adjunct capacity in 2001 and was hired as a full-time faculty member in 2011. With a strong background in academic and clinical instruction, Roberta has helped position Cypress College's Registered Dental Assistant program as one of the very best in the nation, with consistent annual student state licensure pass rates of 100%.
Roberta holds a Bachelor of Arts (BA) in Biology from California State University, Fullerton, as well as a Masters of Science (MSc) in Higher Education from Kaplan University. She is a Registered Dental Assistant (RDA) and Registered Dental Hygienist (RDH) through Cypress College, and is also a Registered Dental Hygienist in Alternative Practice (RDHAP).
Prior to teaching, Roberta worked within an intersection of tech and the arts as a graphic designer and Assistant Lead Art Director for Hughes Aircraft, and later as Art Director of Northrop Grumman's B-2 Bomber project. Wishing for more autonomy in her career, Roberta decided to pursue an alternative path and return to her roots in the sciences. To do so, she attended Cypress College's Dental Hygiene Program for her certification in the field.
After working as a dental hygienist in private practice for three years, Roberta began to teach part-time in the RDA and RDH programs here at Cypress. Around this time, she also obtained her RDHAP degree from West Los Angeles College and started her own business to accommodate elderly patients' home-care dental needs. For the last five years, Roberta has participated in the Annual Free Clinic held each October. She has also participated in and helped coordinate an international cultural exchange visit of dental hygiene students from Nagano, Japan for the last three years.
Russ Bacarella, Automotive Technology
Russ Bacarella found his niche young. At the age of 12, he joined his father repairing motorcycles and working the parts counter for the family business. In automotive matters, Russ' experience is solid. He has worked in a number of automotive-tech capacities over the years, for on-site service stations, at a new car dealership, as an on-the-road fleet operator for Austin Products Servicing, and as a loyal employee of Buddy's Auto.
Since his early career start, Russ has merged his passion for automotive technology with a love of teaching. Prior to joining the Cypress campus community, Russ spent eight years as a full-time teacher at Loara High School NOCROP and seven years as a part-time teacher for Central County ROP. In 2011, Russ was hired as an adjunct Automotive Fundamentals instructor within Cypress College's Automotive Technology Program. Later that year he was promoted to full-time faculty as the program's Engines instructor.
When asked what he values about the College, Russ highlights his department's collaborative approach to teaching and learning, which has endowed him with a deep respect for the work of his colleagues, who are "real industry experts… that have enabled me to become a more well-rounded, better prepared instructor."
Russ holds a Bachelor of Science degree in Automotive Field Service Operations from Weber State and an Associates Degree in Automotive Technology from Cerritos College.